AP Explains: Why the world's biggest lottery jackpot wasn't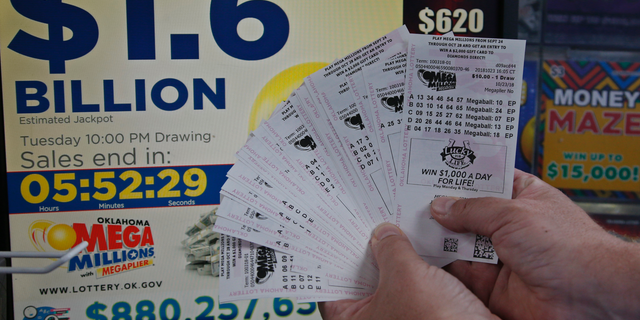 DES MOINES, Iowa – Call it the world's largest lottery prize that wasn't.
The Mega Millions jackpot that had been announced as the biggest ever at $1.6 billion ended up being the second-biggest at $1.537 billion. It's a difference that likely means little to the lucky person who bought the ticket in South Carolina and won Tuesday night's drawing, but it raises questions about how lottery officials make estimates and whether they were influenced by a desire to claim the jackpot amount surpassed all others.
HOW DO THEY ESTIMATE THE JACKPOT?
Although Mega Millions is sold in most states, 11 of them largely run the game and are in charge of determining the estimated jackpot, according to Gordon Medenica, director of the Maryland lottery, one of the key 11 states. When jackpots grow especially large , lottery officials from those states compare notes daily about sales figures and combine that information with historical data to make an initial estimate and then decide whether it needs updating.
WHY WERE THEY WRONG THIS TIME?
Actually, they're wrong every time. That is, it's an estimate and because the exact jackpot is determined by sales figures across 44 states plus Washington, D.C., and the U.S. Virgin Islands, there is no way to hit the exact figure. Usually no one notices, but when you scream that the prize is the biggest ever, then mumble that it's actually the second-biggest, people notice.
Officials note, however, that the reason jackpots grow so dramatically when prizes get enormous is because people who don't normally play decide to buy a few tickets. That's great for lottery sales but makes it more difficult for officials to estimate how many irregular players will participate and how many tickets they'll buy, adding further complications to the jackpot estimate.
OK, BUT MISSING THE MARK BY $63 MILLION?
Yes, there's a big difference between the estimate and the actual prize, but in part that's because the prize is so huge. The estimate doesn't sound so wrong if you frame it as being off by about 4 percent. If the prize was estimated as a more common $100 million and the payout was $96 million, would anyone notice?
Given the missed estimate, the top prize remains a $1.586 billion Powerball jackpot shared by winners in California, Florida and Tennessee in January 2016.
MARKETING, MARKETING, MARKETING
The explanations are all fine and good, but officials acknowledge the "biggest ever" status enabled them to draw an incredible amount of attention to the Mega Millions drawing.
Peggy Stover, a marketing professor at the University of Iowa's business college, said it's invaluable to trumpet something as being the first or the best. As Stover puts it, "Whether it's your first kiss or first time on a roller coaster, people tend to remember the first of anything much more vividly than the second."
Put another way, "It is tough when you market yourself as the second best."
SKEPTICISM FROM A GAMBLING EXPERT
Richard McGowan, a Jesuit priest and gambling expert at Boston College, agreed that estimating big jackpots isn't an exact science, but he said officials are under increasing pressure to tout big prizes as the percentage of people playing lotteries has declined over the years. Many people won't even notice a jackpot unless they hear it's the largest ever, he said.
"Anything to spruce up the excitement factor, they're going to use," said McGowan who consults for lottery organizations and groups opposed to gambling. "Just think how much free publicity they got."
McGowan notes that media outlets also like to run stories about "biggest-ever" prizes.
LOTTERY PLAYERS, DO YOU CARE?
David Kramer, an attorney in Omaha, Nebraska, said he buys a lottery ticket when the jackpot soars for "the three days of daydreaming it gives me of what I'd do with the money if I won."
Any outrage that a prize advertised as the world's largest was actually one spot down the list?
"Does it make a difference to somebody this morning that when they thought they were going to win $1.6 billion and they only won $1.537 billion?" he asked. "I think the answer is a resounding, 'No.'"
___
AP writer Margery A. Beck contributed to this report from Omaha, Nebraska.
___
For the AP's complete coverage of the lottery: https://apnews.com/Lottery