Alleged 'looters' in Florence-ravaged North Carolina sought by police
NEWYou can now listen to Fox News articles!
Police in North Carolina on Sunday asked the public for help identifying alleged looters at a dollar store in Wilmington — a city cut off in the aftermath of Hurricane Florence.
The police department posted eight photos online of the alleged thieves, many of whom appeared to be holding large black garbage bags to carry the stolen items.
Police said the thefts took place at a Family Dollar store in Wilmington, but did not specify which location.
Officers tweeted Sunday that they had a zero-tolerance policy in looting: "If you loot, you will be arrested."
FLORENCE AFTERMATH: 'CATASTROPHIC, LIFE-THREATENING' FLOODING RISK AS STORM SHATTERS RAINFALL RECORDS
Five people were arrested in Wilmington on Saturday for allegedly stealing from a Dollar General store in town, police said.
Management of the store initially asked police "not to intervene." However, the department later announced on Twitter it was working to identify the alleged thieves and vowed to "charge them to the fullest extent of the law."
Florence, now categorized as a tropical depression, triggered severe flooding that cut off roads to the city.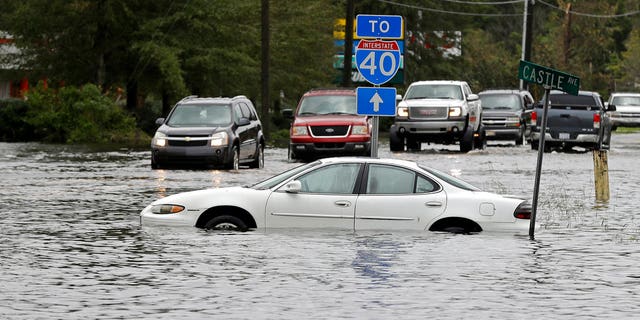 Officials from New Hanover County and Wilmington said Sunday that additional rainfall on Saturday night caused more problems for the area. Woody White, chairman of the county Board of Commissioners, said Sunday that "there is no access to Wilmington."
Wilmington has survived its share of hurricanes, but the city of 120,000 had not suffered the amount of rain that fell from Florence, which has killed at least 17 people.
Fox News' Paulina Dedaj and The Associated Press contributed to this report.