After complaints, school's mural showing Trump's head on spear ordered covered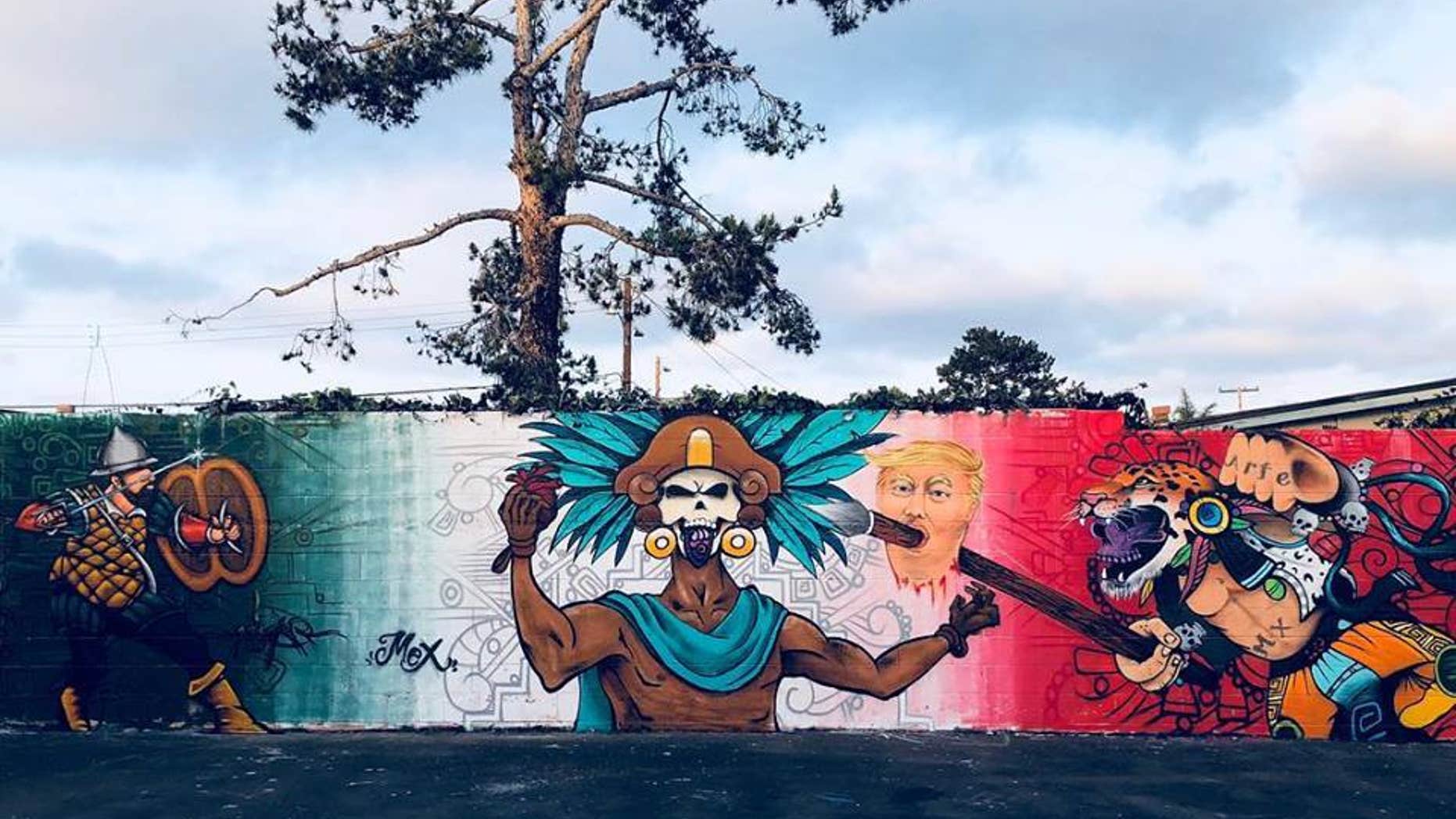 School officials in Southern California this week ordered part of a mural to be covered because the artwork showed President Donald Trump's severed head on the end of a spear.
After complaints from the community, the mural was initially covered with plastic Wednesday, then later covered with plywood, the San Diego Union-Tribune reported.
"Obviously there's a lot of concern over what is depicted," Manny Rubio, public information officer for the Sweetwater Union High School District in San Diego County, told the paper.
"Obviously there's a lot of concern over what is depicted."
Artist Sasha Andrade has agreed to change the painting "to better align with the school's philosophy," MAAC Community Charter School director Tommy Ramirez said in a statement, the paper reported.
MAAC is a nonprofit that oversees the school, which is independently run, not governed by the district's board of trustees, according to the paper.
Andrade took to social media to defend the work, which shows three warriors – one gripping a sword, another grasping a heart, and a third clutching the spear with the president's severed head.
"They can try to #censor it but here it is guys!" she wrote in a post on Facebook, with a photo of the mural. She added: "let's make this viral."
Francia Baluca, marketing and communications manager for MAAC, said school officials were checking whether Andrade's concept was communicated before officials became aware of the mural.
It was far from the first time that Trump has been depicted in controversial artworks.
Actor Jim Carrey stoked the fire in March after he tweeted a photo of his painting of an open-robed Trump rubbing his hairy chest in front of a bowl of ice cream.
"It's called, 'You Scream. I Scream. Will We Ever Stop Screaming?'" Carrey, 56, wrote in a tweet.
In its latest prank, Indecline, an artists group known for erecting naked statues of Trump in various cities across the U.S., recently transformed a room in the Trump International Hotel & Tower hotel in New York City, adding live rats and a Trump impersonator wearing golden handcuffs.