5 dead in apparent murder-suicide, Oregon police say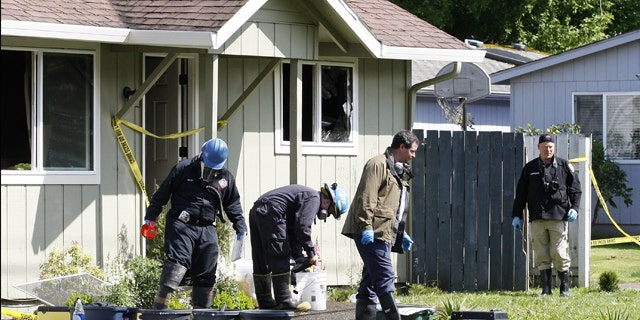 SALEM, Ore. – A mother and her three children were found dead in a burned house, and the children's father was found dead later in a car, all victims of what police in this city in northwest Oregon said Tuesday appeared to be a murder-suicide.
The woman and children were discovered early Tuesday when Salem firefighters went to a house on fire in a working-class neighborhood of small houses and mature trees.
A neighbor reported awaking about 5:30 a.m. to the fire. Dan Grove told the Salem Statesman Journal that he "saw dark, black smoke pouring out of the house. I heard people screaming and yelling. It was for real."
About five hours later, the father was found dead in a vehicle about 75 miles south of Salem, in Cottage Grove.
The victims weren't immediately identified. Police say they don't have other details about the parents' relationship.
Salem is about 50 miles south of Portland along Interstate 5.
Firefighters who came to the house at about 5:30 a.m. found evidence of violence, said Salem police Lt. Dave Okada.
An hour before that, Okada said, a driver making deliveries found the body of a sixth person on the street a quarter mile north of the house.
But Okada wouldn't say whether that death was related to those in the house.
"At this point we're treating that as an entirely separate investigation," Okada said.
He said authorities were arranging for autopsies.
Police blocked off much of the neighborhood.
Clara King, who lives in an apartment about 50 yards from the home that burned, said she was awake in the middle of the night and heard a woman screaming, "like she was being hurt."
"I thought it was the neighbor lady having a party or something," King said. "I went out there to say something, but nobody was there."
Some residents say it is a rough neighborhood. King said it's not unusual to hear screams or fights in the middle of the night.
People in the neighborhood are shaken by the deaths.
"We're worried because we don't know what happened inside," said Magdiel Perez, 23, who lives two doors down from the home that burned.
On the lime-green home where the children and their mother died, black soot coated the edges of window frames. Someone had placed pink and white flowers by the front door.