5 California high school students identified as victims of fiery car crash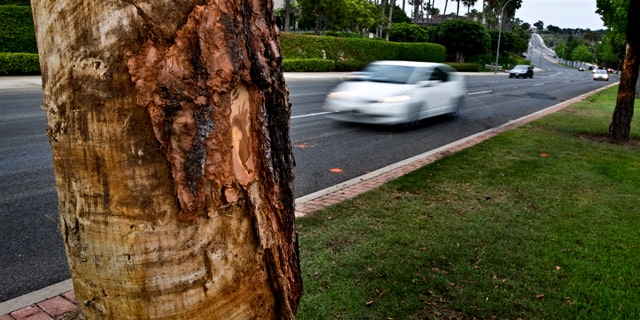 Five Southern California high school students who died in a fiery car wreck on their way to the beach included a pair of sisters and best friends who bonded over their immigrant experiences, friends said Tuesday.
The victims -- three girls and two boys -- were students at two high schools in the Irvine Unified School District, said Orange County Sheriff's spokesman Jim Amormino.
"There are simply no words to convey the sorrow felt by our students and staff, nor are there sufficient answers to explain the loss of five vibrant teenagers from our schools and this community," Irvine Unified School District Superintendent Terry Walker said in a statement.
The driver was identified as 17-year-old Abdulrahman Alyahyan, a senior at University High School.
The passengers included 17-year-old Robin Cabrera, a senior at Irvine High School, and her 16-year-old sister Aurora, a sophomore at the same school.
Also killed in the Monday crash were Cecilia Zamora and Nozad Al Hamawendi, both 17-year-old juniors at Irvine High School.
Friends who gathered Tuesday outside Irvine High said the five were headed to the beach for a fun Memorial Day when the accident happened.
The Infiniti sedan veered off a road about 5:20 p.m. and hit a tree, said Kathy Lowe, Newport Beach police spokeswoman. The impact split the car and it caught fire, she said.
The tree the car hit was stripped of its bark on Tuesday and bore huge gouge marks along the trunk.
"It was a horrific accident," Lowe said, adding that investigators were on scene for nearly 12 hours overnight.
Speed was believed to be a factor in the wreck, she said.
The posted speed limit on Jamboree Road, a major, six-lane street in south Orange County, is 55 mph. Lowe declined to say how fast the Infiniti was going, citing the ongoing investigation.
Four of the teens were thrown from the car and died immediately. The other was declared dead at a hospital.
No other vehicles were involved in the crash.
The coroner had to use fingerprints to identify two of the bodies in what officials were calling one of the worst car accidents in Newport Beach in recent memory.
There were no classes at the high schools on Tuesday because of a teacher development day, but students gathered at Irvine High late in the afternoon to console each other and remember their friends.
The Cabrera sisters were their parents' only two children and were both accomplished dancers in the school's dance program, friends said. They had performed in a three-day recital over Memorial Day weekend, said Brie Martinez, 15.
"(Aurora Cabrera) was kind of nervous for her dance but I heard she did really good," said Martinez, as she began to cry.
"I saw something about the crash on the news last night, but I never would have guessed it was them," she added.
Zamora was also in the dance program and performed over the weekend, said her friend, Paloma Douglas, a junior at the school.
Douglas last saw Zamora on Friday afternoon, when the two attended the same history class -- the last course of their day.
"She was sitting next to me, so it's going to be tough seeing that empty seat," said Douglas.
Alyahyan, the driver, was obsessed with his car and spent hours working on it and driving it around with his best friend, Al Hamawendi, said Zach Darwish, an 18-year-old senior at University High who was also close friends with both boys.
"Abdul loved cars. He took care of his car as if it was a human being," said Ibrahim Razzak, a junior.
The two were inseparable and were part of a larger group of about 10 close friends who were either first- or second-generation immigrants from various Middle Eastern countries, Darwish said. The teens all spoke Arabic together when they hung out, which was constantly, he said.
Alyahyan came to the Irvine from Saudi Arabia about three years ago, said Mohamad Abdul Razzak, a 16-year-old junior and close friend who also arrived in the U.S. last year from Lebanon.
He played excellent soccer, but wasn't on the school team, and planned to attend community college next fall.
Al Hamawendi came to Irvine two years ago with his family from Iraq, Abdul Razzak said.
He was obsessed with weight-lifting, worked out every day and had been on the wrestling team.
"We're all like one big group of friends. We all love each other, we're all like brothers. It seems like the circle has just broken apart," Darwish said.
"I still can't believe this actually happened to good friends of mine," he said. "It's the worst news you can possibly get."