5 adults found dead inside Phoenix home after shooting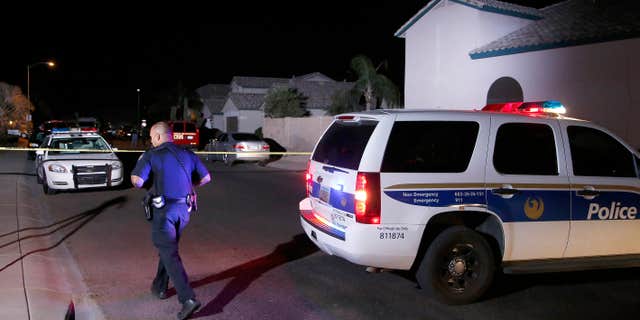 Five people were found dead inside a Phoenix home Thursday after a suspected family dispute ended in a shooting, police said.
Authorities did not immediately release the names or ages of the three men and two women, but confirmed they were all adults. The three men were apparently brothers and the dead women were the men's mother and a spouse of one of the brothers.
Two other women and two children managed to escape the home unharmed, according to police.
One of those women told authorities that the shooting stemmed from a family dispute gone wrong, police spokesman Sgt. Trent Crump said.
"Our dispatcher could hear shots fired in the background while that call was coming in," Crump said. "A caller had been able to escape the home at that point, get out and start to give us information."
Crump said the family had origins in Morocco. During an hours-long standoff before the bodies were discovered, police used a megaphone to try to communicate with the home's occupants. They addressed the family in Arabic.
The Arizona Republic reported that one neighbor said the family owned a transportation service. Because the neighborhood homeowners association allowed only two vehicles in their driveway at any one time, the neighbor said the family purchased a home in an adjacent neighborhood to park their fleet.
It wasn't immediately clear how many people fired shots, but police said they weren't looking for any outstanding suspects.
TV footage showed several SWAT team members breaking the glass of a back patio door to enter the home. The SWAT team used a robot to search the house before sending in a dog and then officers, Crump said.
A police perimeter remained in place overnight as investigators padded around the scene in booties to document evidence, while detectives went door-to-door.
The Associated Press contributed to this report.