3 shot, 5 others injured at Martin Luther King Jr. Memorial Park in Miami on MLK Day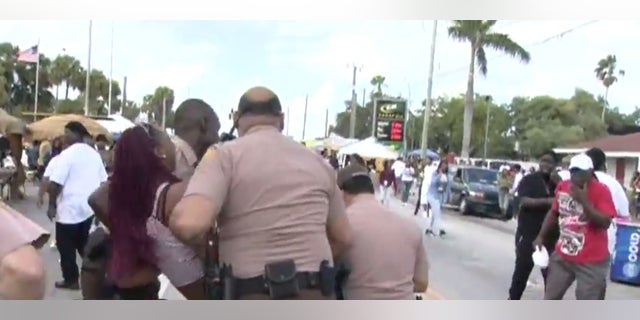 Police and fire rescue crews are on the scene after three people were shot and five others were injured at a Martin Luther King Jr. Day celebration at Martin Luther King Jr. Memorial Park.
Miami-Dade Police was among the multiple agencies that responded to the scene of the shooting at 6011 N.W. 32nd Avenue, in Northwest Miami-Dade, Monday just before 4 p.m.
At around 5:20 p.m., Miami-Dade Police tweeted out that they had detained two people and recovered two weapons from the scene.
All three shooting victims were transported to Ryder Trauma Center at Jackson Memorial Hospital. One of these victims was transported as a trauma alert.
7News reporter Ann Keil and photographers were about 100 feet away from the scene of the shooting, along Northwest 32nd Avenue and Northwest 62nd Street. They heard between four and six shots.
Moments later, the news crew saw displaced children crying after losing their parents when a stampede of attendees ran away from the scene in search of safety. Many police officers were seen carrying small children away from the scene.
As all of this was going on, parade-goers were seen ducking for cover underneath vendor tables and behind walls.
Around 4 p.m., several law enforcement agencies and fire rescue vehicles were seen flooding the area. At one moment, MDPD officers were seen at a nearby house with their guns drawn. It is unclear if this is related to the shooting at the park.
According to Keil, at least two women looked like they had been shot in the leg. Officers were seen picking up these victims by hand and carrying them away to safety.
Moments later, a man was seen on the floor in handcuffs.