3 arrested in deaths of 5 shot in Ala., police say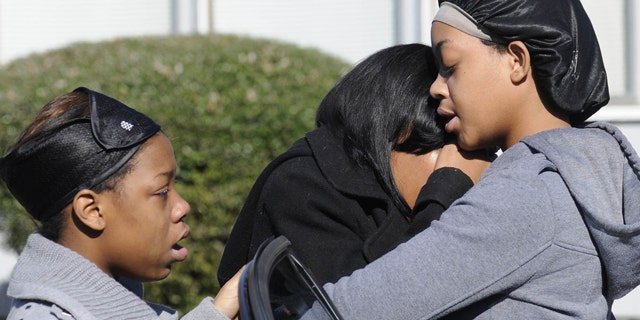 BIRMINGHAM, Ala. – Police said Monday they have arrested three suspects in the deaths of five people whose bodies were found by officers investigating a possible robbery.
A police statement said the three were arrested Sunday night, less than a day after the five were found shot to death in the rental home.
The suspects have been interviewed by detectives and are being held in the Birmingham City Jail as the investigation continues, police said. Officials have not said what charges are being filed.
Authorities haven't released the names of the three people who were taken into custody or the five people who were killed.
Beatrice Houston, who lives across the busy residential street from the house where the bodies were found, was relieved police had taken someone into custody.
"That's good. I hope they are the ones who did this and they can put them behind bars," said Houston, 64.
Houston was afraid to take her dog outside for a walk despite the police officer who kept watch over the house all night.
The two-bedroom house, which is made partly of cinderblocks, was built along a busy street in west Birmingham. Vacant homes sit beside houses where some residents have lived for years.
Birmingham Police Sgt. Johnny Williams said officers arrived at the house around 3:30 a.m. Sunday after getting a call that a robbery was in progress and soon discovered the five victims. Authorities had launched a homicide investigation.
"It obviously appears to us this horrific crime was not a random act of violence," Birmingham Police Chief A.C. Roper said Sunday.