2 Turkish men arrested after brawl at DC embassy in May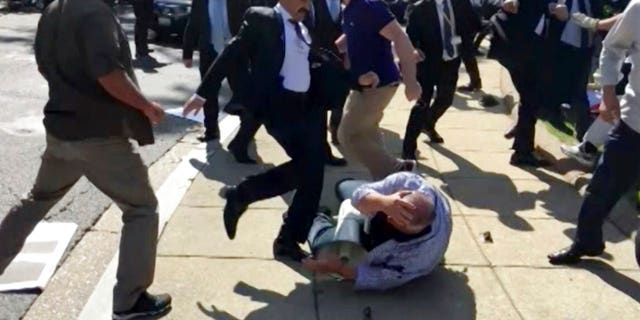 NEWYou can now listen to Fox News articles!
Two Turkish Americans accused of attacking U.S. demonstrators outside the Turkish Embassy in Washington, D.C., during President Recep Tayyip Erdogan's visit last month, were arrested Wednesday, sources confirmed to Fox News.
A law enforcement source told Fox News that one suspect, Eyup Yildirim, was apprehended in Manchester, N.J., and the other, Sinan Narin, in McLean, Va. Both arrest warrants were executed by U.S. Marshals in coordination with the Metro Police Department in Washington.
PROTESTERS RECALL VIOLENT ATTACK OUTSIDE TURKISH EMBASSY IN WASHINGTON, DC
"Now that charges have been filed, the Department will weigh additional actions for the named individuals, as appropriate under relevant laws and regulations," said a senior State Department official. "Any further steps will be responsive and proportional to the charges."
Late Wednesday, the Associated Press reported that D.C. police would announce charges against 12 Turkish security agents related to the brawl. Seven of the agents would be charged with felonies, while the other five would be charged with misdemeanors.
Erdogan's visit to Washington in May sparked outrage when video footage posted to social media allegedly captured Erdogan's security detail beating up American protesters. Video showed protesters covered in blood, as others were beaten to the ground.
Witnesses said the brawl erupted when the security detail attacked protesters carrying the flag of the Kurdish PDY party outside the embassy, hours after Erdogan met with President Trump at the White House. Turkey considers the PDY a terrorist organization.
TURKEY TRIES TO SHIFT BLAME TO US OVER DC BRAWL, SUMMONS AMBASSADOR
The brawl has been the source of major tensions between U.S. officials and Ankara. U.S. Sen. John McCain, R-Ariz., said in the immediate aftermath that the U.S. should "throw their ambassador the hell out" of the country.
The Turkish Embassy had blamed the violence on the demonstrators, saying in a statement they were "aggressively provoking Turkish-American citizens who had peacefully assembled to greet the President."
TURKISH OPPOSITION URGES TRUMP TO PROD ERDOGAN ON HUMAN RIGHTS
"Violence is never an appropriate response to free speech, and we support the rights of people everywhere to free expression and peaceful protest," State Department spokeswoman Heather Nauert countered at the time.
Fox News' Rich Edson, Jake Gibson, Nick Kalman and The Associated Press contributed to this report.