2 Seattle police officers shot, one suspect dead after robbery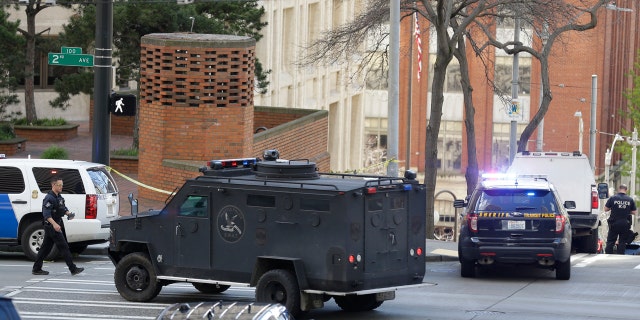 NEWYou can now listen to Fox News articles!
Two Seattle police officers were shot and injured Thursday while responding to a downtown robbery, authorities said.
One suspect was dead, authorities said, and another was being questioned.
Dr. Stephen Mitchell told reporters that one of the officers was in "serious but stable" condition and the other was in stable condition. Earlier, a hospital spokeswoman said a 30-year-old male officer was in critical condition and had life-threatening injuries. The other officer, a 42-year-old woman, was in "satisfactory condition," according to the spokesman.
One officer was shot in the chest but saved by a bulletproof vest, and the other was shot in the chin and ribcage, Seattle Mayor Ed Murray said a news conference near the scene. It wasn't clear which officer had which injuries. Deputy Police Chief Carmen Best said a third officer suffered a minor finger injury, but declined to be transported to the hospital.

"Our hearts and our thoughts are with those officers and with their families," Murray said.
The robbery took place at a 7-11 store near Pioneer Square, the city's oldest neighborhood, Deputy Police Chief Carmen Best said. Officers initially said three suspects were involved, but later cleared one person.
The suspects ran from the store and fought with officers who tried to stop them a block away, Best said.
While one officer fought with a suspect on the ground, a female suspect struck that officer over the head with a bottle, Best said. The suspects fled, and one shot at police, who returned fire, she said.
The suspect who opened fire barricaded himself inside a nearby building, Best said.
Sgt. Sean Whitcomb, a police spokesman, later confirmed that that suspect had died. It wasn't clear if the suspect died before being discovered by police, or who inflicted the fatal wounds.
Police cruisers flooded the area, closing streets, and officers warned people to stay away.

"We've got the doors locked, and the cops are all around us," said Cindi Raykovich, co-owner of a nearby running shoe store. "They want us to stay in the back room. When we walk out front, there's a guy standing out front who points at us and tells us to go back."

The department disclosed the shooting on Twitter, saying the robbery had been reported near the waterfront, several blocks south of Pike Place Market.

Brad Clough, who works at a bicycle repair shop in the area, said he heard sirens and saw at least several dozen police officers converge on the scene.

"Wow. This is real," he said, describing SWAT officers racing down the street.
The Associated Press contributed to this report.
Click for more from Q13FOX.com.