17-year-old shot dead by police while running away from traffic stop
A 17-year-old was shot three times and killed by a police officer in Pennsylvania while running away from a car that was pulled over in connection to a reported shooting in the area on Tuesday, officials said.
Officers from Allegheny County Police Department responded to multiple 911 calls around 8.20 p.m. reporting that a man had been shot in North Braddock, located just outside of Pittsburgh.
Police found a 22-year-old gunshot victim, who later was rushed to a hospital and subsequently released.
Witnesses reported that a vehicle was seen fleeing the scene and an East Pittsburgh officer saw a vehicle matching the description nearby, which had ballistic damage to the rear window.
BLACK MAN FATALLY SHOT IN BACKYARD AFTER OFFICERS MISTAKE CELL PHONE FOR 'TOOL BAR', POLICE SAY
When the officer took the driver out of the car and handcuffed him, two passengers ran from the vehicle, at which point one of them, 17-year-old Antwon Rose, was shot dead by police.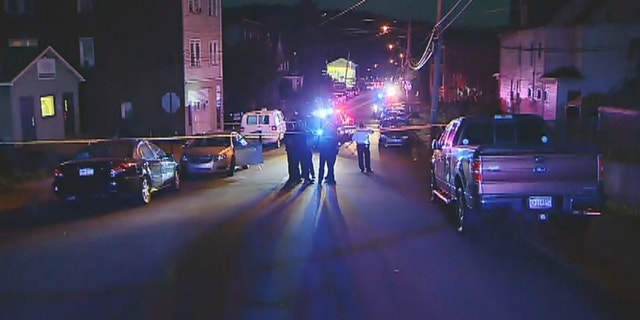 Speaking at a press conference on Wednesday, ACPD Superintendent Coleman McDonough said: "An investigation revealed that the shooter fired nine .40 caliber rounds at the victim from a passing vehicle. The victim also returned fire at the vehicle."
He also revealed two firearms were recovered from the suspect's vehicle.
When McDonough was asked if Rose had been shot in the back, he responded that the teen was shot in "various places on his body," adding that the medical examiner would release further information.
"I understand in today's atmosphere anytime a young man is killed there's cause for outrage in some areas," he said. "However, I would urge people to give us time to conduct an objective investigation, to gather facts."
Dramatic video captured by an eyewitness shows the two passengers suddenly bolting from the vehicle and police shooting after them. One of the two can be seen falling to the ground.
The person recording the video can be heard saying: "Why are they shooting at him? Why are they shooting? All they did was run and they're shooting at them?"
The footage has sparked outrage in the community of East Pittsburgh, located around 15 miles from Pittsburgh.
Selena Brooklin asked the Pittsburgh Post-Gazette: "Why did they have to shoot him when he is running away? What is the justification for that? There is no justification. There is no answer. You shot a man in the back while he was running away."
OFFICERS KILLED IN THE LINE OF DUTY IN 2018
Rose was pronounced dead at the scene.
Police are still seeking the second passenger. McDonough has asked for the passenger who remains at large to turn himself in so he can provide further information.
The East Pittsburgh officer has been place on administrative leave, McDonough said.
Pittsburgh Mayor William Peduto said that loss of the teenager was "tragic."
"Any loss of life is tragic, and especially the loss of life of a child," he said in a statement. "This is a devastating situation and I am saddened for Antwon Rose and his family."
"While Tuesday's shooting was not within the city's official borders it impacts all of us in the Pittsburgh region, and particularly those in the African American community," Peduto said.