1 dead, 7 injured after scaffold collapses outside New Mexico medical center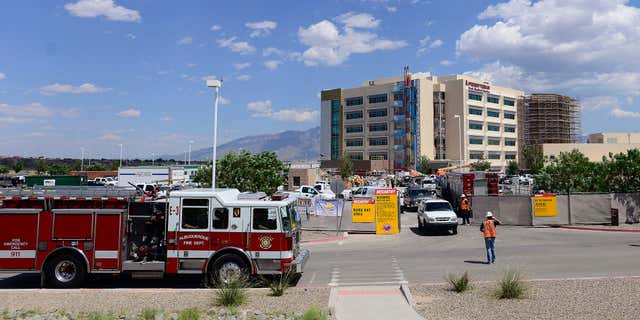 NEWYou can now listen to Fox News articles!
At least one person was killed and seven others were injured Tuesday when a six-story scaffold collapsed outside a New Mexico medical center, authorities said.
Four workers suffered life-threatening injuries and were transported to University of New Mexico Hospital in Albuquerque, Rio Rancho Fire Department officials said. One of those four later died at the hospital.
Four other workers were treated for less serious injuries and taken to other area hospitals, said Rio Rancho fire inspector Jessica Duron-Martinez.
Construction on a second patient tower at the medical center has been going on since last year. Nearly 240 workers were at the construction site Tuesday.
The cause of the scaffold collapse wasn't immediately known. Authorities said officials from the Occupational Safety and Health Administration had been notified of the incident.
"The site is now closed. All workers have been sent home. The site will not be reopened until both OSHA and our own contractors and engineers have deemed the site safe," said Clay Holderman, chief operating officer of Presbyterian's Central Delivery System.
Holderman said most the injured workers were on the fifth floor when the scaffold collapsed. A subcontractor built the scaffold, which employees were using to work on windows and other items, he said.
"There are six total floors of the platform from the scaffolding and one section collapsed from the top to the bottom," said Darren Shafer, medical director for urgent and emergency services at the hospital.
Holderman said emergency workers "did an amazing job of immediately rescuing people and pulling people into our emergency department for treatment and securing the scene."
The medical center was working to notify families of the injured workers, according to Shafer, who declined to release their names or conditions.
Construction of Presbyterian Rust's second patient tower began in June 2014. The first three floors of the $86 million tower have been scheduled to open to patients Nov. 2.
The Associated Press contributed to this report.