Top 10 US hotels under $150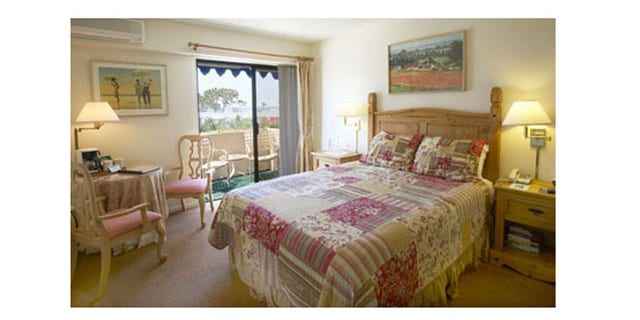 Not willing to shell out $400 for a basic room or upwards of $1,200 for a suite at a luxury hotel? We hear you. In the past this meant having to put up with cheap hotels offering questionable comfort levels. Essentially, you got what you paid for. But all that's changed, as mid-level hotels have begun competing for a population that travels more than ever. Even in New York and San Francisco — two of the most expensive cities in the country — one can find comfortable, affordable options with an abundance of modern conveniences. We scoured the country in search of the best hotels under $150.
The Jane
New York, New York
USA
Once a locale that temporarily housed survivors of the Titanic, then a flophouse for junkies, today this nautical-themed hotel straddling the hip 'hoods of the West Village and the Meatpacking District has a very high cool quotient. Its rooms are small — we mean really small — but The Jane makes up for it by packing in perks such as free Wi-Fi, cable TV, DVD players and iPod docks. The lively in-house restaurant, Café Gitane, serves Gallic-inflected fare with worldly flair.
Del Marcos Hotel
Palm Springs, California
USA
Fans of cool retro design will find the Del Marcos Hotel a mid-century desert oasis. The property was designed by architect William F. Cody in 1947, and all the fixtures — from furniture to lamps to art — are original. The seventeen-room, adults-only hotel offers a wide range of fun perks: free bicycle rentals, complimentary breakfast, poolside cabanas and fire pits, free Wi-Fi and a daily newspaper. Don't forget to tip your hat to the large painting of Frank Sinatra in the lobby.
Hotel 340
St. Paul, Minnesota
USA
This twelve-story English-renaissance building once served as a downtown clubhouse for St. Paul's elite; today, the restored structure houses Hotel 340 on the top three floors. Its 35 rooms boast hardwood floors, marble showers and nice views of the state capitol building and the Mississippi River, and room comforts include iPod docks, free local and national telephone calls and coffee makers. The University Club of St. Paul, a posh lobby bar, and an all-new, 60,000-square-foot fitness center (free for guests) also share space in the building.
Wine Valley Inn & Cottages
Solvang, California
USA
The central California wine-growing region north of Santa Barbara has been on the oenophile map ever since the Pinot Noir-flowing film "Sideways." And for those making a vino pilgrimage, there are few better spots to lay one's head than this property in the Danish-themed town of Solvang. The in-house wine bar pours wine from the area, naturally. The 59 rooms have unique features like lofts, multiple stories and plus-sized beds. And the hotel is pet friendly, so Fido can enjoy wine country as well.
Marina Inn
San Francisco, California
USA
Located in the posh Marina district, where the streets are flanked by boutiques and great restaurants, the Marina Inn is an amenities-loaded property with a loyal following (always a good sign). It's a ten-minute walk to Fisherman's Wharf and there are ample bus connections to take you anywhere in the city. Hotel perks include free breakfast, a 24-hour concierge and bay windows in the extra cozy rooms, whose décor leans toward rustic-country.
Historic Taos Inn
Taos, New Mexico
USA
A Taos historical landmark since 1936, this inn is the New Mexicaniest of all New Mexican hotels. Don't believe us? The 44 spacious rooms are all decorated differently. They do, however, all feature pueblo-style fireplaces. Some rooms have wood-beamed ceilings, canopy beds, dark wood armoires and large headboards. At the in-house eatery, Doc Martin's, chef Zippy White cooks up Southwest-accented fare that pairs well with the 400-bottle wine list.
Hotel Havana
San Antonio, Texas
USA
When one thinks of this historic Texas town, usually the southwest comes to mind. So does Mexico. But Cuba? Not really. Unless, of course, you're staying at Hotel Havana. Since 1914 (when it was opened by a grocer), the hotel has hospitably served passers-by. The 27 rooms come in all shapes and sizes, many of which include Turkish rugs and vintage Cuban art on the walls. Bathrooms are stocked with Red Flower body care products. And the location, on the northern part of the Riverwalk, is hard to beat.
La Jolla Inn
La Jolla, California
USA
La Jolla may be a southern California playground for the rich and richer, but that doesn't mean you have to pay in gold bullion to stay there. Welcome to the budget-friendly La Jolla Inn. Most of its 23 rooms feature stunning Pacific Ocean views. All of the accommodations (which were part of a recent $1 million renovation) include queen-sized beds with quilted bedspreads, wireless Internet access, coffee makers and hair dryers. In the afternoon, there's a complimentary beverage service that also offers free homemade cookies.
Cork Factory Hotel
Lancaster, Pennsylvania
USA
Fans of historic hotels will jump for joy when they check into this property. Set in a century-and-a-half-old brick foundry, Cork Factory Hotel is smack in the center of all things Amish. The minimalist but comfortable 77 rooms boast exposed brick walls and wood-covered ceilings, while bathrooms are made up of tile and granite. Diversions include free Wi-Fi, a fitness center and a restaurant that features seasonal fare with an emphasis on re-interpreted Pennsylvania Dutch dishes. It's enough to make you want to hop in your horseless carriage and point it towards Lancaster.
Longman & Eagle
Chicago, Illinois
USA
A gastropub and a hotel? Together? Yes, please. Imagine: you can munch on hearty fare like quail egg-topped lamb tartar, pan-roasted sepia in oxtail ragu and pork belly in a pumpkin risotto, washed down by the Whiskey of the Week (of course) and then simply walk up a flight of stairs to one of the six comfortable, industrial-chic rooms to sleep it all off.
MORE ON GAYOT.com
Photos and Reviews of the Top U.S. Hotels Under $150
Top 10 Value Hotels in the U.S.
Top 10 Value Hotels in the World