Study discovers the most painful experiences about airline travel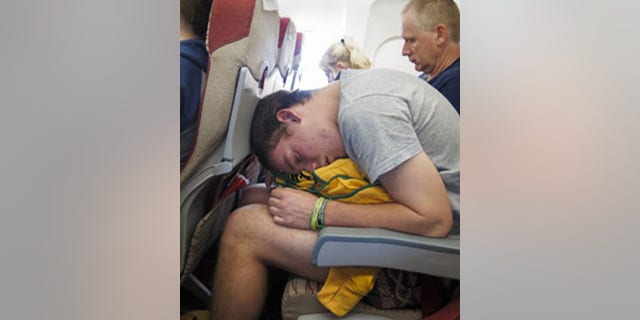 NEWYou can now listen to Fox News articles!
A recent study measured the pain tolerance of airline passengers. No worries — the analysis wasn't nearly as excruciating as it sounds.
Qualtrics, "the world's leading insight technology provider" according to its website, set out to gauge just how bothersome a flight experience could be before a traveler would throw up their respective hands and shuffle off to another provider.
The group interviewed people about the usual pain that comes with travel: lost luggage, hidden fees, stinky passengers; you get the idea.
As for the specifics: "This research was conducted by Qualtrics via online survey of 520 adults in the U.S. who have flown in the past year."
Researchers then asked the travelers to rank various experiences on a scale from the most benign to what they call a "deal-breaker" — something that would cause you to switch carriers.
From there, Qualtrics had its inaugural Airline Pain Index. What researchers found was "Approximately 1 in 5 passengers reported experiences so bad they switched airlines."
What we have below is a sliding scale, first is a graph featuring those occurrences that were deemed to be "very bothersome."
Parsed out above are those items that respondents deemed bothered them "a lot," more than a moderate amount.
As you can see, it's your usual list of extremely frustrating aggravations with lost luggage winning that unfortunate chicken dinner.
But what does this mean to airlines? The study also provides this scale, which reveals what would cause respondents to switching carriers.
Deal-Breaker
Featured above is the list of those items respondents deemed even more egregious. Qualtrics explains: "The (preceding) list refers to respondents who said an experience would make them not want to fly with that airline again."
Nearly half of the respondents saw lost luggage as severe enough to swear off their respective airline of choice, followed closely by hidden fees.
While just a third expected at least some measure of decency from staff. Being rude, it seems, is enough to lose a giant chunk of potential future customers.
The rest of the study found some intriguing items. For example, female travelers were "twice as likely as men to report being unhappy when traveling and put a higher emphasis than men on clean facilities and transparent pricing."
When it comes to your cabin neighbors: "Bad hygiene was far and away the top complaint, with 45 percent of respondents saying it is one of their top complaints, followed by someone kicking their seat (35 percent) and sitting next to someone who is drunk (35 percent)."
It follows that airlines would do well to continue providing what you might think would be the simplest terms: meeting expectations.
Travelers just want a polite crew to get them to their destination of choice with their entire luggage in tow. And they absolutely don't like surprises, especially when it comes to already expensive fees.
More from TravelPulse
Fancy New Upgrades for Hyatt Ziva
12 Apps That Will Help You Save For That Family Holiday Vacation
7 Christmas Markets in Europe Worth Experiencing
Let the Beauty of Los Cabos Capture Your Heart
Why You Should Still Visit Paris This Winter