Southwest Airlines seen kicking man and young daughter off flight in viral video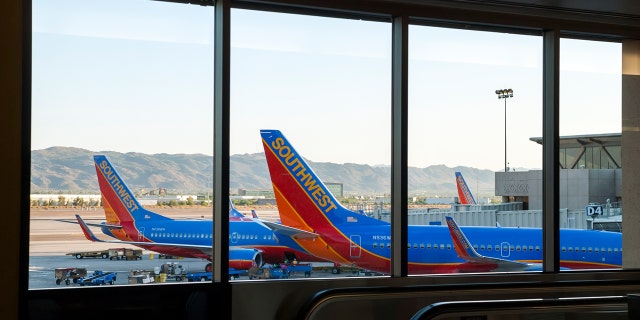 A viral video shows a man and his young daughter getting kicked off a Southwest Airlines flight after the child allegedly wouldn't sit in her own seat.
DOG MISTAKENLY SENT BY UNITED TO JAPAN RETURNING HOME TO HIS OWNERS
The video, shared on social media by fellow passenger Alexis Armstrong, was taken on Flight 1683 heading from Chicago to Atlanta Wednesday evening.
According to Armstrong, the little girl, whom she estimates was around two years old, was afraid and acting upset in preparation for takeoff. When the father asked for a minute to deal with his daughter, the attendant reportedly walked away and called for someone to remove them from the flight.
In her post, Armstrong wrote that the captain soon came over the intercom to announce the plane would be returning to the gate to handle a "customer service issue."
In the video, a Southwest official and flight attendant are seen speaking with the passengers for a short amount of time, though it's unclear what they are saying. The man, small child and an older woman seated next to them then gather their belongings and are escorted off the flight.
Southwest confirmed the family was removed from the flight after the "conversation escalated" between the passengers and crew.
"We always aim for a welcoming and hospitable experience and regret the inconvenience to all involved," a Southwest spokesman said in a statement to Fox News.
"The traveling party was booked on the next flight to Atlanta after the original flight continued as planned. We will reach out to the customer to listen to any concerns they have about their experience and look forward to welcoming them onboard again soon."
FOLLOW US ON FACEBOOK FOR MORE FOX LIFESTYLE NEWS
This video comes the same week Southwest Airlines made headlines for being ranked best carrier for economy class in a Consumer Reports survey.
Southwest beat out Alaska by one point with a score of 85, Chicago Business Journal reported.