Singer Jason Derulo slams American Airlines for alleged 'racial discrimination'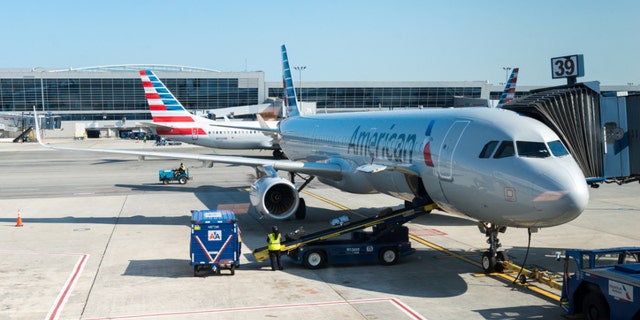 R&B star Jason Derulo says he was cursed at by an American Airlines pilot and met by 15 cops at the gate in a racially motivated incident after he asked to turn around a plane before takeoff so he could resolve a dispute over bag charges.
In a profanity-laced video posted on TMZ, the singer-songwriter said he and his crew of eight were "running a little behind" when they arrived at Miami International Airport and tried to check nearly 20 bags at no fee. Derulo, as a Concierge Key preferred traveler, is permitted to check three bags with no charge.
Derulo claims he encountered an AA employee who was "misinformed about how many bags a concierge key member gets, so we tried to explain to him … because we do this every single day."
He said the employee walked away for about 10 minutes and then came back and said it was too late to check the bags.
"So one of our guys was like, OK, listen … I'll stay and I'll take all your bags."
Derulo and the rest of his crew proceeded to the gate and boarded the plane, when the guy who stayed behind called him.
"And he's like, 'Yo! It's gonna be $6K to check all the bags.'
"What do you mean it's gonna be $6K to check our bags?
"They turn the plane around. They're like, 'Is there anything we can do to keep you on the plane?' We're like, don't charge me the $6K! It's that simple!
"So they end up turning the plane around."
That's when things went from bad to worse.
"When I get on the ground here, there's 15 police officers waiting," Derulo said on the video.
Then, he said, "As we're getting off the plane, the pilot comes and tries to make a scene…. He used profanity. 'I want these guys off the f***ing plane right now!'
"I said, listen to me, sir, you're not going to talk to me like I'm your son. First of all, I'm not your son, and I'm not at a lower level than you. What I'm getting right now is above your pay grade … and you're not going to talk down to me."
But if he were not a celebrity, Derulo said, "I know what the outcome would have been….
"Once they found out who I am, it's all relaxed and it's all cool and now we're chilling in the lounge at American Airlines, like everything is good. But it's not good. Because … if I wasn't Jason Derulo, I'd be in f***ing cuffs!
FOR THE LATEST TRAVEL FEATURES FOLLOW FOX LIFESTYLE ON FACEBOOK
"It's 100 percent racial, because the initial thought in people's minds is, you know these hoodlums … they be causing problems."
Derulo later took his complaint to Instagram:
In a statement to People, American Airlines said Flight 275 "returned to the gate prior to departure. A passenger elected to deplane in order to travel with their checked bags. The passenger has been rebooked with his checked bags on a later flight this evening."
According to a report filed by the Miami-Dade Police Department, People added, an airline employee said Derulo and his group "smelled of marijuana and were getting aggressive" when they were checking in, and they refused to give their IDs to airline staff when they got off the plane and initially refused to do the same with police.
No charges were filed in the incident, and the case was closed.