Ryanair passengers filmed fleeing plane after cell phone bursts into flames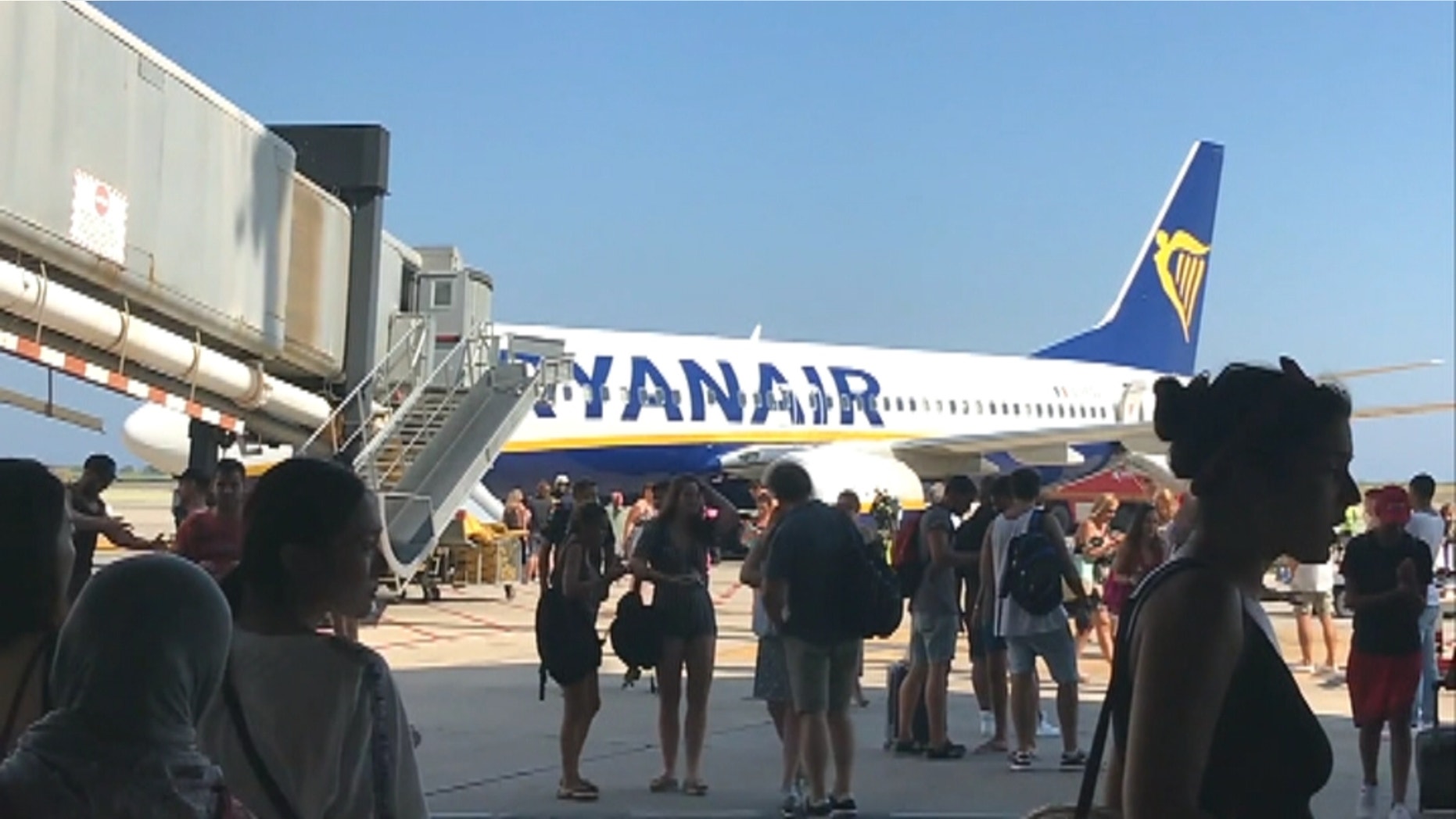 Footage from Barcelona captured the dramatic moment panicked tourists on a Ryanair plane escaped via an emergency chute after a passenger's mobile phone battery burst into flames minutes before takeoff.
Travelers could be seen falling over each other in a bid to get away from the aircraft as quickly as they could, right after the inflatable slide was activated.
WARNING: Clip contains strong language.
The drama happened around 5.30 p.m. on Tuesday at Barcelona's El Prat Airport as the packed plane was preparing to take off for Ibiza.
NORWEGIAN AIR PASSENGER MAKES CONCERNING COMMENT OVER SEATING ASSIGNMENT
No one needed medical attention, although some passengers are said to have suffered slight burns as they slid down the emergency chute.
Footage taken by onlookers and other passengers who had already left the aircraft showed the moments of tension, sparked by the plane filling with smoke.
Passengers were taken to the airport's Terminal One while they waited to board another plane and their luggage transferred to the new flight. Firefighters were not called upon to deal with the incident.
Photographs that claim to show the phone, and the damage to the plane, were later shared to Twitter.
The unnamed passenger whose mobile caught fire is said to be from New Zealand. The device is thought to have been in a suitcase in the storage area above his seat.
"The passengers of a flight from Barcelona to Ibiza were evacuated in an emergency at Barcelona's El Prat Airport because of a fire in a mobile phone that was being charged with an external battery," a spokesperson for Ryanair said in a statement on Tuesday. "All the passengers were evacuated from the aircraft in a safe way to the terminal and the cabin crew took charge of the device."
"Ryanair is working to organize a replacement plane to re-accomodate the passengers as fast as possible," the airline added.
IRAQI AIRWAYS PILOTS SUSPENDED AFTER FIGHT BREAKS OUT IN COCKPIT
One relieved passenger said it was lucky the phone didn't catch fire "when we were already on the runway."
"We were just over 100 feet away from the [gate] when the device exploded and smoke began to come out. Fortunately I was in the first row and I opened the emergency door before the pilot activated the chute."
Another passenger, Jordi Vilagut, told a Catalan TV station the incident had caused the aircraft to fill with smoke and some flames.
He said the evacuation had been more like a "stampede" because of the cabin crew rushing to get passengers off the plane as soon as possible.
FOLLOW US ON FACEBOOK FOR MORE FOX TRAVEL NEWS