Rocking the Boat on the Legends Cruise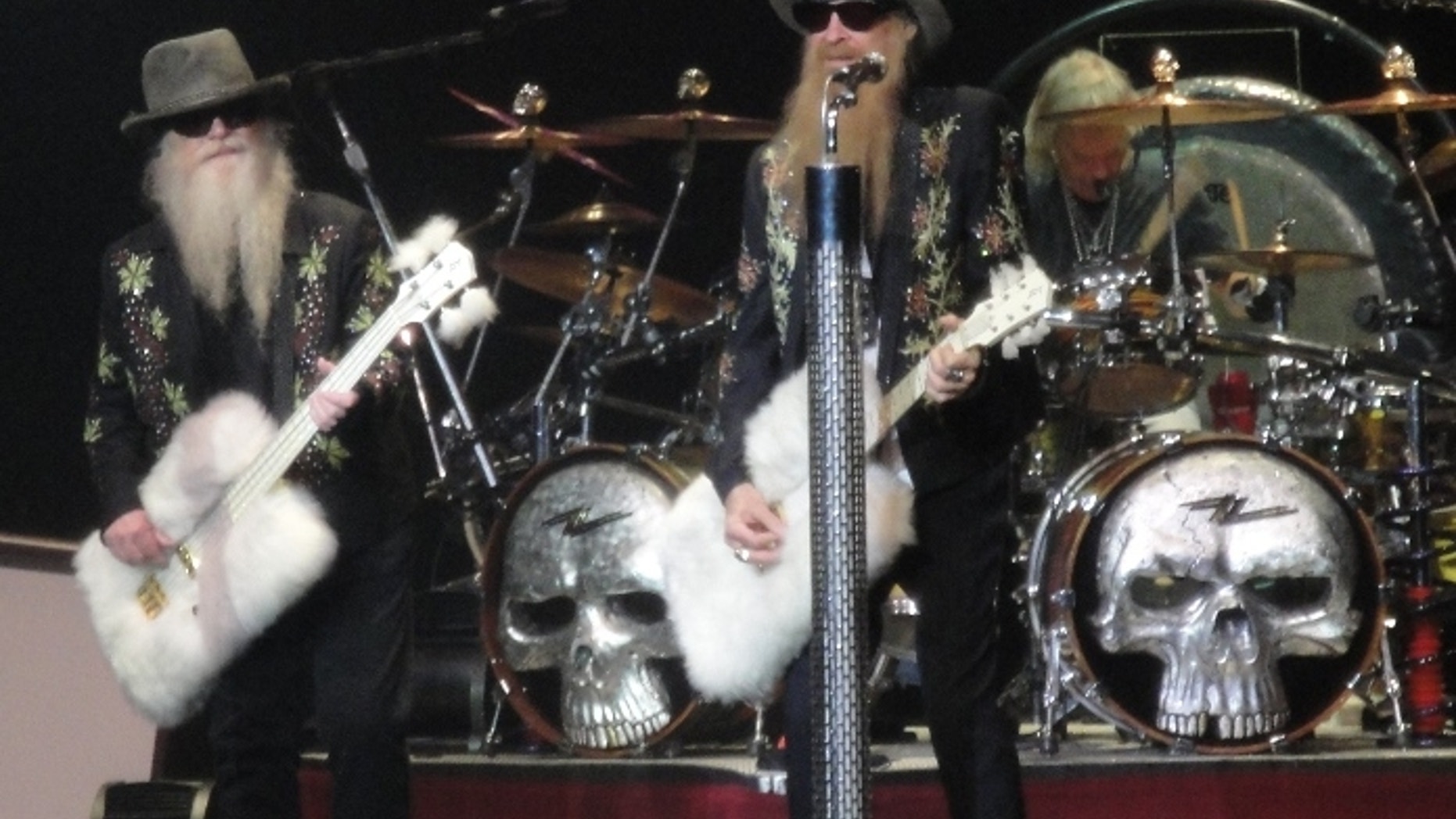 Rocking and Rolling on Royal Caribbean with the Rock Legends Cruise featuring ZZ Top.
I am a big fan of cruising, and like many "boomers," I also take rock 'n roll pretty seriously. For me, life doesn't get any better than last week's Rock Legends Cruise aboard Royal Caribbean's Liberty of the Seas --an amazing lineup of 21 bands performing day and night. It was like Woodstock at sea; four days of peace, love and rock 'n' roll.
Participating artists included ZZ Top, George Thorogood and the Destroyers, John Kay and Steppenwolf, Molly Hatchet, the Marshall Tucker Band, The Outlaws, Foghat, Dickie Betts and Great Southern, Johnny Winter, his brother Edgar Winter, Devon Allman (the guitar-playing son of Gregg Allman), Artimus Pyle (former drummer for Lynyrd Skynyrd), Pat Travers and several more.
Most of these bands (but not all) fall into the Southern Rock category.
The story behind this event is almost as amazing as the cruise itself. It was all instigated by a woman who had never before promoted a music concert: Pamela Myers, vice president and treasurer for the Native American Heritage Association (NAHA). This four-star charity benefits the Native Americans of two of America's poorest counties, the Crow Creek and Pine Ridge reservations in South Dakota.
While many successful music promoters charter cruise ships for profit, Pam pulled off one of the biggest rock music cruises ever on her first try, and she did it for charity. Of all the ways to raise money for a charity, why did she choose a rock music cruise?
"I guess I could have done a $10,000 per plate dinner with George Clooney," she told me, "but that just isn't me." As for the notion of a rock cruise, "I am a fan of Southern Rock," she continued, "and I took a 'Simple Man Cruise' in 2009, which was a great experience."
The Simple Man Cruise is an annual for-profit event organized by Sixthman Productions of Atlanta that typically features Lynyrd Skynyrd, Molly Hatchet, 38 Special and a few more bands. It usually sails on the much smaller Carnival Inspiration.
"Word was out that they were planning to skip the next annual Simple Man cruise," Myers continued, "and so I thought the timing was right for me to do a similar cruise." (Actually, Simple Man 2012 is going forward, but the announcement came later than usual and they have only one band scheduled so far – Lynyrd Skynyrd.)
But Simple Man uses Carnival Inspiration (maximum 2,634 passengers), while Myers chose to use the much larger Liberty of the Seas, which up until 2010 was one of the largest cruise ships in the world, well over 4,000 passengers at full capacity. Then she booked 21 bands, many of them with hit records -- a far more ambitious marquee than the usual Simple Man lineup.
"With that many artists I needed to sell a lot of tickets, so Liberty made the most sense," she said, but Pam was taking a highly calculated risk aided by Landry and Kling, one of the best cruise event planners in the business. Their job is to take people like Myers, analyze their needs, run the numbers, and coordinate with the cruise lines. After determining and getting the best ship, their ongoing services include planning show schedules, mealtimes, menus, port stops and the designs of everything from web sites to the daily programs onboard and even the cocktail napkins.
"Chartering a cruise ship and producing a music concert have a lot in common," said Mark Phillips, COO of Landry and Kling, who was onboard for the entire cruise. "They both require a huge investment with no guarantee of return."
So was the Rock Legends Cruise a success?
"It will take 60 days to fully run the numbers, but it looks good," Myers said. "Plus, the cruise is already a success in many ways," she explained. "Running a charity is different in the Baby Boomer generation; you have to find your audience," she said. "These people, mostly fans of Southern Rock, identify with a charity that benefits Americans. But you also have to give people something really special to get donations these days. That $10,000 per plate dinner with George Clooney might have worked once, but I need to reach people who will remain involved."
How was the cruise?
To put it simply, the cruise was amazing, but music cruises are always special because of the sheer number of musicians onboard. Many of these players had been in various bands together since the 1970s, and we even saw a whole new generation of players, many of the the spawn of other players onboard, in bands of their own.
Here is how it went. At 7:30 a.m. NAHA had 72 pallets of stage equipment on trucks standing by for unloading. But they couldn't move a single guitar pick until Customs and Border Patrol said the ship was "cleared" which didn't happen until 10:30, according to Mark Phillips. A crane taller than 20-stories lifted cages of amps, curtains, light trees and cables from the pier to the top open deck (deck 11), where techs were building a sound stage.
The first notes from the Marshall Tucker Band rang out on deck at 5:30 p.m., sail-away time. But downstairs at "Studio B" (aka the ice rink), people that lined up for Edgar Winter's show scheduled for 6:00 were pretty upset when the doors didn't open until 7:15. George Thorogood was set to light up the Platinum Theater, the largest venue onboard, but he also started late. The morning delay had set everything back, but just for the first day. For the rest of the cruise most of the shows started right on time and the winds of fortune smiled.
"There were some miscues," admitted Myers, "but we sorted them out." Promoting a music cruise means coordinating a lot of people -- stage crews, sound reinforcement, security -- and the bands with entourages who can be somewhat demanding when it comes to "working conditions."
A typical rock band contract can have dozens of pages just for what they want to consume backstage. "But I personally found all of the bands to be wonderful," said Myers. "I guess it comes with age, but none of them were overly demanding."
There was also Royal Caribbean, the company and the crew. Pam said the cruise line helped her in many ways, finding the crane, for example. "And the crewmembers said we were the nicest people they ever served," she added proudly.
Interestingly, Myers and NAHA kept a very low profile throughout the cruise, with the charity barely mentioned. "We didn't want to confuse the message of why we were here," she said. "This cruise was all about the music."
In the end, it was the perfect strategy. After all, if the cruise didn't succeed, neither would the mission. But by the last night bandmembers on stage were extolling the event and Myers. The common feeling was that too many extraordinary things had happened to fully appreciate the experience.
ZZ Tops' Billy Gibbons joked about "staging a mutiny to make the captain turn the ship around so we can do it all again."
Will Myers do it again? 
The Rock Legends Cruise of 2011 has so far been considered a one-time event, and Myers reminds us that NAHA is a charity, not a music production company. "Our first priority is our cause. We have been rated four-stars (the highest rating by CharityNavigator.org) for seven years now and 94 percent of our proceeds go to our people. Not many charities can say that. But I will tell you this much: Our phones are already ringing off the hook with people wanting to book the Rock Legends Cruise 2012."