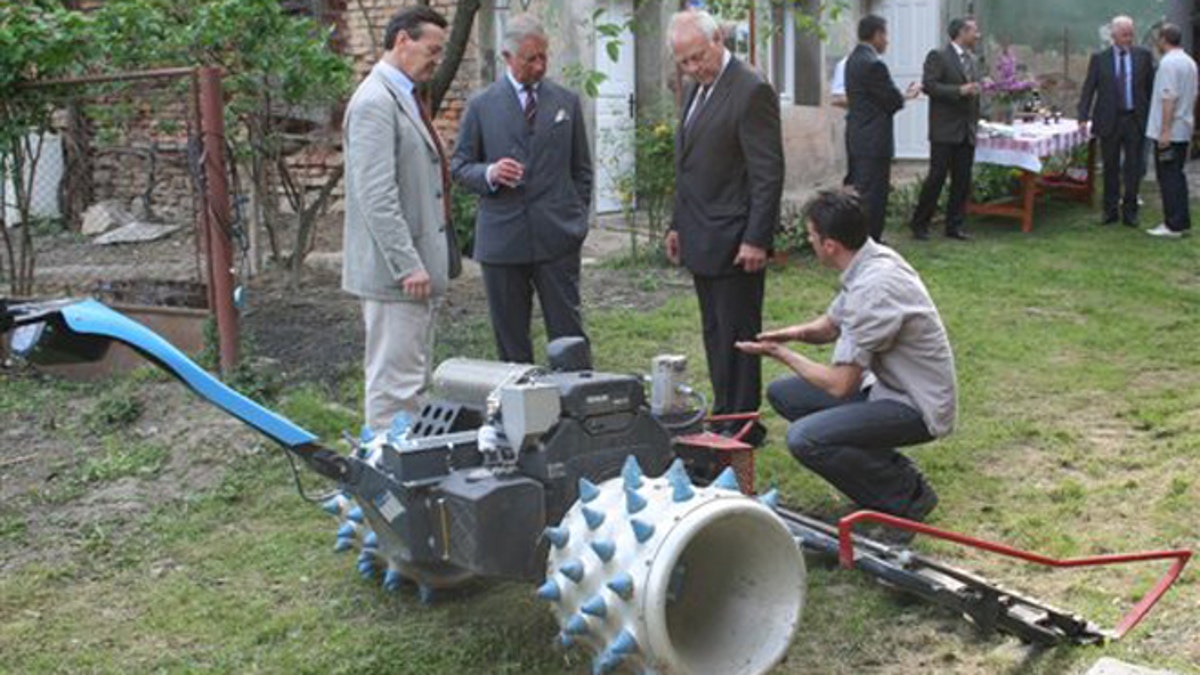 SASCHIZ, Romania – On the last day of Queen Elizabeth's Diamond Jubilee celebrations, Prince Charles joined his mother at Buckingham Palace and waved to the crowds in a ceremony watched by millions around the globe.
The next day, the 63-year-old heir to the British throne was a world away, in the heart of Transylvania, a tranquil haven he calls "'the jewel in Romania's crown," soaking up rural scenes that look like pages from Grimms' fairy tales.
Here, in the small 13th century town of Saschiz, life has all but stood still. With its UNESCO heritage site of a Saxon fortified church, wolves and bears roaming the woods, and lush meadows brimming with fruits untainted by chemical fertilizers, it is an unspoiled treasure luring Westerners — like Prince Charles — in search of a quieter life.
"This area is Europe's last great lowland landscapes ... and this part of Transylvania is unique — miles and miles of wildflower-rich grasslands, rolling hills with oak and beech forest sheltering wolves, bears, and eagles. And all this is still in ecological working order, in which small-scale farmers coexist with the richest natural diversity of anywhere in Europe," said Nat Page, a former British diplomat who now works as a conservationist.
After communism ended in 1989, the region spiraled into economic and social decline as tens of thousands of well-educated young and middle-aged Saxons, descended from a Germanic tribe that settled here in the 13th century, emigrated to Germany in search of better jobs and a more stable lifestyle. Their administrative and farming skills and business savvy left a dent in the community, but another trend is emerging: Entrepreneurs and conservationists, mostly British, are moving to Transylvania to turn the bounty of the land into a thriving and sustainable business while respecting the environment and providing a livelihood for local residents.
Take the humble rhubarb. The Saxons brought the rhubarb to Romania 800 years ago and the pink-stalked fruit, together with the elderflower and a basketful of other hedgerow fruit, are the core of business here. Jams and relishes based on traditional Saxon recipes are sold in places as diverse as Bucharest airport's duty- free shop and London's Fortnum & Mason, the upscale store known for specialty goods and products approved by the royal family.
The elderflower is king of the crops. It is so abundant that a study found 26 tons of elderflowers bought by a British company from 1,200 residents represent just 3 to 4 percent of the local elderflower harvest. After the flowers are picked, the juice is extracted from the scented cream petals and is then sent to Britain to be bottled as delicate elderflower cordial, sold in upmarket supermarkets and pubs. (In the U.S., the plant's berries are sometimes used to make elderberry wine and other products.)
"The elderflower product is the backbone of our business. In 2012 we set out to collect 13 tons of elderflower. Now when we thought about it, one flower weighs 6 grams. It's quite an exercise to envisage what 13 tons would look like," said Jim Turnbull, a British entrepreneur, who ended up producing twice that amount. "We are putting a huge amount of money into the community every May and June just for elderflower, but we're using the same teams to collect other fruit and berries that we're making into jams and juices."
Charles visited Turnbull's premises on his last visit and has given his stamp of approval to Transylvanian "royal" honey, which will soon be sold in Fortnum & Mason. When he visits, Charles stays either in a restored 19th century manor in the hillside village of Valea Zalanului (available for guests when he's not there), or farther down the valley in the village of Miclosoara, in cottages owned by Transylvanian Count Tibor Kalnoky. Charles' younger son Prince Harry spent Easter in the area and was filmed riding a motorbike along snowy tracks.
Saschiz mayor Ovidiu Soaita says the royal visits are a godsend, with unemployment in the town standing at 30 percent, but jokingly lamented that he did not clink a glass of fiery plum brandy with Charles this year, as the prince avoided any event that might have influenced June municipal elections.
But while he stays out of local politics, Charles' professed love for Transylvania and his claims to be related to Vlad the Impaler, the bloodthirsty Romanian prince who inspired Bram Stoker's 19th century Dracula novel, have clearly boosted tourism and interest in the area. The fabled town of Sighisoara, where Vlad was born, is 15 kilometers (9 miles) from Saschiz.
On a visit in March, the Prince of Wales observed that those who mock small-scale farming as unworkable often "travel to traditional landscapes when they go on holiday. They talk with great relish about the local food they enjoyed, the distinctive wines, the villages and the magical atmosphere of places that can only be found ancient sustainable landscapes."
Page said that improving business opportunities for local farmers goes hand in hand with nature tourism. "When visitors come here, including Prince Charles," Page said, "they love it because they feel that this is how the world ought to be."
___
If You Go...
SASCHIZ, ROMANIA: Tourist information center is located near the church tower in Saschiz. The best online site is run by a conservation group at http://www.adeptfoundation.org .
GETTING THERE: The nearest train stations are Vlad the Impaler's birthplace, Sighisoara, about 15 kilometers (9 miles) away, and in the larger city of Brasov, some 130 kilometers (80 miles) southeast. You can also fly to the regional airport of Targu Mures as Prince Charles and Prince Harry have done, about 70 kilometers (44 miles away) northwest. Or fly into the Romanian capital, Bucharest, about 330 kilometers (206 miles) away, a four-hour drive with plenty of pretty scenery.
LODGING: Charles' Transylvanian manor at Valea Zalanului, in a remote village in the foothills of the Carpathian Mountains is a must for those wanting to go for the "Transylvanian royal experience." Guests can also stay in restored cottages owned by Count Tibor Kalnoky in the village of Miclosoara, where Charles also stays. Prices start at 39 euros a night. Hiking and nature tours are also offered. Details at http://www.transylvaniancastle.com . Charles also owns a house in the village of Viscri, where lodging and activities are available from a guesthouse called Viscri 125, http://www.viscri125.ro .