Philadelphia's national historic sites shut down amid Trump's hiring freeze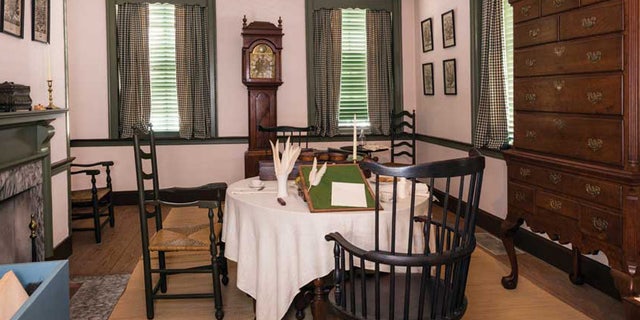 Planning a visit to Philadelphia's historic Declaration House in the near future? You might want to rethink your itinerary.
The Declaration House is one of seven historic attractions within the city's Independence National Historic Park that has closed for the coming months, as they are "severely understaffed" following the hiring freeze of federal employees instituted by President Trump, reports PennLive.com.
"With a new hiring freeze instituted by the Trump administration, there simply aren't enough people to do the work," reads a statement posted by the American Federation of Government Employees (AFGE) on March 10.
In addition to the historic sites — which also include the Franklin Printing Office, Thaddeus Kosciuszko House, the Fragment Museum, New Hall Military Museum, the Todd House, and the Bishop White House — the park service has also shut down the public restrooms at Independence Square.
CHINA CONTINUES REPLICATING ICONIC STRUCTURES FROM AROUND THE GLOBE
The AFGE also reports that the bathrooms won't just be closed throughout coming months, but "indefinitely" through the entire summer as well, said AFGE National Park Service Council 270 President David Fitzpatrick.
Since those rest areas are the only public bathrooms in Independence Square, the AFGE says they've needed to redirect people to the Independence Visitor Center two blocks away — but the park already overwhelmed.
"We get 30 to 40 buses in a day, and the first thing people do is look for restrooms," said Fitzpatrick. "Nearby businesses are complaining to our members about the lack of restrooms at Independence Hall."
Lauren Hitt, a spokesperson for Philadelphia Mayor Jim Kenney, has said that the hiring freeze is a detriment to the local schoolchildren, too.
"Everyone wants a more efficient and effective government, but we can't have staffing levels so low that children don't have the opportunity to learn about the founding principles that made this country great," said Hitt, according to Philly.com. "That's just bad government. We hope that as Congress and the president consider their budget, they will learn from this mistake and institute a budget that lives up to our nation's proud history of serving our most vulnerable."
President Trump's federal worker hiring freeze went into effect in January, but permitted exceptions only for military, national security or public safety personnel.
FOLLOW US ON FACEBOOK FOR MORE FOX LIFESTYLE NEWS
According to Philly.com, a spokeswoman for the Independence National Historic Park said they're in talks with the federal government about the issue. She also said that the Office of Management and Budget approved a plan to hire seasonal employees, but it's not yet clear whether those employees would be assigned to Philadelphia's historic sites.
It should be noted that certain attractions at the Independence National Historic Park have have maintained off-season visiting hours, with some sites closing early, or being opened by appointment only. Still, these new closures are beyond what the AFGE has seen in recent years.
"I've been here 17 years, and I can't recall anything like this before," said AFGE's David Fitzpatrick.