Oceania Marina Exceeding Expectations Again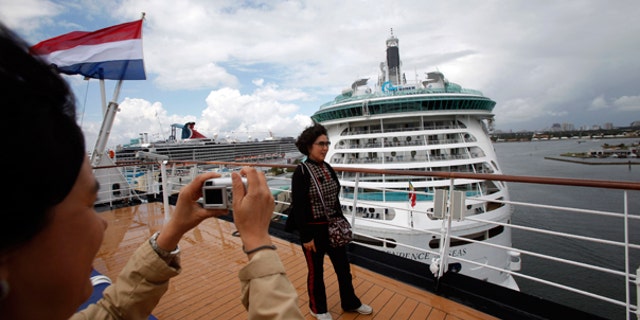 Renaissance Cruises, a small but popular 1990s cruise line, was known for exotic itineraries, excellent cuisine and value prices.
Its 684-guest ships were small, but building eight of the now well-known "R-ships" in a few short years left the company over-leveraged and the September 11th tragedy pushed it into bankruptcy.
Suddenly jobless, former executive Frank Del Rio leased back one of the R-ships and launched Oceania Cruises and offered the same value but holding the reins tight to manage growth. Soon, he leased back two more R-ships and Oceania flourished.
Del Rio's payoff came in 2007 when the line was acquired by Leon Black's Apollo Global Management, the same company that owns Harrah's Entertainment and other big names in the industry. The private equity firm also acquired Regent Seven Seas Cruises and a 50% interest in Norwegian Cruise Lines. They rolled the cruise lines up into Prestige Cruise Holdings and made Del Rio the boss.
In 2008, Oceania announced it would build two brand new 65,000-tons, 1,258 passenger ships. Oceania Marina arrives in January 2011 and Oceania Riviera will debut in April 2012. So far, the interest in Marina has been somewhat muted with so many other new ships coming online, but with new details emerging we're suddenly all eyes and ears--rightfully so.
Marina will offer the largest staterooms at sea--on average. There are three 2,000 sq. feet owner's suites (spanning the entire width of the ship), 12 oceania suites of 1200 sq. feet, eight vista suites up to 1,500 sq. ft., and 124 penthouse suites of 420 sq. feet.Even the basic verandah suite is 285 square feet, one-third larger than industry average.
The three smaller R-ships were already known for excellent cuisine from executive chef Jacques Pepin, but Pepin is taking Marina to the next level with 10 eateries and only two have a service charge.
Marina has the same Grand Dining Room, "Tapas on the Terrace" cafe, the Polo Grill and Toscana trattoria as the smaller ships, but Marina adds Red Ginger for Asian Fusion and will also feature "Jacques," Pepin's first namesake restaurant.
The first two new restaurants with service charges are Privee, offering a seven course Menu Degustation custom designed for eight people to your specifications; $1000 per night. La Reserve collaborates with Wine Spectator Magazine for a seven course dinner, each course perfectly paired with a premium wine.
Since Marina is a leap forward from the existing Oceania ships, I consulted with cruise ship connoisseur, Eric Goldring, a yachtsman, maritime lawyer and luxury cruise expert.
Goldring sells cruises the same way the sommelier at the Le Reserve sells wine. He doesn't care about volume, but is maniacal about customer satisfaction. His favorite cruise line right now is Seabourn, but he too is intrigued by Oceania Marina, so I asked him a few questions:
What is the best asset of Oceania Cruises already? That is easy: from the top down, the people. If something needs to get done, the top executives' sleeves get rolled up (literally) and it gets done. When such a commitment exists at the top, you see it trickle through the ranks.
What will Marina bring to Oceania Cruises? Marina is larger and more modern, but it also adds some complexity that I need to see play out. Oceania is already strongly focused on the gastronomic and oenophile experiences, but the stateroom offerings on Marina put it in a new category and may extend its demographic to both younger and more affluent people.
What do you think of the food on Oceania? Ironically, Oceania has historically spent more per person than its sister company, Regent Seven Seas which markets itself as a "Six Star Luxury Cruise Line."
The CEO of Oceania, Frank Del Rio, and its president, Bob Binder, are self-professed foodies, so Oceania is at the top of the premium category when it comes to food. But when it comes to luxury lines like Seabourn, there really is no comparison. Seabourn prepares complex menus a la minute for 200 to 450 guests while Marina will be preparing meals for 1,258 passengers. Oceania boasts of the flour and butter it uses for its baguettes, but on a true luxury line it is merely expected.
How does Oceania differentiate itself from Azamara, and the former R-ships now owned by Princess? There is a more distinct difference between Oceania and Princess because those Princess ships are consistent with the basic mass market food/service standards of Princess. Azamara comes closer, but the line has a history of "redefining" itself while Oceania is in the position of "refining" itself.
With excellent food and spacious staterooms, how close does Marina come to a luxury cruise line? Each person defines luxury differently. Is it all-inclusive pricing, the level of service and cuisine or the facilities of the ship? I believe it is more about the staff and cuisine than the ship. A fancy ship with a less polished staff or average cuisine is not "luxury," whereas a simpler ship with an outstanding staff and cuisine is undeniably "luxury.
The vintage (introduced in 1988) Seabourn triplets have very limited facilities, unlike the newer and larger Seabourn ships, but all Seabourn ships provide an unabashedly luxury cruise experience. But while Norwegian Epic has lots of "stuff," it is most certainly not a luxury experience.
I think Marina has the potential to be a finer cruising experience than Regent Seven Seas (also owned by Prestige Cruise Holdings) as I wrote in my blog, but the final distinction really depends on the people and policies. As Oceania has a history of under-promising and over-delivering; it is going to be very interesting to watch.
Cruising 101
As always – if you need to know more about cruising we urge you to consult our Cruising101 FAQ.
I started writing about stock market investing for Motley Fool in 1995, but previously I worked aboard cruise ships. I co-started CruiseMates.com, the first cruise travel guide on the Internet in New York City in 1999. CruiseMates, one the Web's top cruise travel guides was acquired by Internet Brands (NASD: INET) in 2006. Once CEO, I am now the editor of CruiseMates – Paul Motter