New French campaign fights counterfeit fashion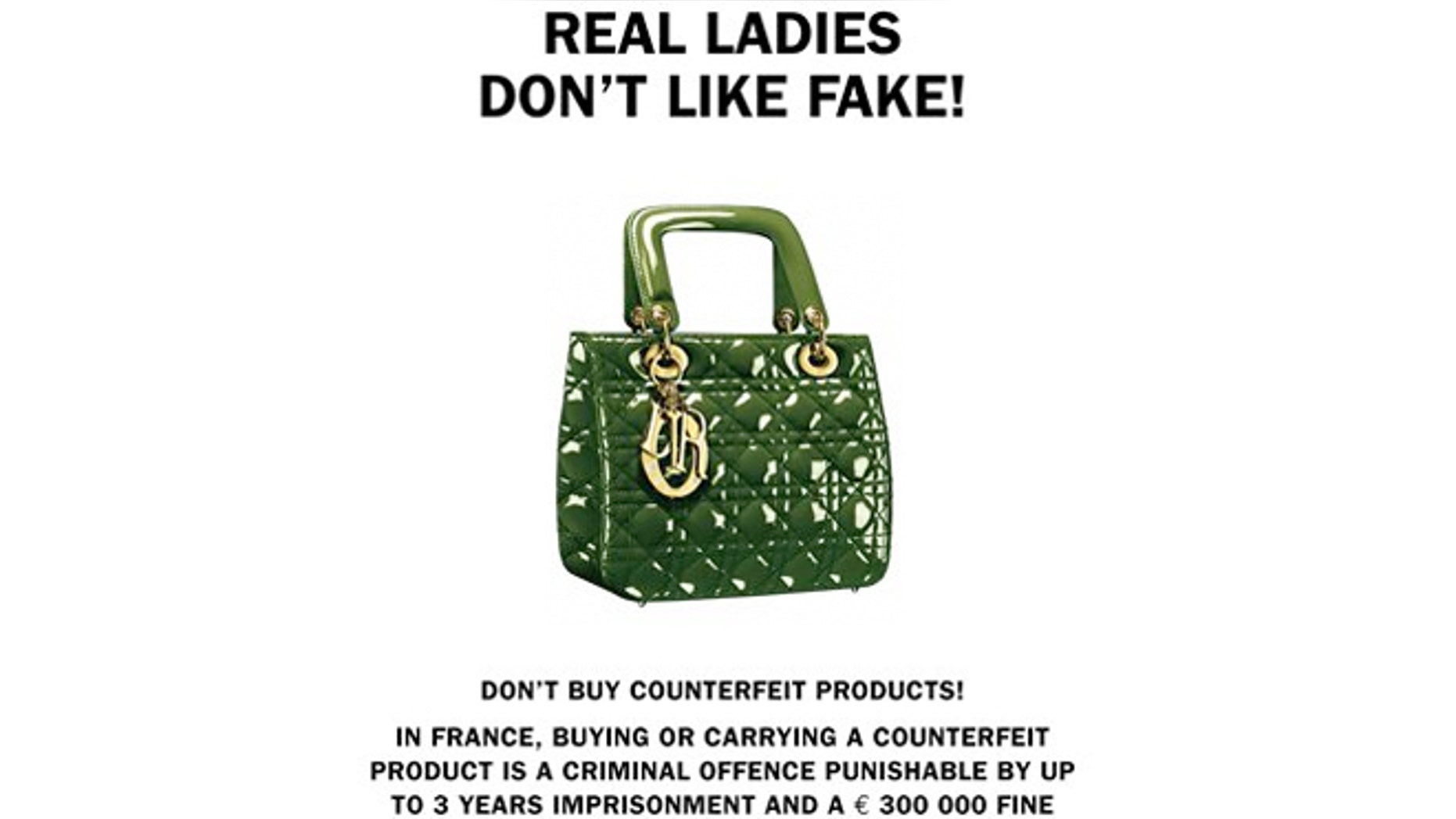 Below the steps of Paris' Sacre Coeur church, four sellers of fake Dior sunglasses run off past a group of tourists.
"The police came, so they ran," said kiosque worker Nicole Barsky. "It's always the same. They'll be back selling in five minutes."
In tourist spots around Paris — including at the Louvre and the Eiffel Tower — Louis Vuitton bags, Gucci watches and Christian Dior shades — all fakes — are ubiquitous.
One counterfeit seller, Rex, who works in Montmartre and wouldn't give his surname, said he was proud of selling imitation Louis Vuitton purses: "Why should I care? There are no jobs anyway. I sell at this at five euros. It's a bargain: euro80 ($99.50) in a shop."
Though 5 euros might seem low, it adds up: Fake luxury goods now lose French industry an estimated euro6 billion ($7.46 billion) euros a year.
But a new poster campaign launched Wednesday by French anti-counterfeit body Comite Colbert signals a fight back.
"French Customs have revealed that some 8.9 million counterfeit products were seized in 2011 — up from 2.3 million in 1998," said Elisabeth Ponsolle des Portes , president of the Comite Colbert. "This new campaign aims to wake people up this."
The spike is no surprise to some.
"Yes, the fashion industry is rare in doing well in the (global financial) crisis, so then it makes sense that the counterfeit industry goes up too," said Jean Cassegrain Wednesday, the CEO of luxury brand Longchamps.
"People see its soft side. But it's not: It costs thousands of jobs, helps the drug trade and also stifles creativity."
The Comite Colbert campaign pokes fun at the public's mistakenly flippant perception of counterfeit products.
"Buy a fake Cartier, get a genuine criminal record," reads one poster, next to a picture of a shiny fake. "With this phone, you better be ready to call your lawyer," reads another, next to a photo of a cellphone with a misspelled "Chanelle" branding.
Six other European countries have agreed to display the posters including Italy, Croatia, Hungary, Romania, Czech Republic and Slovakia.
The inclusion of several Eastern European countries highlights that this is a growing route for illegal trade between borders.
But geographical frontiers are becoming less and less relevant in the fight against crime, with the expansion of e-commerce.
"That's why it's good that online sites such as PriceMinister.com have started to regulate against counterfeit products," said Ponsolle des Portes.
Across the Atlantic, the United States is also waking up to the fight against counterfeit products.
Earlier this month, from New York fashion house Hermes was awarded a staggering $100 million in damages against 34 websites that sold knockoffs of its luxury handbags.
In the case the Manhattan judge recognized the role that websites and search engines play in facilitating the activity, in ordering Google, Bing and Yahoo to stop providing links to the offending sites.
"The U.S. wasn't really interested in fighting counterfeiting before as it was seen as free enterprise, but that changed when they realized that money to finance terrorism came from counterfeit," said Cassegrain.
It's a sign that the world is waking up to an activity, which, when combined with piracy — according to the International Chamber of Commerce — cost the global economy more than $1 trillion last year.