Mile Runners Take Frequent Flyer Mileages to a Whole New Height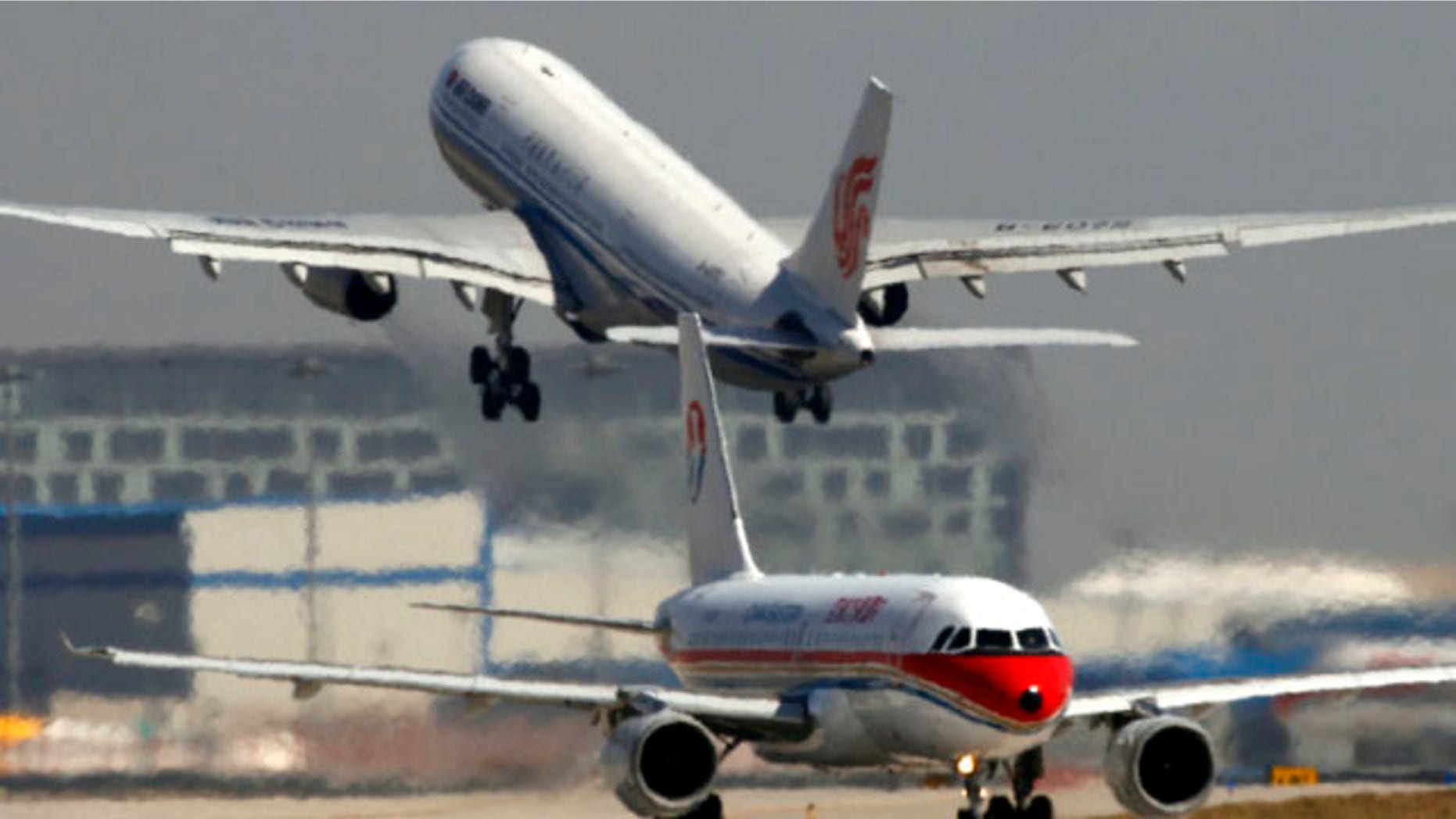 Would you ever fly around the world in 48 hours, or fly through Detroit eight times in a single trip -- just to get air miles?
Well, there is a group of traveler junkies so obsessed with racking up frequently flier miles, they scour the Internet for deals that take them through little-known airports, making them wait hours for connections, and (this is the best part) once they reach their destination, rarely leave the airport and just turn around and head for home again.  And while the trips are different, the goal is the same: elite air travel status.
They're called mile runners -- frequently flying hustlers who live and breathe by Internet flight bookings that allow them to acquire EQMs (Elite Qualifying Miles) that give them luxurious travel perks that airlines have all but eliminated. And mid October is their busy season - their last chance to get those miles and points up to pave the way for highfalutin flying in 2012.
There are two levels of crazy within this class of obsessive traveler. Most, compulsively seek points to re-qualify for a specific elite level of travel.  Perhaps, for example, they are shy a few thousand miles of the elite 100,000 miles mark. The more radical mile runner is an opportunist who hunts for flights based on a ratio of unique miles-per-dollar spent. Their goal is to earn miles that they can apply later for free travel.
Mile runners are typically busy business travelers who book trips that can be completed in one or two days over a weekend. They communicate with acronyms -- their goal is to keep a low CPM (cost-per-mile) and book an a/i (all-in) flight. (All-in means including taxes, fuel surcharges, and whatever fees the airlines decide to tack on.)
An example of the flight hell mile runners are willing to subject themselves to goes something like this: YXU-DTW-ATL-SFO-JFK-DTW-ATL-SEA-YVR-MSP-DTW-NRT-LAX-DTW-MSP-YVR-DTW-YXU-DTW-MSP-YVR-DTW-JFK-NRT-ATL-MSP-YVR-MSP-DTW-YXU.
That's a round-trip flight between London, Ontario and Detroit, Michigan with layovers passing through Atlanta, San Francisco, New York, Minneapolis, Tokyo twice and Detroit eight times for a single mileage run.
Randy Petersen, co-founder of the frequent flyer community online destination, Milepoint.com paid just $320 for that flight, meanwhile accruing an excess of 35,000 miles -- with bonuses. (The distance between the two cities is a mere 103 miles.)
Clearly, there's a mathematical method to this mayhem.
"It's a ratio of travel time vs. distance flown vs. cost vs. end game," says Petersen. "A mileage runner for value always wants to accrue miles at a low cost and then redeem at a high cost. Anything less than a CPM of 3.5 is considered pretty good if building bulk miles. Near a penny is always best. This is not about sightseeing. Would anyone purposely fly through Detroit eight times?"
So what is it about?
Upgrades, free access to airport lounges, fee waivers like free baggage check-in, access to priority security lines for faster passing, the ability to change flights, and well, overall better treatment. Tickets that typically run around $25,000 a person are otherwise affordable, if not free.
For the constantly traveling Dan Nainan, a comedian and computer expert, it's Delta, Delta, Delta.
"Being a Diamond Medallion on Delta is absolutely incredible," says Nainan who is a sucker for the complimentary Sky Club amenities that he loves to take advantage of, and which often include, unlimited food and drink, meals to order, showers, conference rooms, Wi-Fi, office cubicles, a putting green, and a movie theater.
"I love when I get to the airport and see this huge zigzag line and I get to go to the front," says Nainan. "It's analogous to getting to a nightclub and having the velvet ropes part immediately while a huge line waits to get in."
Nainan's Diamond Medallion status also grants him a "special secret" toll-free number that greets him by name and is answered immediately.
United and American, at the 100,000-mile flyer level, offer unlimited complimentary upgrades domestically too.
"Flyers generally fly in first class for the price of coach on domestic itineraries," says Gary Leff, author of View From the Wing blog. "They earn international upgrades confirmable at time of booking, have top priority for boarding, re-accommodation during irregular operations, and earn double frequent flyer miles from flying. Free travel is a side benefit."
Not for Ben Schlappig, 21, a recent college graduate and founder of PointsPros.com. A self-described "full time" mileage runner, Schlappig's hub is his hometown airport is Tampa Fla. (TPA) and his singular goal is to rack up the miles for as little money as possible. He then redeems them for international first and business class tickets for destinations he otherwise can't afford.
"You have people of all walks of life and backgrounds, from high school or college students to executives at major companies, to retired people," says Schlappig.
Another potential downside mile running is flagging security, especially when suspiciously arriving to a far-flung destination with limited luggage, only to reboard immediately for the return. Stuart Gustafson banked 100,000 miles already this year on United Airlines and is gunning for lifetime Million-Mile status. Surprisingly, the four $600 round-trip trips he made from Boise, Idaho to Seoul, Korea over a two-week period didn't raise an eyebrow.
"I've been stopped only twice," says Gustafson. "Once returning from Germany with no luggage. I was questioned, but once I explained I was just doing a mileage run, the officer said, 'Oh, you're one of them. How much did your flight cost you?'"
Both classes of mile runners have the same motivations and believe the sacrifices -- hours sedentary on planes and in airports, multiple legs, round-trip travel without an overnight stay, repetitive airport security that might lead to potential Homeland Security flagging -- are well worth it.
"By far the best reward is sitting in first class, dining on filet mignon so tender I can cut it with a fork, and sitting next to movers and shakers that I could never otherwise meet," says Nainan.   

Milerunners use a bevy of online resources when crafting their game. FlyerTalk and Milepoint are go-tos. FareCompare is a popular tool that displays the cheapest fare out of any given city.

While Nainan's Delta devotion is diehard, airline loyalty is more often dictated by the flyer's hub city. Schlappig flies American and says American and United are among the best. He relies heavily on alliance partners for his international travel. World alliances are a gift from the heavens for mile runners.

The obvious hurdles are the airlines themselves. This kosher gaming of their system doesn't really benefit the airlines.  At one point US Airways had a specific rule prohibiting mileage runs, says Petersen. They've since gotten rid of that language in their terms and conditions.

Depending on the airline, some find their fans flattering, others view them a drain. 

"We take mileage runs and our customers' commitment to maintaining their SkyMiles Medallion status as confirmation that we're offering highly desirable benefits to our customers," says Delta spokeswoman Chris Kelly Singley. "The lengths our customers will go to gain and maintain their miles are impressive, and we take it as a compliment."
"It is technically gaming the system," says Nainan. "[But] it is perfectly legit. Just don't call them up and say, 'Hey, I want to do a mileage run!'"
"They are offering the fares that their customers are buying," says Leff. "They do love the enthusiasm of such loyal customers, but these customers may be lower revenue per mile than the average elite member, and they are taking up first class upgraded seats from other customers."
A solution the airlines have come with is providing more ways to earn miles via brand extension and partnerships. Now there are "mattress runners" who seek hotel points, and some big-spending credit card carriers keen to transfer points. Airlines like US Airways allow customers to "buy up" segments or miles without actually flying.
"I definitely earn a significant portion of my miles through credit card sign-up bonuses and mileage promotions," says Schlappig. "My mileage portfolio is more diversified."
Mile runners are so gung-ho about travel that they swear the only medical concerns they have are hydration and circulation.  Jet lag is rarely an issue because they return to their original city within a day or two. As for boredom, an iPad and iPod are requisite accoutrement.