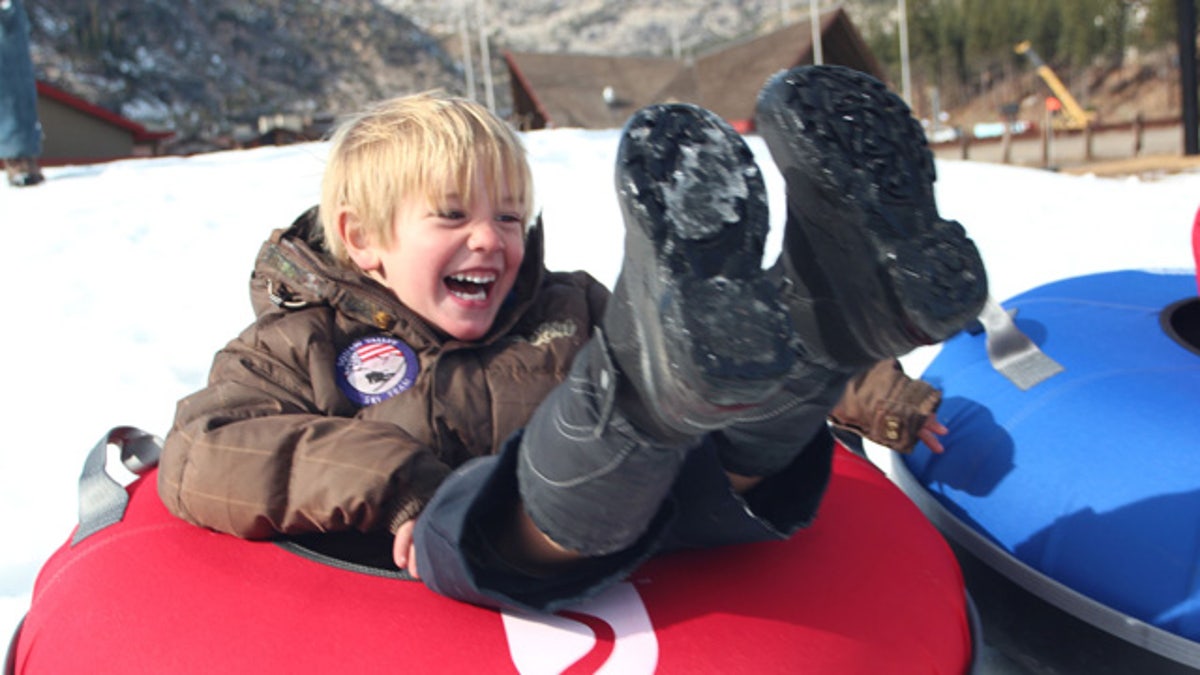 There's nothing like a New Year's resolution you can actually keep.
Just ask Chicago mom Andrea Guthmann, who resolved to embrace new challenges. So, just before the holidays, she took a ski lesson at Park City Mountain Resort , her first foray on the slopes in more than a decade. She's already planning a return trip with her husband and kids.
"You're never too old to challenge yourself," said Guthmann, 44, the mother of three, whose spirit of adventure landed her a spot on this year's panel of Snowmamas, the go-to site for making trips to the slopes easier and more fun for moms of all ages.
January is National Learn a Snow Sport Month and more than 200 resorts are pulling out all the stops for families and offering free or discounted ski, snowboard, and cross-country ski and snowshoe lessons for beginners. At the same time, Liftopia, the largest online marketplace for discounted lifts and mountain activities, has created a new deal engine app for the iPhone and iPod touch. It's especially gratifying to see resorts aiming at girls and women who typically drop out of snow sports before becoming accomplished skiers and riders.
Vail Mountain, the country's largest ski resort, has just announced Ski Girls Rock, a new program inspired and designed by Olympic gold medalist and World Alpine Ski Champion Lindsey Vonn. Exclusively for girls age 5 to 15, the program runs during selective weeks this ski season. The small classes ($279 a day, including lifts and lunch) led by female coaches will focus not only on skills but on empowering girls through sport.
At Park City Mountain Resort, meanwhile, where Snowmamas.com started and where no class has more than five students, there's a new two-hour Ladies Club that's just an hour shorter than a regular group lesson but half the price ($55 to $60, depending on season). And like Vonn's initiative, it's designed to be about more than skiing. There are a lot of multi-day women's ski and snowboarding clinics out there, but nothing like this.
"This is giving women a couple of hours for themselves," explains Mary Flinn Ware, the director of the Park City Mountain Resort children's ski school who piloted this program last spring. Taught by women coaches, the program is designed to show women, whatever their ability, places on the mountain they didn't know existed and where they can feel comfortable. They can also get the 411 from the coaches on everything from kid-friendly restaurants to where to book a massage.
"We want more women to be on the mountain having a good time whatever their level," said Flinn Ware. "We want to take care of them after they've taken care of everyone else."
Sounds good to me! Women quit snow sports because they don't want to chase after hard-skiing spouses or kids. They quit because they don't have the energy after getting everyone else in their family situated. They quit because they'd rather vacation somewhere that requires less work on their part. Now trips to the slopes can be more fun for mom and more affordable, especially with all of the Learn a Snow Sport deals.
Look for packages from major websites like www.ski.com that will save you significant bucks if you book air, lodging and lifts together. Look for kids ski-free packages. Steamboat in Northern Colorado has long been an innovator for families with Kids Ski Free, Kids Fly Free and Kids Rent Free programs. If you are all beginners -- maybe opt for a new-style girlfriends' trip -- Alta Ski Area's First-time Skiers package includes four two-hour lessons, four beginner lift tickets and four days of rental equipment, all for $179. (At many resorts, a lift ticket alone costs nearly $100.)
In Vermont, Ski Vermont is touting an unprecedented $29 package for first-time skiers and snowboarders at several resorts across the Green Mountain State. The lessons, based on availability, will be available on non-holiday dates for the entire month of January. All of the deals aren't in January, either. Go to Aspen/Snowmass in March and April and kids ski and ride free, as long as an adult is buying a lift ticket.
At Mt. Bachelor in Bend, Ore., the largest ski resort in the Cascade Range, kids 18 -- yes 18! and under, can ski free, if an adult in their family purchases a multi-day ticket. And for $199 you or your kids get five lessons, five rental packages and five lift tickets. Students 18 and under get a free season pass; adults get a free 12-day pass.
At Park City's gargantuan Canyon's Resort families who book their trip at one of the official lodging properties of Canyons Resort get accommodations, lifts, and a resort credit of up to $200 per night and access to off-slope adventures (zip-line anybody?) -- all starting at $311 per night for a family of four, less than what lift tickets alone might cost. Several states also offer "passports" for kids of certain ages, which allow them to ski free -- fourth-graders in New York; fifth-graders in Colorado and Vermont; fourth- and fifth-graders in New Hampshire, fifth- and sixth-graders in Utah, and fifth-, sixth- and seventh-graders in Maine. Just make sure to fill out the paperwork in advance.
No worries if someone in your family faces special challenges, either. There are many adaptive programs around the country, including the National Sports Center for the Disabled in Winter Park, Colo.; the Breckenridge Outdoor Education Center also in Colo.; the National Ability Center in Park City, Utah and Vermont Adaptive Ski and Sports. As for Andrea Guthmann, she's looking forward to a spring trip with her kids to Park City. Even a few tumbles in her lesson couldn't dim her enthusiasm. "I'm excited," she says. That's the spirit. See you on the slopes.
Click here for more from Taking the Kids, and also follow "taking the kids" on www.twitter.com, where Eileen Ogintz welcomes your questions and comments.)