Hotel safes might not always be so safe, video claims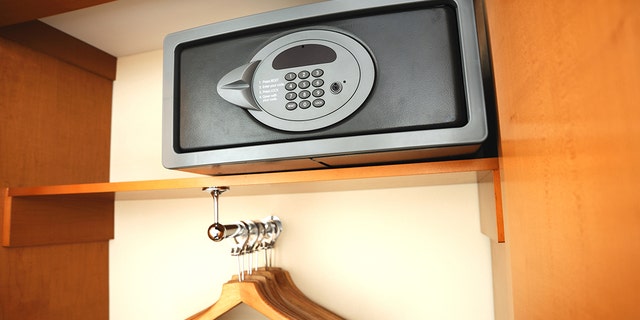 Avid travelers know that packing smart means packing light, but sometimes it's inevitable to be forced to bring valuables along for the trip. Though the logical place to store any jewelry, cash or passports is the hotel's safe, YouTuber LockPickingLawyer recently suggested that some models may have a weakness that can leave items vulnerable to theft.
"What I have for you today is a public service announcement on Saflok hotel safes," said the Youtuber, citing a single brand of hotel safe.
REE DRUMMOND SHARES PHOTOS OF NEW HOTEL
LockPickingLawyer then placed a bottle of aged Lagavulin scotch whiskey inside the safe and locked it inside with a four-digit passcode. He even tested an incorrect passcode in order to prove that the safe was indeed in working condition, and the door remained securely shut.
However, LockPickingLawyer claims that the safe is still susceptible to theft, despite all outward appearances.
DUBLIN HOTEL SENDS BLOGGER FAKE $6.1 MILLION BILL FOR PUBLICITY SHE RECEIVED AFTER BEING DENIED FREE STAY
"What this hotel did not do is reset the admin password that comes from the factory. If we enter the super user mode that comes from the factory … this hotel safe will open right up," he says, no original combination required. "If you're ever in a hotel that has one of these Saflock products, it might be a good idea to make sure that the hotel has reset the administrator password to protect your goods," he further claimed.
Saflok has not returned a request for comment.
FOLLOW US ON FACEBOOK FOR MORE FOX LIFESTYLE NEWS
TripAdvisor, likewise, has noted that it may be wise to pack along a combination suitcase lock or laptop cable lock for an extended journey for irreplaceable belongings. Better yet, take advantage of hotel's common offices safes, noting that they are generally more secure than in-room safes.
"Hotels are often liable for theft from lobby safes but not for theft from in-room safes. If you're traveling with fine jewelry or heirlooms, the safe-deposit box is the place for them. Always get a written receipt for anything you leave with the front desk," the outlet says.