From Blizzard to Bankruptcy: A Frequent Traveler's Year in Review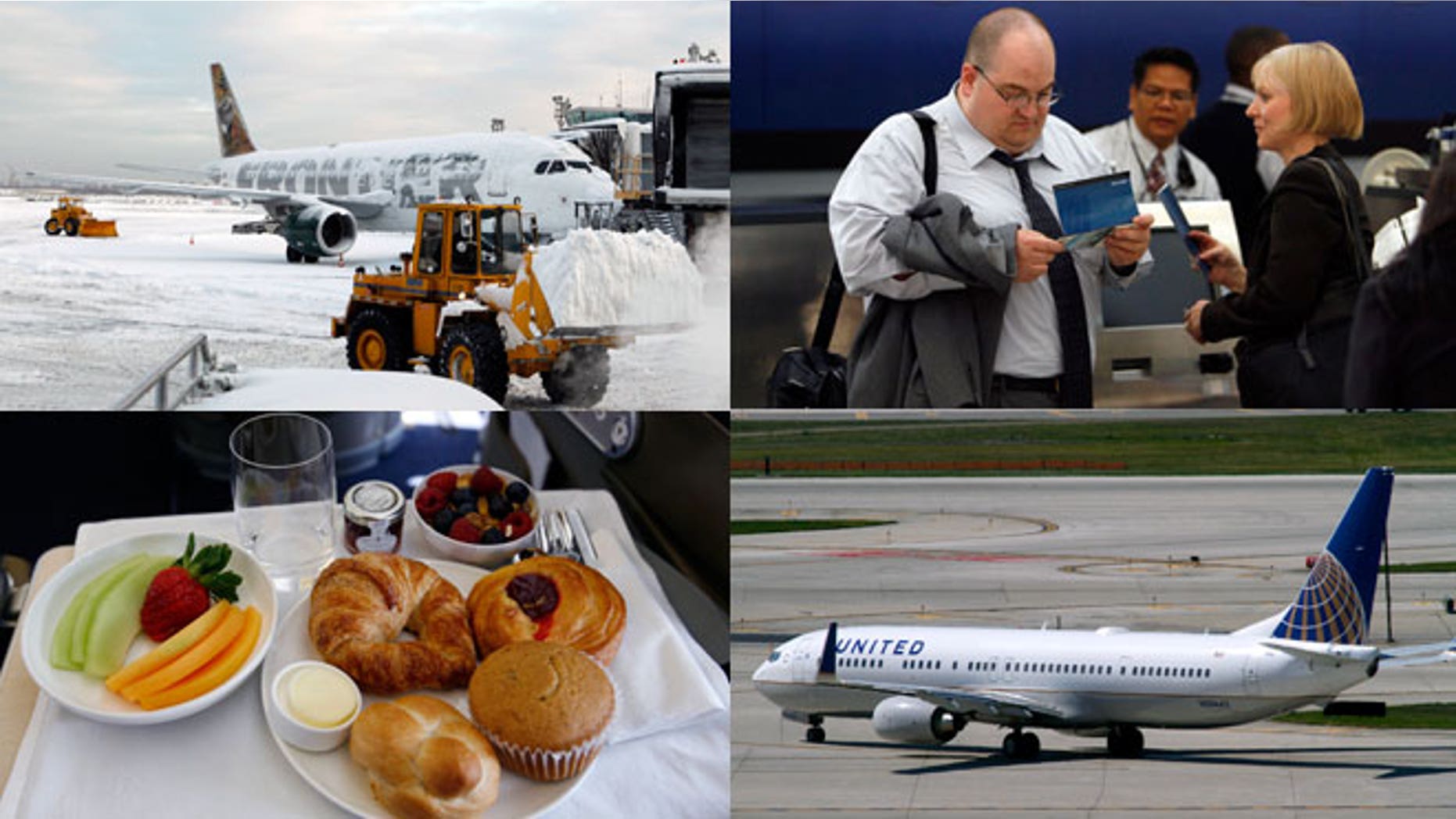 Starting with a blizzard and ending with a bankruptcy, 2011 was a bumpy ride for frequent fliers. Those flying through the busy East Coast corridor were especially unlucky - add a hurricane and an earthquake to the reasons their flights were cancelled. Natural disasters aside, the airlines themselves were shaken up as some big guns merged and others filed for Chapter 11.
Travelers found steadier ground through new passenger protection laws and healthier eats. Read on to find out how 2011 played out in the air and in the terminal.
1. Apocalyptic Weather. The year started off with a blast of snow that rocked airports across the nation - canceling tens of thousands of flights and leaving scores of travelers stranded for days. Many didn't get back in the air until after the new year, causing further headaches for business travelers who look forward to relatively uncrowded airports and flights in mid-winter.  Travelers got another dose of wild weather as Hurricane Irene roared up the East Coast just as Labor Day travel was starting to pick up, closing major hubs and costing U.S. airlines an estimated $200 billion.
2. Power to the People. In April, the Department of Transportation passed new regulations to transfer some leverage back to travelers in the areas of lost bags and bag fees, full fee disclosure, bumping, and tarmac delays. Score one for the consumer!
3. Better Fuel. Business travel is hard work -- just because you're on the go doesn't mean your meal has to be. In March, Frommer's published an unprecedented top 10 list of U.S. airport restaurants. This month, a study of 15 major U.S. airports found a huge increase in the availability of healthy food options. Empty calories from pizza and soda burn fast and bright, but frequent fliers need more nutritional fare to stave off immune system wreckers like travel stress and on-board germs.
4. Ancillary Angst. The ancillary fees kept piling up this year, angering business travelers whose companies don't reimburse past the base ticket price. Good news - the Department of Transportation continues to push airlines for more transparency when it comes to the fees, and now requires a prominent link on airline sites detailing a la carte fees.
5. Financial Upheaval. Mergers and acquisitions and bankruptcies, oh my! The major U.S. air carriers continued to undergo transformations in 2011, with Southwest purchasing AirTran, United and Continental consolidating their airlines, and American Airlines announcing bankruptcy to restructure its balance sheet.
From a business traveler's perspective, 2011 was a year of uncertainty and upheaval to be sure, but also included some welcome surprises in the form of consumer protection and healthier food court options to make the travel experience a bit easier to stomach.
Here's to a less turbulent 2012!