Footage captures ice chunk falling from sky, almost smashing into pedestrians: 'It was the size of a boulder'
A large chunk of ice fell from the skies over Kew, London, on Wednesday morning, smashing into a roadway and sending shards of ice and snow toward two shocked passersby.
"When I watched the footage back I was shocked to see it was the size of a boulder," said Moss Sayed, the manager of a nearby taxi company whose security camera captured the incident on video.
Sayed, who spoke to Sky News, said he believed the ice weighed as much as 45 pounds.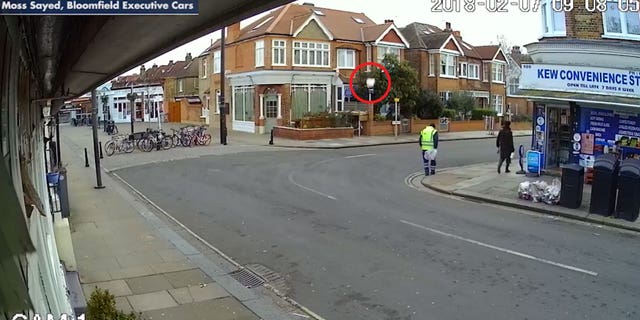 POOP 'METEOR' FELL FROM PASSENGER JET IN INDIA, OFFICIALS BELIEVE
"It was like the film 'End of Days' or asteroids falling out of the sky," he added.
It's believed that the ice chunk may have fallen from a passing plane, though these reports have not been confirmed. Kew, however, is located directly under a flight path out of London's Heathrow Airport.
A representative for Heathrow Airport was not immediately available for comment.
Another witness, Amir Khan, concurred with Sayed that the incident reminded him of a disaster film "like 'The Day After Tomorrow.'"
"It made such a loud noise like a meteorite crashing down," Khan told the Evening Standard, adding that the pedestrian in the vest, who has since been identified as Serhiy Myeshkov, looked "so confused and scared" by the crashing ice and "loud noise like a meteorite."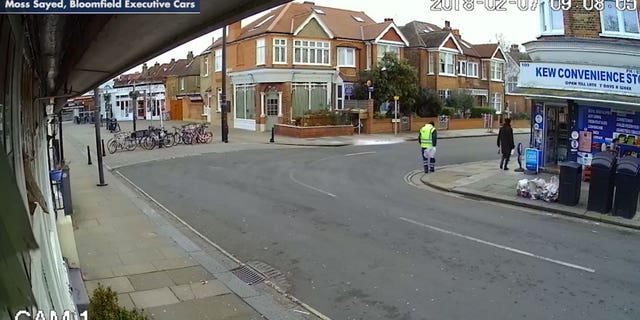 STUDENT WHO SAYS SPIRIT AIRLINES EMPLOYEE TOLD HER TO FLUSH HER PET HAMSTER NOW HAS A NEW ONE
The incident, which took place at around 9 a.m., has further prompted a local councilwoman to push for an investigation.
"It definitely needs to be investigated, I'm shocked. This could have killed someone," said Horner, the Telegraph reported. "This is the problem when you have planes going over a populated area and another argument to say that Heathrow is the wrong place for expansion."
The U.K. Civil Aviation Authority, meanwhile, will not yet say if the ice originated from an aircraft.
"Ice falls can be as a result of meteorological phenomena, however ice falls from aircraft are considered to be rare in UK airspace," a spokesman stated, per the Telegraph.
FOLLOW US ON FACEBOOK FOR MORE FOX LIFESTYLE NEWS
The Telegraph also noted that passing planes were previously blamed for similar incidents, including a chunk of ice that left a "Crater" in a Scottish town, and another that damaged a roof in the town of Windsor.