Florida police officer arrested for shoving airline employee, refusing to leave airport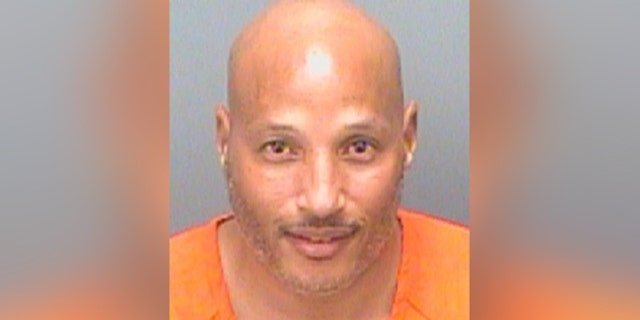 An off-duty Florida police officer was arrested on battery and trespassing charges at an airport in Sarasota after he allegedly became aggressive with an airline employee and then refused to leave.
Derrick Gilbert, 51, was reportedly boarding an Allegiant Airline flight to Greensboro, NC, at the St. Pete-Clearwater International Airport Friday evening when the incident took place.
AMERICAN AIRLINES FLIGHT ATTENDANTS HEADED TO COURT OVER MIDFLIGHT BRAWL
According to WFLA, Gilbert was removed from the flight and deputies were called to the scene around 6:30 p.m.
Once police arrived, they found Gilbert and his 18-year-old son standing with Allegiant employees in the terminal ramp, WFLA reported. According to the report, Gilbert, who had bloodshot eyes and appeared to be drunk, was yelling profanities at the airline employees and refused to leave the area.
Allegiant Airline employees told officers they had removed Gilbert for being too intoxicated. According to employee statements, Gilbert was slurring his speech and unable to find his seat on the plane.
PLANE NOSEDIVES 500 FEET SHORTLY AFTER TAKEOVER BECAUSE OF AUTOPILOT ERROR, INVESTIGATION FINDS
While Gilbert was leaving the plane, witnesses say Gilbert pushed a 25-year-old airline employee and then pushed his own son and grabbed him "by the neck in an angry manner," WFLA reported.
Gilbert was informed by deputies that he would need to leave the airport or he would be arrested for trespassing – though, according to the police report, Gilbert refused and said he could not be arrested because he was a police officer, WFLA reported.
Allegiant Air told Fox News they are unable to make a comment on an active police investigation, but confirmed that the flight was delayed nine minutes at the airport. No one was reported injured.
FOLLOW US ON FACEBOOK FOR MORE FOX LIFESTYLE NEWS
Gilbert was charged with trespassing, battery and domestic battery.
"We hold our officers to the highest standard of both professionalism on and off duty," Sarasota Police Chief DiPino said in a statement to WFLA. "I've instructed our Internal Affairs Division to conduct a thorough investigation. We will diligently investigate this incident per our policies."
The Sarasota Police Department said Gilbert will be placed on paid administrative leave during the internal investigation.