Family Budget Getaways for the Fall Season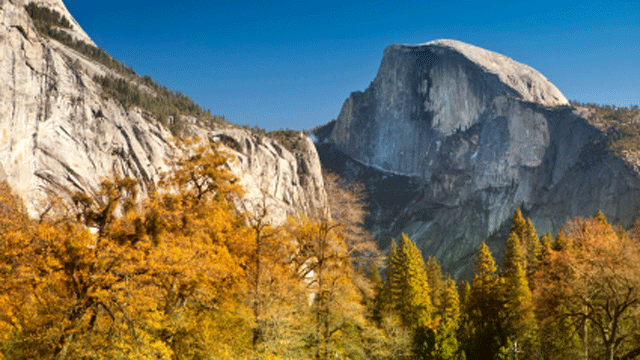 If you're looking to get away with your family between now and Christmas – there's no time like the present. Known as the "shoulder season," fall is one of the best times to cash in on travel bargains.
"We see prices drop mainly in the fall because kids are going back to school," David A. Lytle, editorial director at Frommers.com, told FoxNews.com. "For travelers in the U.S. and Canada – their minds are someplace else right now – plus we're heading into the holidays as well. So capacity begins to drop at hotels everywhere and that's when we start seeing the rates drop."
DISNEY
One of the most obvious choices for a family getaway is that "magical" place known as Disney, and if you've ever been there during peak season, you know you could spend half of the day just trying to get on the Indiana Jones Adventure ride. That's why fall is a great time to consider a theme park. We're talking about minimal crowds.
Check out our Walt Disney World Orlando's Vacation Guide.
Lytle recently spent a Thursday exploring Disneyland in Anaheim, Calif.
"We practically had the park to ourselves. The longest line was 15 minutes and everything else was no more than five," he said. "You see rates drop between 25- 50 percent in Orlando and in and around Anaheim."
Consider these hot deals on the West Coast.
If you book your trip before October 15, you can save 30 percent at a Disneyland Resort Hotel. There's no minimum length of stay, but travel must be completed by December 24, 2011.
If you're a family of four, why not opt for a long weekend at the Disneyland Resort Good Neighbor Hotel located in the middle two theme parks, shopping and dining. The package starts at $1,028.00 and includes three days at the Disneyland Resort, with 3-Day Park Hopper tickets, which allow you to visit both Disneyland Park and Disney California Adventure Park on the same day, as well as two nights at the hotel. That works out to $86.00 per person, per day. This package is available on select dates, so check out the website for more details.
"In some cases, you still have to pay for park passes, but your rates can go down as little as $120.00 per night for a hotel, and that's one of the bigger ticket items so if you can back on costs on something like that, you are saving a nice chunk of change," Lytle added.
For deals in Florida, check out VisitOrlando.com.
NATIONAL PARKS
"Everyone thinks of them as summer destinations, but the majority of parks, at least the big ones like Yosemite and Yellowstone, are open 365 days a year," Lytle said. " When you get into the fall and winter some services may be cut back because they have a drop in numbers of people attending, but there is no better way to see a national park than when the peak crowds have gone."
And just like the lines for the Indiana Jones Adventure ride, if you've ever gone through Yosemite at the height of summer in June or July, it's crazy, according to Lytle. So skip the bumper-to-bumper traffic and plan a trip to a national park right now.
"This time of year I would say Yosemite is a great bet," he said. "You can stay in the park on the low-end of your budget at Curry Village. It has everything from canvas-tent cabins, where you have to use an outhouse, or they have an actual motel that's inside the park called Wawona, which is old-school with wrap around two-story porches, and the place is supposedly haunted. It's like a smaller version of the "Shining." It was built around the 1890s. It's one of the first hotels built in the national parks."
Spend Halloween weekend at Curry Village starting as low as $56.00 per night for a non-heated tent that has one double bed and three singles. Heated rooms start at around $100.00, and if you want to breakfast every morning, add about $30.00 per night. On the downside, you have to use an outhouse, but this is camping after all, right?
"The only drawback to national parks is because they are set in really stunning natural landscapes is that they are weather dependent," Lytle said. "You just have to be aware that you might have to have plan B."
Plan B might just be the Wawona, which starts around $190.00 for a room with a double and single bed. A breakfast buffet is also included each morning. If you want to step it up even more, check out the Tenaya Lodge located just outside the park entrance.
Check out our Lake Tahoe Vacation Guide
Tenaya Lodge: 'Big Trees Package'
"This is a newer property. It is much more the idea of a full-service resort. They have a spa that they just opened this year. They do hay rides and big camp fires, sing-alongs and they have all sorts of programs," Lytle said.
Book the "Big Trees Package" during mid-week in early November (we checked out Nov. 7 – 9), and you can enjoy one of the resorts Cottage Rooms with all the bells and whistles for only $183.50 per night. These accommodations are ideal for families and have two queen beds, a fireplace, private balcony, Wi-Fi, cable TV with Nintendo, movies On-Demand, as well as a refrigerator, microwave and coffee maker.
This package also includes two tickets for a 75-minute tour of the Mariposa Grove of Giant Sequoias and a full breakfast for two.
After a long day of exploring the outdoors, send the kids to camp for the evening, so the adults in the group can enjoy a romantic dinner or spa treatment. For $50.00 a child, camp counselors will treat them to movies, dinner and games.
Click here for more information.
Time to dip your toes in the sand, and the best part is, you don't even need a passport.
"In San Juan itself, there are a slew of really great resorts that have a lot of family programs that are geared towards beach camp for kids," Lytle said."
One option is the Rio Mar Beach Resort, which is located about 20 miles from the San Juan International Airport. As part of a fall sale promotion, the resort is offering 20 percent off room rates through the end of October.
Rio Mar Beach Resort : Fall promotion
Check in on Friday, October 28 – Monday October 31 for a bargain price of $121.00 per night for a resort view room with a balcony and two double beds. With taxes that equals out to less than $40.00 per day for a family of four.
The resort also offers a "Kids Club" so parents can enjoy a little quiet time, either on the beach, at the spa, or at dinner. The half-day rate for the club starts at $45.00 per child.
So whether you're camping in Yosemite or soaking up the sun in Puerto Rico, fall is a great time to get away with the family and save a few bucks while you're at it. Yes, you may have to take the kids out of a school for a few days, but like Lytle a former teacher pointed out, it's an experience they will definitely remember and learn from.
Whether it's the purple mountains' majesty, or the inspiration of a historical landmark, the United States is full of images that capture the spirit of America. Show us the places that represent it best to you.
OTHER RECENT DEALS:
Gridiron Getaways Add a Kick to the NFL Season