Falling into autumn: great places to watch the leaves change in New England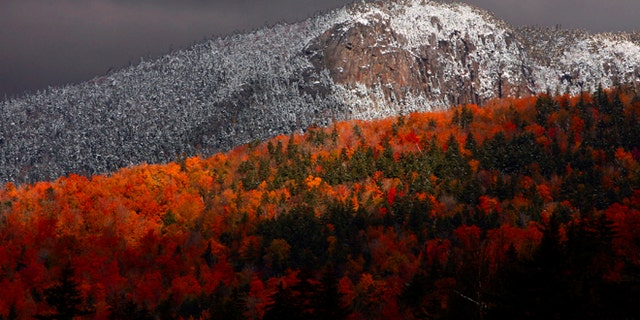 Gone are the barbecues and beaches of summer, and in are the crisp air, pumpkin spices, and crunching leaves of fall. Now that autumn is on the verge of its commencement, we're ready to drive up to New England to wander around and soak in the vibrant foliage. But to take the trouble out of where to go, our friends at Oyster.com have found the best locales in the region for "leaf peepers," as they are known, to explore the lush outdoors and curl up with some apple cider after with a loved one.
Visit: Providence, Rhode Island

Stay: Christopher Dodge House
As one of New England's most populated cities, Providence still has small town charm with its big city draws. Though the Rhode Island capital boasts its share of fine dining and high-end boutiques, Providence is the quintessential getaway for leaf peepers, filled with rolling, tree-lined walkways and lush park gardens. For the best view of the changing leaves, the Christopher Doge House sits in a residential neighborhood on the outskirts of town, and is still just a short walk from neighboring green spaces like Roger Williams Park. After exploring the golden outdoors, guests can head back to the B&B and relax with a cup of hot tea and cookies around their in-room fireplaces, all before the early sun starts to set.
Visit: Nantucket, Massachusetts

Stay: The Wauwinet
Boston may be one of the most iconic destinations for fall, but the smaller seaside towns in Massachusetts are the best places to see autumn at its finest. Just off the mainland of the state is the island of Nantucket, some 100 miles and ferry ride away from Beantown. The former whaling community is lined by endless harbors and beachfront, and has a classic fall allure with its scattered lighthouses and cobblestone streets. On the island's secluded northern tip is The Wauwinet, a neighborhood village inn. The 32-room property offers a traditional New England experience with cozy guestrooms or private cottages, daily port wine and cheese hours, seasonal drinks in the library (apple cider throughout fall!), and nature trails surrounding the lawns. Even though Boston is one of the most popular fall getaways, Nantucket is a serene alternative with equal parts autumnal beauty and New England charm.
Visit: Morris, Connecticut

Stay: Winvian
In picturesque western Connecticut, the small town of Morris surrounds Bantam Lake and boasts gorgeous open fields for miles. Just outside the city limits is the Winvian, a rustic and stately property with 18 cottages in the remote countryside. The space is perfect for experiencing the fall outdoors, with (free) recreational activities like badminton, croquet, and mountain biking, and 113 acres of sprawling land for hikes. For an added dose of Mother Nature's finest, the on-site farm-to-table restaurant has plenty of excellent seasonal eats, straight from the garden out back.
Visit: Pittsfield, Vermont

Stay: Amee Farm
Vermont may be New England's ski capital, but its majestic hills and wooded areas also make it a premier fall getaway. About an hour from the capital city of Montpelier are the secluded farmlands of Pittsfield. Amee Farm is a B&B that rests on 40 acres in the small town, offering hiking and horseback riding trails, traditional wood-accented décor, and a wrap-around porch with excellent mountain views. With little more than the lodge and a general store in Pittsfield, Morris is perfect for leaf peepers ready top jump into the season.
Visit: Northern Maine

Stay: James Place Inn
The pristine natural beauty of northern Maine boasts one of the best fall experiences in all of New England. Just 20 miles outside Portland, Maine's largest city, is Freeport. The Cumberland County community is one of Maine's popular fishing villages, with plenty of open outdoors to view the changing trees, and possibly even a few moose. For nearby accommodations, the seven-room James Place Inn is located off a residential stretch of road and has elegant country décor, in-room wood-burning fireplaces, and delicious homemade breakfasts. Between the state's abundance of lobster and foliage each fall, this Maine town has everything for a great peeper getaway.