Extreme campfire cooking: Man toasts marshmallow over volcano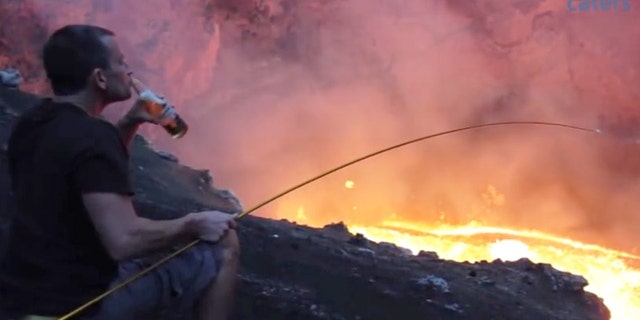 Would you climb into a pit of fire to get a perfectly roasted marshmallow?
Climber and volcano expert Simon Turner is making waves as the star of a new viral video in which he sits calmly at the edge of an active lava lake—basically an inverted volcano-- roasting a marshmallow and drinking a cold beer while wearing flip flops.
"It was an amazing experience, incredible, like being on Mars," Turner said.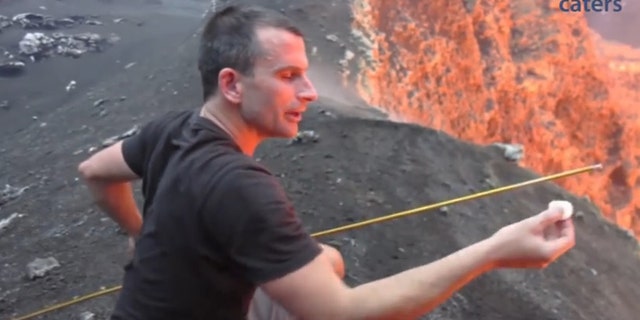 Using a tent pole, Turner is seen patiently waiting at the edge of the cliff, Marcum Crater in Ambrym, Vanuatu, New Zealand. Fellow daredevil Bradley Ambrose filmed his colleague casually drinking a beer.
But this was no ordinary campfire. Dressed in protective gear, the two rappelled more than 1300 ft towards the lava lake before pitching up next to the the boiling crater that reaches temperatures of 2000 degrees Fahrenheit.
While the trek isn't recommended for the average hiker, the the duo hope to bring more attention to the Marcum Crater and show people how accessible it is.
While this might seem like an insane amount of work to get a toasty marshmallow, apparently it was worth it to Turner.
"It was the best I've ever had, no burning, and a perfect consistency inside," he said.
Check out the video below.
[youtube iOIy8yD-f1g]