Delta flight evacuated after smoke fills cabin: 'There was smoke everywhere'
A Delta Air Lines flight out of Madrid was evacuated prior to takeoff on Tuesday after smoke began filling the cabin.
The plane, which was bound for New York, was reportedly delayed for two hours following the evacuation, per Flight Aware. The smoke was believed to have been caused by oil dripping on an auxiliary power unit.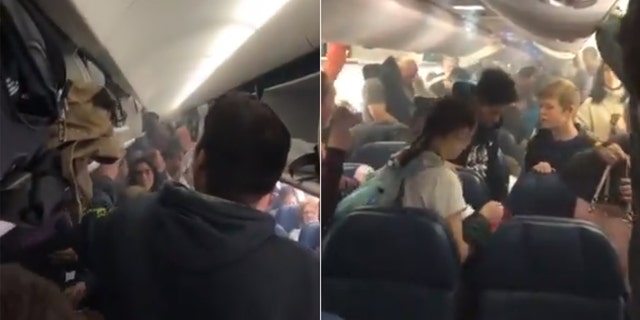 STUDY CLAIMS ONE AIRLINE IS MORE LIKELY TO BUMP PASSENGERS
"The @delta plane got on fire in the back," one passenger claimed in a Twitter post that contained footage of the incident. "There was smoke everywhere."
The Twitter user, who identified himself as Paz, also claimed that passengers were not immediately allowed off the plane once the smoke was detected, and that he had "not stopped coughing" as of posting the tweet on Tuesday.
FOLLOW US ON FACEBOOK FOR MORE FOX LIFESTYLE NEWS
Delta has since released a statement confirming that all customers safely exited the plane.
"We apologize to customers of flight 127 from Madrid to New York–JFK, as the crew elected to deplane the aircraft due to a smoky odor detected in the cockpit and cabin," a spokesperson said in a statement provided to Fox News. "Customers safely exited the aircraft, which was still at the gate and were then reaccommodated to their final destinations. We are working to reach out to these customers individually as we extend our apologies."
CLICK HERE TO GET THE FOX NEWS APP
Delta also confirmed on social media that its maintenance teams were investigating the incident.
Delta said the plane has since reentered service. The airline is also reaching out to passengers to provide compensation.