Carnival Fantasy passengers 'overjoyed' to help rescue 23 people lost at sea for days
Passengers aboard Carnival Cruise Line's Fantasy ocean liner were "overjoyed" when ship officials helped the Coast Guard rescue 23 people who had been adrift at sea for days in the Gulf of Mexico.
On Sunday April 14, shortly after 1 a.m., the U.S. Coast Guard received a phone call from a Cuban national aboard a disabled sport fishing boat, Fox 10 TV reported, detailing that his schooner was stranded roughly 130 nautical miles off the Yucatan Peninsula.
The man said he had rescued 22 Cuban nationals three days prior, after spotting the group adrift at sea without power in a wooden boat, as per a press release from the Coast Guard; the group of 22 is said to have been stuck on the high seas for three days after a failed voyage from Cuba to Mexico.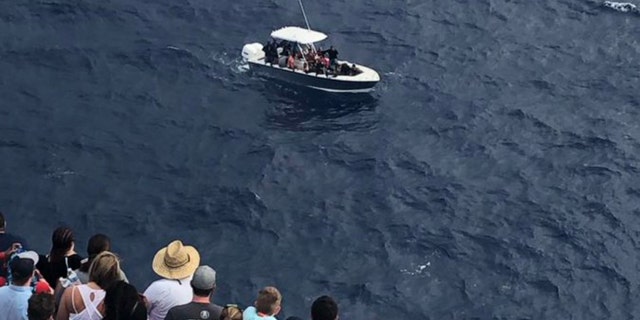 Unfortunately, the engine of the man's sport fishing boat soon, too, malfunctioned, and the group, now of 23, was lost at sea for an additional three days.
ROYAL CARIBBEAN 'TEMPORARILY' CLOSES TRAMPOLINE ATTRACTION AT THE CENTER OF $10 MILLION INJURY LAWSUIT
Hours later, a Coast Guard helicopter successfully located the crowded barge around 8:40 a.m., and notified officials with the Carnival Fantasy of its position, Fox 10 reported. Soon after, around 10:40 a.m., the Fantasy rescued the 23 people on board.
Two of the people rescued had minor medical issues and were treated by medical staff on the cruise ship.
Meanwhile, one Carnival passenger said that she and her fellow guests were "overjoyed" that the staff of their cruise ship was able to assist in the dramatic rescue — as they had "feared the worst."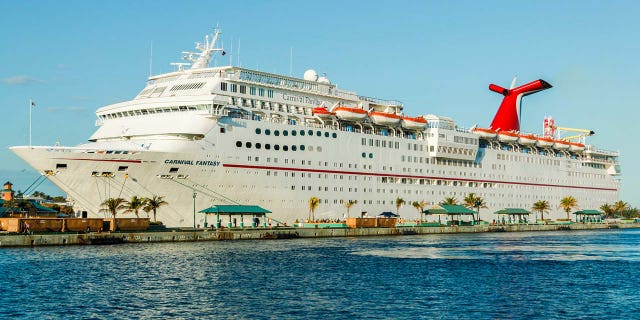 "We saw the Coast Guard plane flying in circles over an area. We thought we must be looking for bodies or signs of wreckage because no one could see a boat anywhere," Charlotte Gouvier of Baton Rouge, La., told WAFB. "I was really sad because we couldn't see a boat at all. We just kept looking for orange life jackets. Many of us feared the worst."
"When the little boat finally appeared everyone on the deck was overjoyed. People were cheering," Gouvier detailed. "The boat looked like it was just being tossed around in the sea, and we couldn't imagine how sea sick those poor people must have been after spending so long on that boat."
FOLLOW US ON FACEBOOK FOR MORE FOX LIFESTYLE NEWS
All 23 people are slated to be transferred to the U.S. Customs and Border Protection and Coast Guard Investigative Services unit in Mobile, Ala., on Tuesday, according to Fox 10.
In the day since, reps for Carnival confirmed the turn of events to Fox News and offered the following statement on the story:
"On Sunday Carnival Fantasy responded to a distress call and request for assistance from the U.S. Coast Guard as the ship was [going] to Mobile," a spokesperson said. "We can confirm that our crew was involved in a rescue at sea involving more than 20 people and we are now working closely with federal authorities."
"Carnival Cruise Line has a longstanding policy of assisting distressed mariners at sea," according to a company statement," reps for the cruise company additionally told NBC News.
Coast Guard Petty Officer 3rd Class Brandon Giles, too, told the outlet that it remains unclear at this time how, or if, the man who originally contacted the coastal and maritime law enforcement agency knew the 22 wayfarers or if anyone in the group seeks asylum.
CLICK HERE TO GET THE FOX NEWS APP
According to the ship's listing page, the Fantasy departs from Mobile and sails to Caribbean and the Panama Canal for trips up to ten days long. The 70,000 ton, 855-foot boat has capacity to carry over 2,000 guests and more than 900 crew members.