Are travelers losing the hotel booking wars?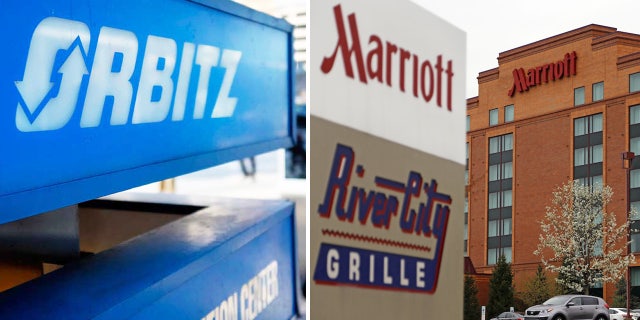 In an ongoing war between big hotel chains and online travel agencies, value-minded consumers are emerging as the winners.
Three out of four travelers believe they'll get a better deal by booking rooms through an online travel site such as Expedia or Priceline, according to a study commissioned by Triptease, a start-up company that helps hotels increase revenue through direct booking.
But major hotel chains are aggressively challenging that premise with high-profile ad campaigns like Marriott's "It Pays to Book Direct" and Hilton's "Stop Clicking Around," which promise the lowest price when you book on their websites.
Hotels prefer direct booking because they can avoid paying a commission – often 15 to 25 percent – to the online travel agencies (OTAs).
"It's made the OTAs less competitive because they no longer always have the lowest rates," said Dennis Schaal, news editor for Skift.com, a travel industry intelligence website.
"What Expedia initially did was take the big chain hotels and push them way low in the listings so that you couldn't find them. If a hotel is not in the first five or six search results, it might as well be in Oshkosh."
"Another key way in which hotels are offering better deals direct is by asking people to become loyalty members. You may get free-WiFi, an upgrade and discount because you join the loyalty program," said Triptease CEO Charlie Osmond.
Marriott Rewards members who book direct get free Wi-Fi, smartphone check-in and points toward free stays. And if you find a better rate within 24 hours after booking, Marriott will knock an additional 25 percent off the price.
Members of the Hyatt Gold Passport loyalty program who book direct can get a discount of up to 10 percent, along with online check-in, express checkout and 24/7 customer service.
Travelers who join the Hilton HHonors program can book direct for the lowest rate and accrue points for complimentary stays, free Wi-Fi, digital check-in and more.
"This is a complete shift in the landscape, Osmond said. "Most consumers do go and check the direct price on the hotel website, and what they are finding now, in 2016, is often a significantly better deal."
"If there's a lesson for consumers, it's that it always pays to shop around," said Schaal. "I would always check out what is available on the OTAs and also check rates on metasearch sites like Kayak and Trivago. But when it comes to booking, I would book directly on the hotel website, because if you join the hotel loyalty program, you're going to get reward points, you're going to get a lower rate and you're probably going to get free Wi-Fi."
That advice strikes fear into OTAs like Expedia and Booking.com. "For an OTA, the user journey of going to their website, looking up a hotel price, then leaving and going to that hotel's website, and seeing that if you book direct it is cheaper – that process is extremely harmful to their business model," said Dori Stein, CEO of Fornova, another start-up that works with hotels to boost direct bookings.
On an April 28 earnings call, Expedia's CEO, Dara Khosrowshahi, warned the big hotel chains to "play well with us" or, essentially, risk losing audience on his site, Schaal reported on Skift.com.
"Expedia was saying, 'If you don't give us your most competitive rates, there are other hotels that will, and those hotels are going to win more market share,'" Schaal said.
"What Expedia initially did was take the big chain hotels and push them way low in the listings so that you couldn't find them. If a hotel is not in the first five or six search results, it might as well be in Oshkosh."
OTAs have also fought back through a practice known as "dimming" — stripping out images, review ratings and descriptive copy — to make properties less attractive to consumers.
A 2015 study commissioned by Expedia UK found that listings with images get more sales. A 2012 TripAdvisor report revealed that property listings with at least 20 photos received 150 percent more interaction.
But dimming also means less choice for online customers. "As a consumer you're not aware it is happening, but you don't click on a hotel without an image," said Stein. "The user thinks there's a bug or whatever because he sees other hotels on the page that look totally fine. We estimate that the user isn't even aware of it."
"We want to make sure the hotels with the best rates and inventory are put first," Melissa Maher, a senior vice president at Expedia, recently told the Washington Post. (She declined to be interviewed for this report.) We're doing it because we're consumer-focused,"
But that explanation glosses over what's really going on.
"Expedia's algorithm emphasizes three things," said Schaal. "Number one is the strength of the offer — is this the best rate? Number two is the quality score — is this a popular hotel? Is it getting good reviews? And the third thing is compensation for Expedia. What kind of commission is Expedia getting?"
"You have to understand that the OTAs haven't been coy about it or hidden the fact that they've been retaliating," said Stein, who appeared last May alongside a managing director from Booking.com on a panel at Phocuswright Europe, a major travel conference. When the subject of dimming came up, Stein said, "He didn't hide it. Their position is: 'We're reluctant, but we have no choice because it hurts our business model and conversions, and so we have to do it.'"
"Right now," said Schaal, "the big hotel chains are in a position of strength. Rooms are full, rates are good and they're winning share by offering lower rates through their loyalty programs.
"But hotel chains still need OTAs, because OTAs fill a lot of rooms. A lot of consumers value OTAs for the ability to shop around and see what is available in the marketplace.
"And what happens if the economy starts to get worse? Well, then those hotel chains are going to need the OTAs more and more. The OTAs are just tremendous marketing machines. Right now the pendulum is swinging toward the chains, but maybe in a few years it will swing back to the OTAs."
Executives from Hilton declined to comment for this report. Booking.com and Marriott did not respond to multiple requests for an interview.