AirAsia passenger caught on video picking dry skin off bare foot and dropping it onto plane floor
Video of an AirAsia passenger playing with his bare feet on a crowded plane has gone viral online.
Jade Thomas and her boyfriend Trong Nguyen were traveling from Kuala Lumpur, Malaysia, to Hanoi, Vietnam, Sunday afternoon when they noticed another passenger seated across the aisle with his bare feet propped up on the seat in front of him, The Sun reported.
AIRLINE PASSENGER'S BARE FEET TURN WOMAN'S FLIGHT INTO NIGHTMARE SCENARIO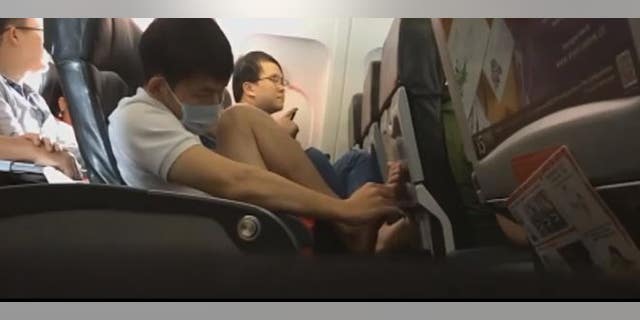 The unidentified man proceeded to pick dried skin from his feet and drop it onto the plane floor, while on the packed Airbus 320.
Thomas, from Queensland, Australia, told The Sun, "I was returning from a trip to Bali with my boyfriend [when] we observed some poor behavior."
Thomas explained to the publication that the entire plane was pretty rowdy, but the barefoot man was one toe over the line for her.
"There was shouting, loud burping [and] not following requests of airline staff – for example everybody stood up and started getting their hand luggage before the seatbelt sign had been switched off," she said to The Sun. "Then of course, there were some people not wearing shoes."
The man's bizarre behavior seems to be part of a growing trend, according to flight attendants.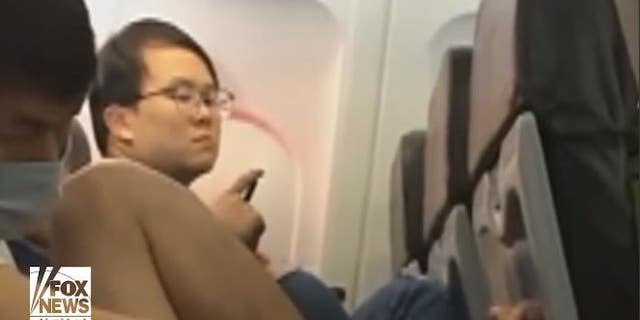 "In my 15 year-long career as a flight attendant, I've seen a steady rise in foot-related incidents," said Amanda Pleva in a post on Flyertalk, according to The Sun.
FOLLOW US ON FACEBOOK FOR MORE FOX LIFESTYLE NEWS
"We see people walking from their seats into the bathrooms all the time barefoot and we cringe because those floors are full of germs," Linda Ferguson, a veteran flight attendant told Reader's Digest. "Never walk barefoot into the bathroom or the galley area because sometimes we drop glasses and there could be sharp glass there, too."
Best to just keep your shoes on while in cramped quarters with strangers.