8 ways you know you're really at a luxury ski resort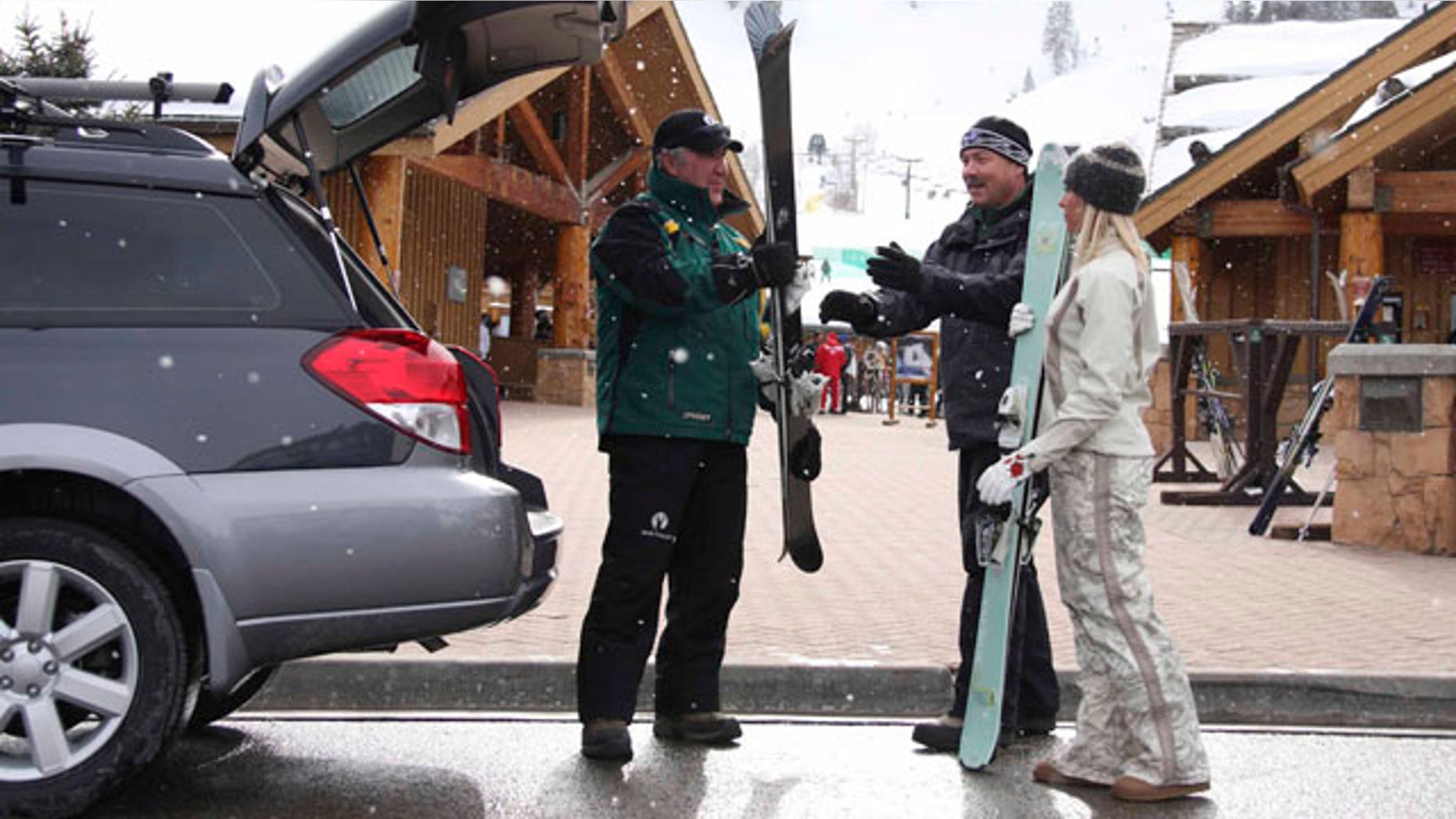 While skiing is a great sport and terrific exercise, let's face it --it's cold and sometimes a little exhausting.  That's why, unlike other sports, choosing a luxury ski vacation comes with some oh, so nice features that just be worth the extra cost.
While many resorts offer some degree of the amenities, you really can tell the difference when you arrive at true -blue luxury resort.  So how do you tell you're at one, especially if you've never been to one?
Last month I was lucky enough to visit some luxury resorts in Utah and I could tell the difference right away.  With services like a private chef at your own cabin, to a heated lift chair, ski resorts across the U.S. offer luxuries to keep guests wanting to come back for more. Some of the features are complimentary with a lift ticket, while others like ski-in/ski-out lodging can easily be priced at more than $1000 a night.
Here's a look at some of the most ritzy services you could experience if you're looking to book the ultimate ski vacation:
1. Hot seats Even on frigid, snowy or windy days, there's no need to skip the slopes at the Canyons Resort in Park City, Utah. The Orange Bubble Express chair seat is heated to keep skiers and boarders warm as they head up the mountain, and a bubble-like cover can be pulled down to shield riders from snow or wind.
"It's like riding inside orange-tinted ski goggles – the views are indescribable and you're protected from the elements," said Canyons managing director Mike Goar. "There's nothing like it in North America."
Scheduled to arrive in December 2012 - Vail in Colorado says it will open the new Vista Bahn Gondola - complete with Wi-Fi and heated seats. The gondola will replace the Vista Bahn Express Lift in Vail Village. The resort says it will increase uphill capacity over the existing lift by 40 percent, as well as take guests to the highest elevation of any gondola in North America.
2. Service to boot From the moment mountain enthusiasts arrive at Deer Valley in Park City, Utah - the company motto, "Take care of the guest, take care of each other, take care of the company" is evident.
Ski valets greet guests as they drive up to the resort, helping them unload their ski equipment  -- and that's just the start of the "Deer Valley Difference." The skier-only resort is known for it's "corduroy" - immaculate grooming across the mountain. Guests can finish off the day with less stress here. Complimentary overnight ski storage allows visitors to avoid the hassle of bringing the cumbersome gear back and forth each day to the resort.
Another resort offering unique guest services is Beaver Creek in Colorado. "From complimentary hot chocolate and grooming reports served by resort Ambassadors, to complimentary Mountain Welcome Tours with friendly guides who share history and insiders' knowledge, to Cookie Time, the signature program where Cookie Time Chefs serve nearly 400,000 warm chocolate chip cookies annually at 3 p.m. daily," Jen Brown of Beaver Creek says the resort's signature treats and surprises will enthrall all guests.
3. Gourmet Table-Service Mountain Dining  Enjoying lunch inside Lookout Cabin at Utah's Canyons Resort is a delight any guest will want to try over and over again. The mountain-top restaurant offers the most spectacular views and superb table-service.
"Lookout Cabin offers sit-down comfort, culinary excellence and a 360-degree view of Canyons and our Park City surroundings," Goar said. "There's no place like it in Utah."
For a ritzy cuisine experience, start off with the Rocky Mountain fondue or the wild game mixed grill skewers. Then try, the Alpine "Mac n'Cheese" or goat cheese gnocchi. You'll forget you're wearing ski boots.
In the neighboring state of Colorado, Vail opened The 10th - it's newest sit-down dining experience - overlooking the majestic Gore Range. The menu features modern alpine cuisine, such as veal meatloaf with creamed wild mushrooms, green beans and buttermilk mashed potatoes.
For those who want a more traditional lunch, there's also a grilled sharp cheddar on brioche with bacon, heirloom tomatoes and tomato soup entree. Both restaurants highly recommend advance reservations.
4. Skip the Lift For many, it's the most daunting part of learning to ski - riding the chairlift. Deer Valley quells those fears for beginners and young children with its newly installed SunKid conveyor lifts. While many resorts have these for their ski schools, Deer Valley opens the four conveyor belt carpets to the everyone on the mountain.
"Many of our improvements this year center around upgrading our grooming and snowmaking equipment and the learning experience of guests and our younger skiers, who are the future of Deer Valley Resort," said Bob Wheaton, Deer Valley resort president and general manager.
5. Limited Ticket Sales Don't worry about crowds here. Deer Valley caps the number of lift tickets sold each day to help guests maximize their time on the mountain - without having to worry about long lift lines or being able to find a table at the lodge for lunch.
6. Ski-in/Ski-out Lodging with More Trapper's Cabin at Beaver Creek offers even more than the typical ski-in/ski-out lodging. The luxury four bedroom cabin sleeps up to ten people in a secluded, yet fully-serviced environment, which includes a personal chef and a billiards room.
7. Soar High Above If you've ever wished you could fly, several resorts are making that dream come true. In Utah, Park City Mountain Resort's Flying Eagle Zip Line allows guests to soar down the mountain with a friend in a secure chair. If that's not enough, a combo ticket includes a turn down the Alpine Coaster - a toboggan-style ride down nearly 4,000 feet of curves, bends and loops.
"We are always looking at news ways to allow our guests to create memories that will last a lifetime," said Krista Perry, the director of communications at PCMR. "Our Alpine Coaster and Flying Eagle Zip Line offer our guests a unique on-mountain experience that distinguishes ours from other resorts and allows the entire family to enjoy the adventures together." (Adult pricing: Alpine Coaster is $20 per ride; Flying Eagle Zip Line is $14 for two consecutive rides.)
At Canyons, adventure seekers can fly high during their ski day. "Located in the middle of our mountain, Zip Tour is an exhilarating break from a day, or a week, at our resort," Goar said. "You soar 2,000 feet, hundreds of feet above a ravine – and your control your speed, and your ability to slow down or stop. It's a rush." (Zip tours are priced between $20 and $90 per person.)
Further north at Big Sky Resort in Montana, expert skiers and snowshoers can book a two-hour, three line zip experience where they soar through the Moose Tracks forest. (Tours are priced between $49 and $73.)
8. National Beauty Jackson Hole Mountain Resort Wyo. is in the heart of the Greater Yellowstone Ecosystem - bordering Grand Teton National Park.
"The landscape is virtually unaltered since the dawn of civilization - setting Jackson apart," said Zahan Billimoria, the communications manager for Jackson Hole. "The luxury of space is quite a profound element."
Ninety-seven percent of the land in the county is public land , allowing the original beauty to remain. Just outside of the town of Jackson is the National Elk Refuge where up to 9,000 elk spend the winter. Visitors can enjoy an up-close look at the refuge on a sleigh ride from December through April.