'The Order: 1886' leaps into the world of blockbuster video games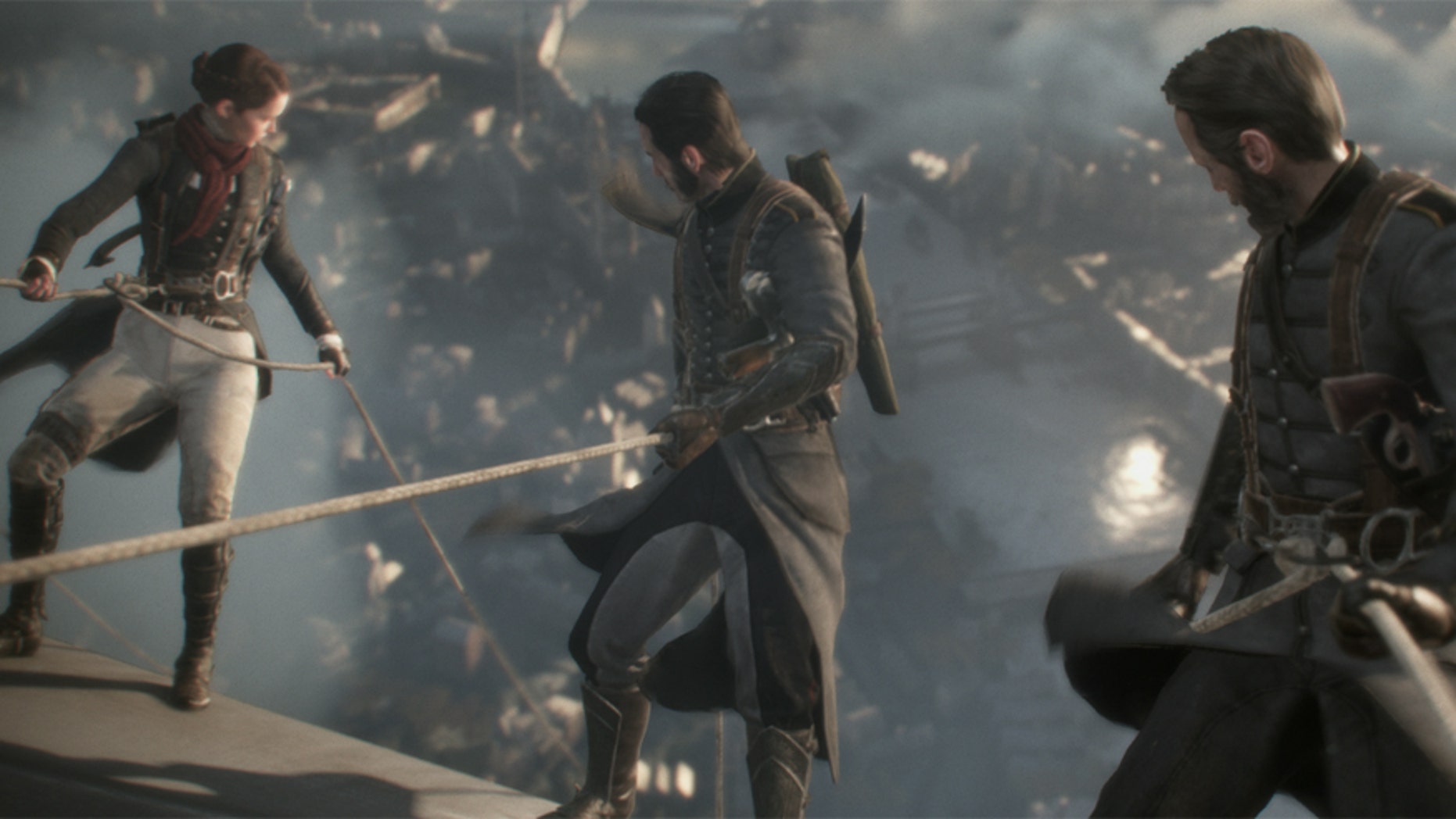 Independent video game studio Ready at Dawn is about to find out if it's truly prepared for a new day as it takes on the world of big-time video games. The Irvine, Calif.-based publisher is well-known for its titles played on handheld devices such as Sony's PSP, but the game developer is now jumping into the Hollywood-esque blockbuster world of console titles with Friday's release of "The Order: 1886."
And in a world where the big publishers are releasing fewer titles to marshal their resources for their most lucrative franchises and other game makers are developing small-screen apps and mobile titles to appeal to so-called casual gamers, Ready at Dawn is going big with its new story-based adventure game that aims to create a rich, immersive gaming experience for players.
This move to the big (screen) leagues "was not easy to take on," admits Ru Weerasuriya, co-founder and CEO of Ready at Dawn, but he says the studio is up for the challenge, "The plan was always to make AAA (console) games…for us it was the immersion factor, you're never breaking out of the game no matter what you do. It will keep you in the game. It's something that feels like a roller coaster ride, like a game and a movie at the same time all rolled into one."
That is an experience Weerasuriya has created before in his previous position with Blizzard (now part of Activision Blizzard), where he worked on the hugely popular "StarCraft" and "World of Warcraft" titles. He met Ready at Dawn co-founder Andrea Pessino at Blizzard where they worked on Warcraft together. The duo and their colleagues have won two game of the year awards since starting the new studio in 2003.
The ambitious title is set in an alternate reality of Victorian England where mankind uses advanced technology to battle a powerful and ancient foe. The storyline traces all the way back to King Arthur and his knights of the roundtable.
Ready at Dawn is releasing "The Order" exclusively for Sony's PlayStation 4 console in exchange for assistance on production and marketing costs.
"For a game like that you're looking at the cost of delivering a Hollywood type movie—both from the development and marketing side," explains David Cole, CEO of market forecasting specialist DFC Intelligence, who adds, "It makes it really difficult for small developers to compete without the support of a big publisher, in this case Sony, which is providing a lot of resources that would make it unfeasible for Ready at Dawn to make this game without its help."
While the deal limits the addressable market, Xbox and Nintendo Wii U owners will not be able to play the game; this arrangement will be mutually beneficial so long as "The Order" helps sell more PS4s.
"The exclusive nature of the game will limit its sales potential, but it is intended to drive sales of the console," explains Michael Pachter, an analyst who covers the industry for Wedbush Securities. "Gamers lap up exclusives because they know you can't get it on other consoles. The console manufacturers differentiate themselves via exclusive IP (intellectual property)."
Pachter predicts the game will sell "three million copies and two million PS4s."
In some respects the bar is not as high for Ready at Dawn as it is for the publicly traded, multi-billion dollar market cap behemoths such as Electronic Arts and Activision.
Activision's stock surged to record highs in November ahead of the release of a highly-anticipated new game, "Destiny", but came crashing down even after a record five-day debut of $325 million because of concerns that it would not be popular enough to create a fresh ongoing franchise.
"The stakes are not nearly as high (for Ready at Dawn), the expectations are not as high as a developer which is not being publicly traded, having much smaller operations overall," says DFC Intelligence's Cole, but he adds with a hint of caution that the studio is not too small to fail: "It's a very difficult market for small developers and the stakes are high around any individual project - it's a huge undertaking. A lot of the fate of the company rests on how well a product like this does. You don't get too many chances to strike out."
Ready at Dawn's CEO acknowledges the challenge ahead, but relishes the role of the underdog against the likes of his former employer, Activision. "I look at it as all these teams start somewhere. All the Goliaths of today were the David's yesterday."
An Order to Cure Sequelitis?
If the studio can score critical acclaim and sell a few million of the $60 games, then it may be able to further explore the rich world that gamers and analysts have been waiting to enter since the game was announced two years ago. And somewhat ironically, in a video game world that Wedbush's Pachter says suffers from "sequelitis", this fresh franchise may spawn sequels of its own.
"I don't think any writer or creator out there builds anything just to make it finite from the get go," says Ready at Dawn's CEO Weerasuriya, adding, " We're in need of new blood right now. Yes, it's scary to jump into something like this, but without little bit of fear to build a game like this, you can't deliver on something great."
While only time will tell what gamers think of "The Order: 1886," Pachter is bullish on the title: "I'm not at all worried about this game being good, it's going to be great…It won't have any trouble standing out in a crowd."
And if this is the launch of a new, lucrative series of games for Sony, "The Order" may find its way to an even bigger screen—in theaters. After all, Sony is working on silver screen adaptations of PlayStation exclusive titles "Uncharted" and "The Last of Us."
"The possibility is definitely there, the big story line we're trying to tell is suited for something less interactive, spanning hundreds of years," says Ready at Dawn's Weerasuriya, adding, "Other media would suit certain other stories very well. The great thing about our industry, with "The Last of Us" and "Uncharted" going to the big screen, it shows ideas coming from our industry are kind of ripe for that kind of exploration."