Royal Wedding Sixth Biggest Web Event Ever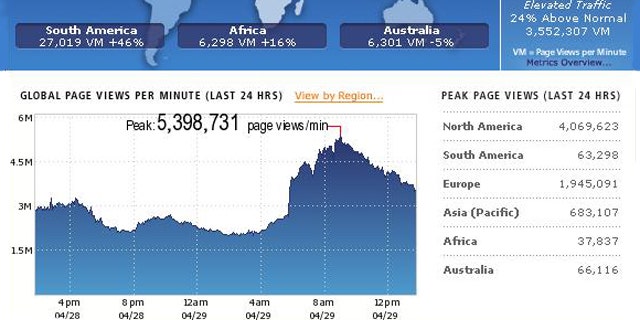 It was the wedding of the century -- and it nearly took down the Internet.
Millions followed the traditional wedding of Prince William and Kate Middleton in live streams on their computers, all the while commenting on social media sites. Among the many outlets webcasting the event was the Royal family itself, whose YouTube page offered live video and tweets from the prince's official residence.
And all of that traffic amounted to the sixth most popular web event since 2005, said Akamai Technologies Inc., which delivers about 20 percent of the world's Internet traffic. The company said that global page views peaked at nearly 5.4 million per minute this morning -- though that was well shy of the record 10.4 million page views per minute set during the World Cup last year.
The company lists the highest peaks in terms of web usage since 2005 as follows:
* 1. Jun. 24, 2010:
10,357,646 views per minute, during simultaneous World Cup qualifying matches and the longest-ever Wimbledon match.
* 2. Nov. 03, 2010:
6,363,725 views per minute, during Champions League/European Cup Games.
* 3. Jun. 11, 2010:
6,039,434 views per minute, during day 1 of 2010 World Cup Championships.
* 4. Jun. 23, 2010:
5,647,432 views per minute when the USA beat Algeria to qualify for top 16 in the World Cup.
* 5. Nov. 2, 2010:
5,660,658 views per minute during 2010 U.S. mid-term elections.
* 6. Feb. 2, 2011:
4,953,655 views per minute as violence broke out in Egypt between anti- and pro-government supporters.
* 7. Mar. 17, 2011:
4,925,274 views per minute on day one of U.S. NCAA collegiate basketball tournament.
* 8. Feb. 6, 2011:
4,630,080 views per minute as Green Bay Packers were victorious in Super Bowl XLV.
* 9. Feb. 22, 2011:
4,612,644 views per minute as a tremendous earthquake shook Christchurch, New Zealand.
* 10. Feb. 1, 2011:
4,592,229 views per minute as Egyptian President Hosni Mubarak declared he won't seek re-election amid protests.