Reuters' Matthew Keys charged with aiding hackers Anonymous in 2010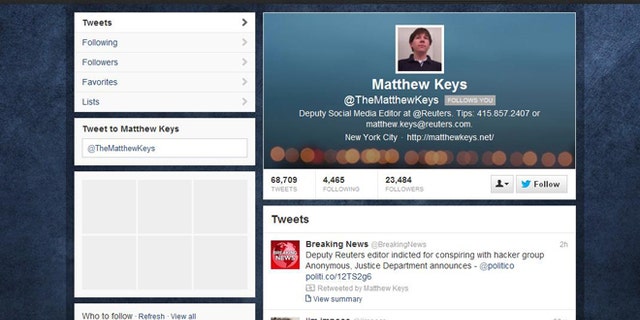 A prominent social media journalist allegedly fed Tribune Company server logins to the Anonymous group of hackers in 2010, and authorities say at least one of the hackers used the information to sabotage part of the Los Angeles Times' website.
Matthew Keys, 26, of Secaucus, N.J., faces up to 10 years in prison if convicted on several federal charges related to the security breach.
Keys, now with Reuters, was a Web producer with KTXL, a Tribune-owned TV station in Sacramento, until he was terminated in October 2010, the Justice Department said without elaborating on the nature of Keys' termination. That December, he allegedly joined an Internet chat under the name AESCracked and offered members of Anonymous a way to access the Tribune server.
The indictment filed on Thursday in federal court in California says he then encouraged the hackers to "go f--- some s--- up."
Click here to read the full indictment.
Over the next few days, at least one of the hackers accessed Tribune's content management system under the name anon1234 to become familiar with how the system worked, the indictment says. Someone later logged in as ngarcia and was able to alter a news story on the website of the Los Angeles Times, which is owned by Tribune.
The story's headline was changed to "Pressure builds in House to elect CHIPPY 1337," the indictment says, and similar changes were made to the story.
Keys allegedly contacted one of the hackers afterward and, upon learning of the alterations, responded, "nice." The transcript of the online conversation included in the indictment, however, shows Keys lamenting that he had gotten "locked out for good," and the hacker is quoted as saying Tribune's security was able to find the rogue ngarcia account "damn quick."
A Tribune spokesman declined an Associated Press request for comment. A Reuters spokesman also declined comment.
He is charged in the Eastern District of California with conspiracy to transmit information to damage a protected computer, transmitting information to damage a protected computer, and attempted transmission of information to damage a protected computer.
The case was investigated by the FBI and is being prosecuted by the Justice Department's Criminal Division's Computer Crime and Intellectual Property Section.
Keys has been working for Reuters since January 2012, according to BuzzFeed. Time magazine named him that year to its list of 140 Best Twitter Feeds. "If it's news, Matthew Keys will probably tweet it out," Time said at the time.
From June 2008 to April 2010, Keys' Facebook page said he worked as an online news producer for the Sacramento TV station.
"Was a one-man band for two years, updating breaking news, current events, political, entertainment and sports content," read Keys' description of that job on Facebook. "Launched social media platforms to promote content and engage with audience."
Keys, who has 23,000 followers on Twitter, continued to tweet into the evening Thursday, retweeting an announcement of his own indictment before commenting on the charges in a tweet of his own.
"I am fine," he said. "I found out the same way most of you did: From Twitter. Tonight I'm going to take a break. Tomorrow, business as usual."
Keys is scheduled for arraignment in Sacramento federal court April 14. He didn't respond to the Associated Press' email inquiries and messages sent through his Twitter account and Facebook page Thursday.
Department of Justice prosecutors in court papers allege that a legendary hacker and Anonymous leader named "Sabu," who later turned into an FBI informant, "offered advice on how to conduct the network intrusion."
The FBI unmasked Sabu when they arrested Hector Xavier Monsegur on June 7, 2011. Monsegur secretly worked as an FBI informant until federal officials announced he helped them arrest five other alleged hackers on March 6, 2012.
Federal officials declined to comment on whether Sabu assisted in the investigation of Keys.
The day after it was announced that Sabu was an FBI informant, Keys wrote about "infiltrating" the hacker's chat room for Reuters.
Forbes technology writer Parmy Olson noted that Sabu raised allegations about Keys as early as March 2011, when Sabu tweeted that Keys "gave full control of LATimes.com to hackers." Olson said Sabu make the same allegations to her during an online chat that month.
"At the time I was skeptical," Olson wrote Thursday. "Keys had been a journalist with a big-name media company, and not long after I carried out the interview (with Sabu) he landed a coveted social media role with Reuters. When I eventually put the allegation to Keys himself, he denied it."
The Associated Press contributed to this report.