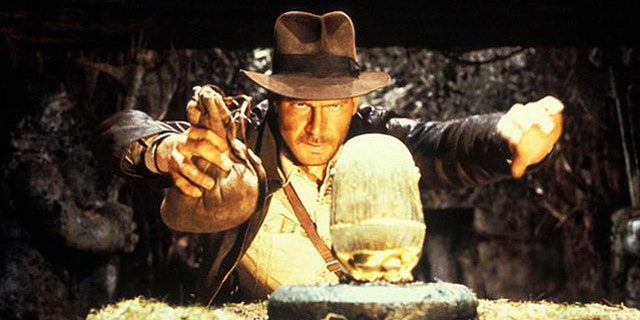 The odds are good that the next movie you watch will be displayed by a digital projector. After a reign of more than 100 years, 35mm film projectors are quickly becoming a thing of the past.
More than half of projectors in use today are digital. And the world's theater industry will be completely digital in the next four years, according to Texas Instruments, which makes the chips that power many all-digital projectors.
Digital projectors make crisper pictures and enable 3D films. But will skipping the celluloid change your experience of watching the new Mission: Impossible or Sherlock Holmes flick? Absolutely, says Michael Harrison, a projectionist at the Tower Theatre in Fresno, Calif.
"The feeling [from a digital projector] is very plain and sort of programmed to me," Harrison told FoxNews.com. "Film itself has an aesthetic and an appeal and vibrancy of color, with some sort of life that's not in digital."
John Moses, an instructor in Film Studies at Fresno City College, agreed that digital projection tech might take the magic out of the movies.
"There's something maybe magical about the little scratches that cross the celluloid," he told FoxNews.com. "And the colors are going to be a little less vibrant."
Many Hollywood directors still prefer to shoot with film cameras as industry bible Variety recently noted: Among other things, they value the discipline of knowing they must wrap -- the end of the reel is near.
How a film is shot is different from how it's projected, of course -- but both affect the quality to your eyes.
Texas Instruments points out that a digital presentation will be cleaner -- there's no dust, jitters or splices, after all. And you'll no longer see the changeover cues, those black dots that appear in the corner of a film to let a projectionist know when the reels needs to be switched.
Digital cuts costs for studios too, since distributors no longer need to ship huge reels of film to theaters around the country. And films arrive at the local megaplex much faster via the matrix than via planes, trains and automobiles.
In the digital system, studios supply theaters with a downlink from their network that can be captured on the theater's management system. The theater operator then sets up playlists with the day's program, the movies and trailers that entertain theatergoers.
Yet smaller theaters may find it difficult to survive if they don't make the switch -- and the very high cost of installing digital projection systems may be more than they can afford.
"Studios and other companies are helping commercial theaters help the big chains make that conversion," Moses told FoxNews.com. "They're going to be less concerned with a small independent theater."
Christie makes projectors for sale to movie theaters around the world. Almost two years ago, the company went digital -- after making film projectors for over 80 years.
"Because of the economic advantages of distribution via digital content, I became quite concerned about the future of Christie," Jack Kline, president and COO of Christie Digital Systems, told FoxNews.com. "If we didn't have a solution we could actually become extinct."
The company Kinoton, which calls itself "one of the biggest manufacturers of professional film projection technology," declined FoxNews.com requests for an interview. But experts say most film projector makers are racing to build and sell new digital models.
Is Kodak, the company that single-handedly pioneered much of the film industry getting involved in the rush? Not so much, the company said.
Kodak recently told Variety that its film business was still profitable and quite viable.
"We're still making billions of feet of film and will continue to do so," Ingrid Goodyear, vice president of marketing said. "For the foreseeable future we still see film to be an important part of Kodak's business."
America's cinema industry is big business; it's the largest film industry in the world. Last year, box office numbers reached an all time high at $31.8 billion, according to the Motion Picture Association of America. Yet despite the big bucks, attendance is steadily falling, and expected to hit a 16-year low in 2011 -- something expensive 3D moves can only do so much to offset.
Digital projectors have helped those 3D movies take form and improve quality for the audience. For example the box office hit Avatar would have been impossible to achieve with film.
"It's given us better animation and dynamics not as practical on 35mm film -- and a clearer and more steady picture," Kline said.
Most of us aren't cinephiles -- we're not rushing to see the latest foreign film and are more concerned with comfortable, stadium seating than how the images hits the screen. But no one wants to lose the classics; Raging Bull, or Citizen Kane or Close Encounters of the Third Kind.
Many small theaters are concerned that the transition might make movies that were printed on film obsolete.
"We need to make the best of the transition so that [film] won't disappear entirely and people can go to museums and see movies projected on 35mm," Moses said.