More Stunning Emails to Come in Facebook Ownership Lawsuit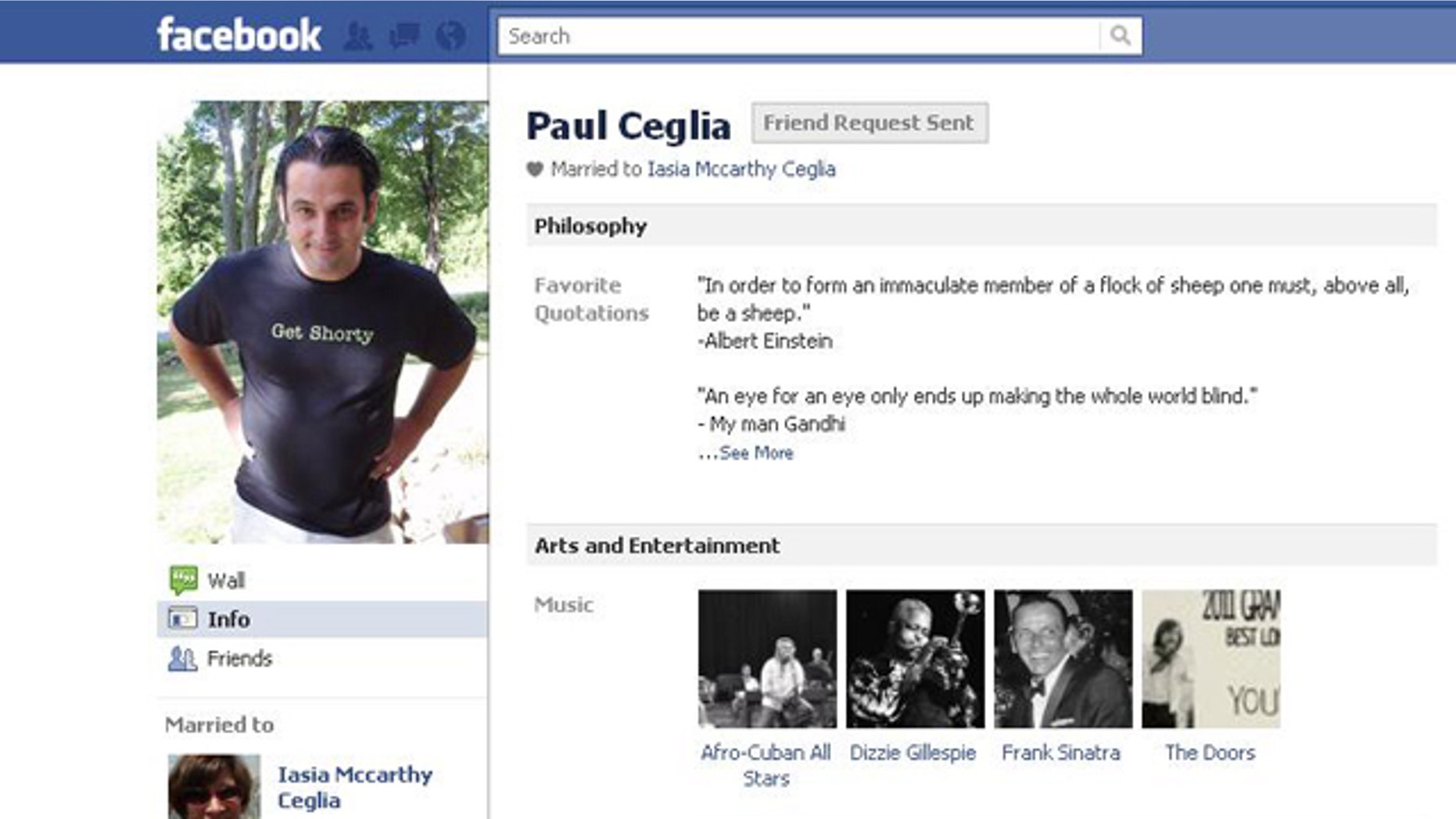 Eye-opening emails released in a lawsuit Tuesday could change the very ownership of Facebook -- and more emails have yet to be released, FoxNews.com has learned.
Paul Ceglia, an upstate New York businessman, claims that in 2003 he made a $1,000 investment in Facebook, which entitles him to 50 percent of what is today the 500 million-user force powering social networking. Facebook calls the emails -- as well as Ceglia himself, and the entire case -- an utter fraud.
But they haven't seen the whole story yet.
Robert Brownlie, a partner with giant law firm DLA Piper and Ceglia's chief legal adviser, said there's more evidence still unseen. "There are more emails," Brownlie told FoxNews.com.
Whether they would be part of the case was still undetermined, however. "That's possible at some point," Brownlie said, explaining that all relevant material evidence in the lawsuit would be turned over to Facebook's legal team ... eventually.
When told that Ceglia had still more emails, attorney Orin Snyder, of Gibson, Dunn & Crutcher, which is representing Facebook, lambasted the case and Ceglia, calling him a convicted crook with a checkered past.
"That simply means the fraud is going to deepen," he told FoxNews.com. "The so-called emails are bogus, and so if there are more, we'll look at them when they come." He called the new emails "no more genuine than those referenced in the complaint"  -- and continue hammering Ceglia's history.
In 2009, Ceglia was arrested in New York on charges he allegedly defrauded customers out of at least $200,000 through the wood pellet business Allegany Pellets, which Ceglia and his wife own. A spokesman for the attorney general's office told FoxNews.com that the case was quietly settled in October 2010, with Ceglia paying $106,000 in restitution fees and $25,000 in penalties and fees.
The website for Allegany Pellets is still active, however. The Attorney General did not respond to FoxNews.com questions about the current status of the business.
Ceglia also pleaded guilty to a felony charge in Texas decades ago, over possession of psychedelic mushrooms.
Calls to Ceglia's home in Wellsville, N.Y., went unanswered; Brownlie explained that his client wasn't giving any more interviews. But Ceglia has already explained the unbelievable genesis of the case: He had simply forgotten about the deal with Zuckerberg, he claims -- and the agreement that could easily yield him billions of dollars.
Ceglia said he stumbled across the files when sifting through his records last year, following his 2009 fraud arrest.
"If this thing hadn't happened the way it happened, no way I would have ever started looking through these ancient folders," Ceglia told BusinessWeek. "That contract would just be sitting in there gathering dust."
Why release the emails Tuesday, a day after the end to the long-running lawsuit by the Winklevoss brothers (who argued that Zuckerberg stole their idea)? Mere coincidence, Brownlie said.
"By court order, the first amended complaint in the case was due," Brownlie said. The stunning emails weren't planned to coincide; in other words, it was just an odd accident.
The emails released so far appear to document a business arrangement. By April 2004, the email chain appears to show the relationship between the pair spiraling downward and devolving. According to the complaint, Zuckerberg even claimed the site wasn't doing well -- and he planned to shut it down.
Read more: Are Eye-Popping Emails in Facebook Ownership Lawsuit Legit?
Read more: Read the lawsuit and emails and judge for yourself
"Paul, I have become too busy to deal with the site and no one wants to pay for it, so I am thinking of just taking the server down. My parents have a fund that I can tap into for my college expenses and I would just like to give you your two thousand dollars back."
A war of words ensued, with Ceglia, according to the emails, telling Zuckerberg to "Grow up, take a f--king ethics class, choke yourself with that silver spoon of yours."
"If you've followed the evolution of Mark Zuckerberg's response to this case, it started with 'I never had an agreement' … to questioning the nature of that agreement," Brownlie told FoxNews.com.
Facebook's reaction to the emails has been consistent and adamant.
"This is a fraudulent lawsuit brought by a convicted felon, and we look forward to defending it in court," Snyder said, referring to Ceglia's guilty plea in the Texas drug case. "From the outset we've said that this scam artist's claims are ridiculous and this newest complaint is no better."
Brownlie told FoxNews.com he was waiting on a Facebook response at this point. The company is obligated to respond within 20 days, either by answering the complaint -- in which case the social network must walk through the complaint and respond, fact by fact -- or file a motion to dismiss, if they believe the allegations aren't sufficiently proven by the evidence.
"Before agreeing to come on the case, we did a lot of due diligence or research on our part to determine to our level of comfort that the evidence is genuine," he said.