Google Unveils an Answer to Facebook's 'Like' Button: +1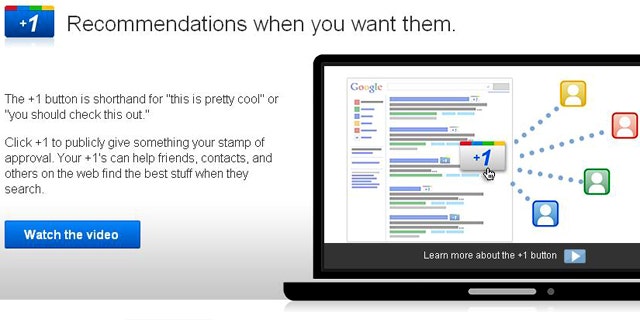 Google will allow people to personally endorse search results and Web pages, an important step in its efforts to add social networking capabilities to its products amid increasing competition from Facebook.
The new so-called +1 button that will appear alongside Google search results for some users on Wednesday means that people will be able to recommend specific search results to their friends and acquaintances by clicking the button.
The new feature comes nearly a year after Facebook began offering special "Like" buttons to Web sites, creating a personalized recommendation system that some analysts believe could gradually challenge traditional search engine ranking algorithms for finding online information.
For Google, which generated roughly $29 billion in revenue last year primarily from search ads, maintaining its role as the main gateway to information on the Internet is key.
Google said that +1 recommendations will also appear in the paid ads that Google display alongside its search results. In its internal tests, Google found that including the recommendations boosted the rates at which people click on the ads, executives told Reuters in an interview on Tuesday.
Eventually, Google plans to let third-party websites feature +1 buttons directly on their own pages, the company said.
Google's Matt Cutts, a principal engineer for search, said the +1 buttons were part the evolution of Google's own social search efforts, rather than a direct response to Facebook's Like buttons.
"We always keep an eye out on what other people are doing, but for me the compelling value is just that it's right there in the search results," said Cutts.
Google introduced social search in 2009, and in February the company began displaying special snippets underneath any search results that have been shared by a person's contacts on Twitter, the popular Internet microblogging service.
Currently Google is not using +1 recommendations as a factor in how it ranks search results -- a user only sees that a friend recommended a search result if the result would have turned up in a search based on Google's existing ranking criteria.
Google's Cutts said the company is evaluating whether to use +1 recommendations as a ranking factor in the future.
To use the new recommendation system, users must create a Google Profile page. Any +1 clicks that a person makes will be publicly visible to their network of contacts, which is based on existing contacts in Google products such as the company's Gmail email and its instant messaging service.
Google faced privacy criticisms last year when it launched Buzz, a social networking messaging product that automatically revealed people's personal contact lists to the public.
Cutts said that Google hoped to address any potential privacy concerns with the +1 service by making it clear that any +1 tags are public.
"As long as people have that mental model, they know what to expect, they're not surprised if they +1 something and it shows up in a different context," he said.
The feature will initially be available to a small portion of Google users in the United States on Wednesday, and the company plans to allow other U.S. users to sign up to try the +1 feature later in the day.