FBI Unveils 'The Vault,' Including Unseen 9/11 Records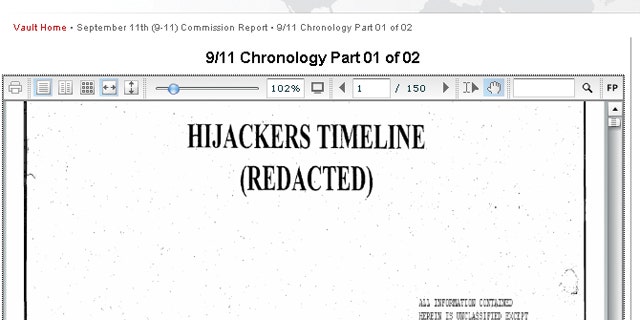 Featuring searchable dossiers on characters as wide-ranging as Al Capone, Marilyn Monroe, Notorious B.I.G. and the 9/11 hijackers, the FBI has upgraded its online public records to provide more than 2,000 digitized documents.
Welcome to "The Vault," a fascinating new electronic reading room.
"The new website significantly increases the number of available FBI files, enhances the speed at which the files can be accessed, and contains a robust search capability," David Hardy, chief of the FBI's Records Management Division, said in a statement. "It reflects a strong commitment to build public trust and confidence through greater public access to FBI records."
Some of the documents released under Freedom of Information Act requests include a detailed chronology of the hijackers' movements prior to Sept. 11, 2001, including their ATM withdrawals, cell phone activity and training flights taken in Florida, New Jersey and elsewhere.
A chronology of events -- the "Hijackers Timeline" -- is a 150-page spreadsheet detailing the terrorists and their associates. Beginning with Mohamed Atta, who crashed American Airlines Flight 11 into the North Tower of the World Trade Center, the document lists each subject's country of origin, date of birth and tracks every known movement they made leading up to the attacks.
Users of the FBI's new system can also search through topics like counterterrorism, the "Gangster Era," and Popular Culture, where they'll find the FBI's file on subjects like Osama Bin Laden, George "Machine Gun" Kelly and Malcolm X, respectively.
And thanks to new technology developed by the FBI, users can also search for keywords within individual files. Many of the older records, however, include handwritten notes that are not easily searchable.
Other topics that can be found in the FBI's database include the Patriot Act, which reduced restrictions on law enforcement agencies' ability to search communication records; the Mexican Mafia; and alleged UFO sightings in Roswell, New Mexico.
One document, for example, pertains to Guy Hottel, a special agent in charge of the FBI's Washington Field Office, who sent a memo concerning flying saucers to the FBI's director in March 1950.
"An investigator for the Air Force stated that three so-called flying saucers had been recovered in New Mexico," according to the memo dated March 22, 1950. "They were described as being circular in shape with raised centers, approximately 50 feet in diameter. Each one was occupied by three bodies of human shape but only 3 feet tall, dressed in metallic cloth of a very fine texture. Each body was bandaged in a manner similar to the blackout suits used by speed flyers and test pilots.
"According to Mr. [redacted] informant, the saucers were found in New Mexico due to the fact that the Government has a very high-powered radar set-up in that area and it is believed the radar interferes with the controlling mechanism of the saucers. No further evaluation was attempted by SA [redacted] concerning the above."