Facebook releases first ad, compares itself to a chair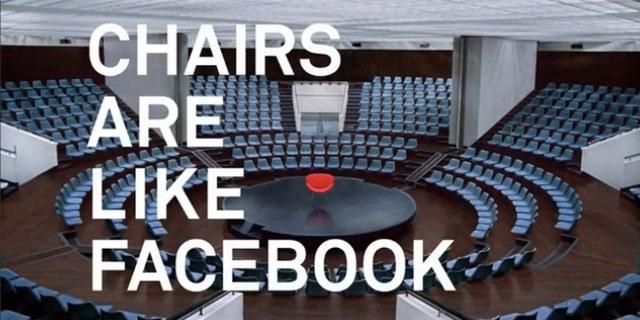 It's a chair, it's a doorbell, it's an airplane -- no actually, it's Facebook, in its first ever ad.
The social network today released its first commercial to coincide with its announcement of reaching 1 billion monthly users.
In the 90 second ad, devised by American agency Wieden + Kennedy, Facebook is compared to chairs, doorbells, bridges and airplanes as "things that people use to get together so they can open up and connect."
"Anyone can sit on a chair, and if the chair's large enough they can sit down together and tell jokes and make up stories or just listen,'' a female voice says over footage of people sitting down.
"Chairs are for people, and that is why chairs are like Facebook.''
[pullquote]
The ad goes on to list dance floors, basketball, "a great nation'' and the universe as other things to which Facebook is apparently similar.
The ad has already become the butt of online jokes, with tech website Gizmodo declaring "Facebook's first ad is its worst ad'' and social media site Mashable creating a spoof ad comparing the social network to cheese pizza and dinosaurs.
Within hours of the ad appearing on YouTube, the Twitter account @FacebooksChair had been launched under the description "Apparently I'm a social network. Or I'm made so people can sit down and tell jokes. Or I'm Facebook. Or something. Maybe I'm a doorbell.''
Facebook CEO Mark Zuckerberg wrote of the commercial in a blog post: ``For the first time in our history, we've made a brand video to express what our place is on this earth.
"We believe that the need to open up and connect is what makes us human. It's what brings us together. It's what brings meaning to our lives.''
The ad will roll out across 13 countries including America, the UK, Japan and Indonesia.
</p> <p style=" text-align: center;">