Could the Apple Watch Series 4 save you from a heart attack?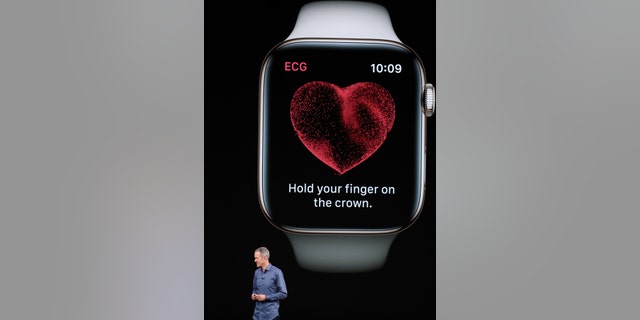 NEWYou can now listen to Fox News articles!
The more you know about the gadgets you own the better.
Case in point: The Apple Watch Series 4, which can now detect an irregular heart pattern.
Experts says this is a milestone for consumer-grade medical diagnosis, but at the same time are quick to point out that the new watch is no match for an actual medical test.
APPLE WATCH WILL CALL FOR HELP IF YOU FALL
The new smartwatch can perform a single-lead electrocardiogram (EKG or ECG) and look for an irregular heart pattern called atrial fibrillation -- e.g., an abnormally fast heart rate. If detected, you can share the data with a doctor and ask for more tests.
To test your heart pattern, you place your finger on the "digital crown" control knob and run a test that takes about 30 seconds.
In clear cut cases the Apple Watch could make the difference between life and death," says Roger Kay, president of Endpoint Technologies Associates. Because you wear the Apple Watch at all times, it can detect an early sign of a stroke or a heart attack, and that early indication is critical, he says.
APPLE WATCH REVIEW ROUNDUP: THE HYPE IS REAL FOR THE BEST SMARTWATCH ON THE MARKET
Most of us won't wear a mobile electrocardiogram machine throughout the day, so a device you do wear at all times is better than one you wear at a hospital only.
That said, Kay also noted that the Watch Series 4 is no replacement for an EKG machine, which has up to 12 leads and monitors patients through a battery of tests.
The main difference? The Apple Watch Series 4 might be able to look for one particular medical issue like atrial fibrillation, but is no comparison for an actual medical device.
APPLE CEO: IT'S 'BUNK' TECH GIANTS NEED YOUR DATA
Waqaas Al-Siddiq, the CEO of Biotricity, a company that makes remote monitoring products to help detect a heart attack, says the Apple Watch Series 4 is helpful but might lead to some confusion. "The new Apple Watch does not produce clinical-grade data needed for the diagnosis or treatment (often invasive) of irregular heart rhythms or arrhythmias."
Consumer analyst Rob Enderle of the Enderle Group says he agrees the early detection is helpful, but wonders if consumers might trust the results too much ... or not trust them enough. "You really can't depend on its accuracy, so while it may be better than nothing it could also provide a false sense of security for someone with a heart problem due to its limitations or cause a panic if it flags a trivial problem, or data collection problem, as an impending stroke," he says.
What will work eventually, says Enderle, is a totally different type of device that doesn't quite exist yet, one that connects in real-time to high-end medical equipment but provides all of the data a patient (or more importantly, a doctor) might need.
APPLE DENIES EXPLOSIVE REPORT OF CHINESE HACKING ON ITS SERVERS
"It's a good first step for Apple, but it's really just the beginning of what's possible," says Greg Raiz, Chief Innovation Officer at Rightpoint, a consumer agency. "The watch can't replace the equipment you'd find in a hospital or what a true doctor could give, but it does give consumers more information in a medically relevant way than they've had access to before."
In the end, the Watch Series 4 creates more awareness for the user -- that it's possible to test for a medical condition on a device that also lets you text your friends.
The fact that you wear it at all times means it could warn you about a minor problem, and if you go to the doctor to get more tests on a real medical diagnostic machine, could save your life.