Apple Watch will call for help if you fall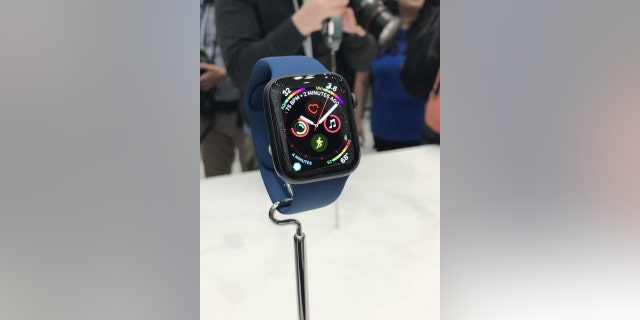 Making health a big selling point of the Apple Watch, Apple said the new Apple Watch Series 4 will not only be able to screen your heart rate, but will call for help if you fall.
"One of the most common injuries is falls," Apple COO Jeff Williams said during the presentation. With the redesigned Apple Watch Series 4, it will automatically detect if you've fallen and ask you if you want to send an Emergency SOS. If you've been immobile for one minute after the fall, the Watch will automatically call emergency services and send your location to your emergency contacts, Williams added.

FDA-approved, the Apple Watch Series 4 will monitor your heart in several different ways, including letting you know if your heart rate has dropped too low.
APPLE MAKES HISTORY WITH MASSIVE NEW IPHONE, APPLE WATCH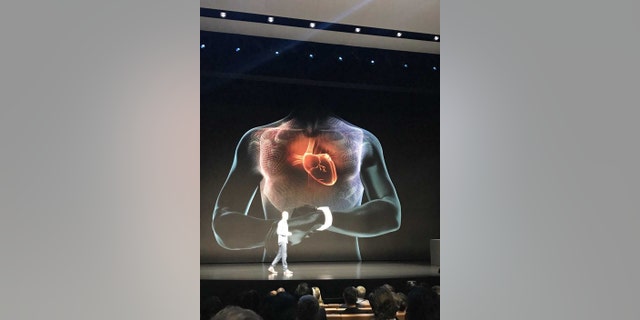 It can also look for any irregularities with your heart, including the detection of atrial fibrillation. Williams cautioned that Apple would not be able to detect every instance, but said "we believe this will help a lot of people who didn't know they had an issue."

The new Watch, which comes in 40 millimeter and 44 millimeter sizes, now has electrodes, letting you take an electrocardiogram. Apple Watch Series 4 wearers can open up the Health app, put their finger on the digital crown, wait 30 seconds and then get a heart rate analysis.

It also comes with a new watch face and new inputs, such as contacts, for one-tap access. The speaker on the Apple Watch is 50 percent louder, to aid with Walkie-Talkie or Siri requests, Williams said. The Watch will have the 64-bit S4 chip and a new GPU, giving it twice the performance as the Apple Watch Series 3.
The Apple Watch, which also has 18-hour all-day battery life (including 6 hours of outdoor workout time), will be available for pre-order on Sept. 14 and go on sale Sept. 21. It will cost $399 with GPS and $499 with cellular capability.
STEVE JOBS' DAUGHTER RIPS HER 'COLD' FATHER IN NEW MEMOIR
In addition, Apple dropped the starting price of Apple Watch Series 3 to $279.
Apple recently expressed concern that some of its products, including the Apple Watch and AirPods, could wind up costing consumers significantly more if the Trump administration were to go through with its latest rounds of tariffs on Chinese imports.
In response, President Trump said there is "an easy solution" to solve the problem, calling for Apple to make its products in the U.S.
Follow Chris Ciaccia on Twitter @Chris_Ciaccia