Congressman Calls for Bipartisan Commission on VA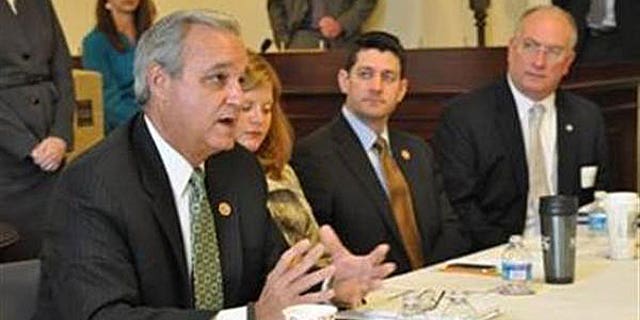 NEWYou can now listen to Fox News articles!
The Republican chairman of the House Veterans Affairs Committee wants a bipartisan commission to look into problems of veterans getting care at Department of Veterans Affairs medical centers and clinics.
Rep. Jeff Miller's call for President Obama to establish the commission comes as more allegations emerge that veterans hospital staff have manipulated appointment requests to hide the fact that large numbers of vets are waiting too long to see a doctor.
Miller said Obama has a choice now to take action to end a "culture of complacency" that is compromising patients' safety at VA hospitals or explain to American veterans "why we should tolerate the status quo."
Miller is not the only one who wants to hear more from the president on the latest VA controversy.
Paul Rieckhoff, president and chief executive officer of Iraq and Afghanistan Veterans of America, said his organization wants Obama to address the growing reports of manipulated waiting lists, as well.
During a series of fundraisers in California last week, Obama did not once bring up the problem of access at VA hospitals, Rieckhoff said.
"We want to hear from [VA Secretary Eric] Shinseki. We want to hear from the president on this, too," Rieckhoff said.
Miller's committee already was looking into allegations of preventable deaths at a VA hospital in Mississippi when CNN last month reported that some 40 vets died waiting for an appointment with doctors at the VA Medical Center in Phoenix, Ariz.
The 40 veterans allegedly were all on a secret list of patients waiting months and even a year or longer to see a doctor.
Shinseki put three officials at the Phoenix VA hospital on administrative leave on May 1 over the allegations.
Since then, similar reports have emerged of other VA facilities manipulating patient appointments, to include a VA clinic in Fort Collins, Colo.; two facilities in Texas; and the hospital in Cheyenne, Wyo.
A registered nurse with the Cheyenne center was also put on leave after he was identified as the author of an email that instructed staff on how to alter records to show that patients were being seen by doctors within the VA's established 14-day goal.
"Yes, it is gaming the system a bit," David Newman, the Cheyenne nurse, said in the e-mail, which was first reported by USA Today. "But you have to know the rules of the game you are playing, and when we exceed the 14-day measure, the front office gets very upset."
The Austin American-Statesman last week reported that a VA employee in Texas told federal investigators that he and others were "verbally directed by lead clerks, supervisors, and during training" to ensure that wait times at the Austin VA Outpatient Clinic and the North Central Federal Clinic in San Antonio were "as close to zero days as possible."
In announcing his call for a bipartisan commission on Monday, Miller said that the VA's delays are growing in size and scope as more veterans, family members and whistleblowers come forward.
"For nearly a year, we have been pleading with top [VA] leaders and the president to take immediate steps to stop the growing pattern of preventable veteran deaths and hold accountable any and all VA employees who have allowed patients to slip through the cracks," he said.
Miller said the White House and VA have responded to lawmaker demands for action and accountability with silence. He said work done by his committee has revealed more than 20 preventable deaths at VA facilities, as well as more than 50 injuries.
Not all the facilities where the deaths occurred have been identified, but nine occurred at VA hospitals in Columbia, S.C., and Augusta, Ga.
-- Bryant Jordan can be reached at bryant.jordan@monster.com.