World Cup 2014: The Netherlands Team Guide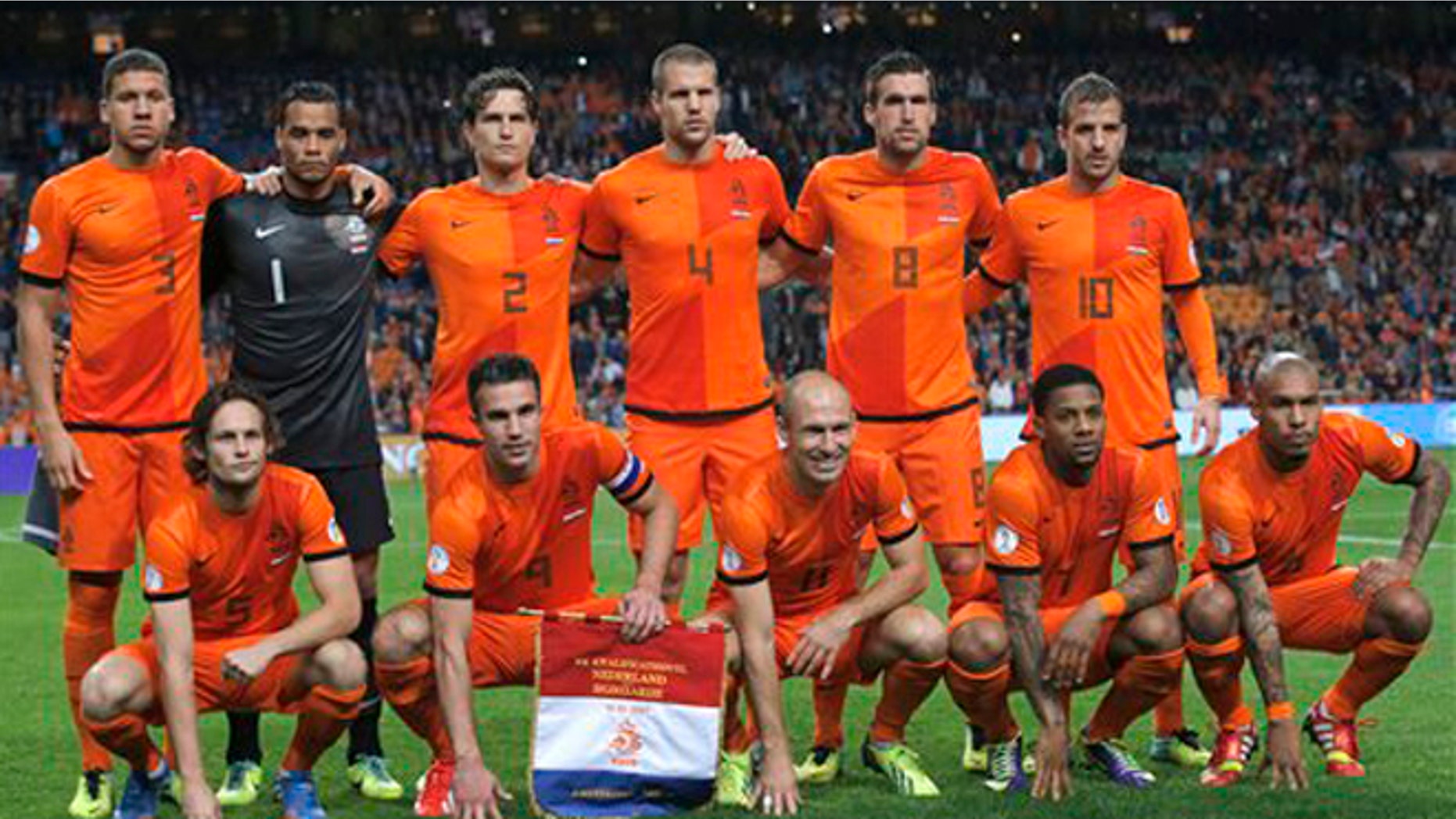 The Dutch have never earned a World Cup title, but they have been runner up three times – which pretty much qualifies them as the best national team never to have won. They came close in 1974 and 1978, in the Clockwork Orange era, and many of the current squad nearly got there in South Africa, losing to Spain 1-0 at the 2010 final.
Last year, the Orange flew through qualifiers, winning nine out of 10 games while drawing one, with a highlight being an 8-1 thrashing of Hungary in October. They will look to continue their momentum in Brazil but face a tough challenge from the start: a rematch against Spain.
It is a bitter battle that the likes of Arjen Robben, Klaas-Jan Huntelaar, Wesley Sneijder, and Robin van Persie have been looking forward to for four years. These veterans will be joined by a relatively young crew that include Daryl Janmaat and Jordy Clasie.
One bit of bad news: They will be without playmaker Rafael van der Vaart who is nursing a calf injury.
The Netherlands should have no problem advancing past the group stage, but, should they finish second in Group B, they stand a good chance of having to face host Brazil in the Round of 16. To avoid that, they probably will need to beat both Spain and a solid Chile squad. A tall order for any country, no matter what its size.
Players To Watch:
Robin van Persie: The Manchester United striker is the team's all-time scorer with 42 goals and is undeniably one of the stars of the Dutch side. He will be looking to wash away a disappointing season with Man U. The World Cup would be the perfect stage to repair his reputation – and surely couldn't hurt his relationship with the new United manager, who just happens to be Dutch coah, Louis van Gaal.
Arjen Robben: The Bayern Munich winger has been one of the leaders for the Netherlands since the 2006 World Cup. His skills moving with the ball and creating in the tightest of spaces remain a strength, but since 2010, the 30-year-old has improved his defense greatly. Van Gaal will look for him to set an example for the younger players on the squad.
Daryl Janmaat: At 24,  the Feyenoord defender is one of the younger players on the squad. He is developing into a back who can press forward effectively anywhere in the midfield. His coordination with Robben, who plays in front of him and may drop back into a defensive position when Janmaat surges forward, will be crucial. While Janmaat received a minor knock during the team's recently friendly against Ecuador, he should be fit for the Cup.
Wesley Sneijder: The attacking midfielder is a comfortable fit alongside veterans Robben and van Persie – the trio came up together on the international stage for Holland, making their World Cup debuts in 2006. Sneijder has the ability to make passes that slice through and discombobulate the opponent's defense.
Jordy Clasie: He may be only 22, but the Feyenoord player is reportedly on the wish-list to some major European clubs this summer. His style of play has been touted to be similar to that of Spanish midfielder, Xavi, and while he has only had eight caps with the national team, expect him to be in the starting lineup in Brazil.
Coach

Louis van Gaal: With a formidable coaching résumé that includes stops at Barcelona, Bayern Munich, Ajax and AZ, van Gaal would probably rather leave off his previous stint as Dutch national team coach: Under his leadership, the country failed to qualify for the World Cup in 2002 for the first time since 1986. Things went a lot more smoothly this time around, and he has incentive to go out strong, as come the end of the summer he takes over at Manchester United.
Group
Group B is a three-horse race, with defending champion Spain and 2010 finalist the Netherlands having the clear edge to advance. Chile has a surprisingly strong squad and may be able to spoil the opening round for one of the two group favorites. Australia is a near lock to be headed home before the end of June, although they play a physical brand of soccer that may hurt an opponent's players more than the team's chances.
Quirk
In the 1970s, the Dutch team played a fluid, entertaining brand of soccer known as "Total Football" or, more disparagingly, "Clockwork Orange," in which every player on the field, whether attacker, midfielder or defender (but not the goalie), would switch positions on the field.
Matches
v. Spain: June 13, 3 p.m., Salvador
v. Australia June 18, 12 p.m., Porto Alegre
v. Chile June 23, 12 p.m., Sao Paulo
All times Eastern
Follow us on twitter.com/foxnewslatino
Like us at facebook.com/foxnewslatino