Without three starters, Bucks fall to Celtics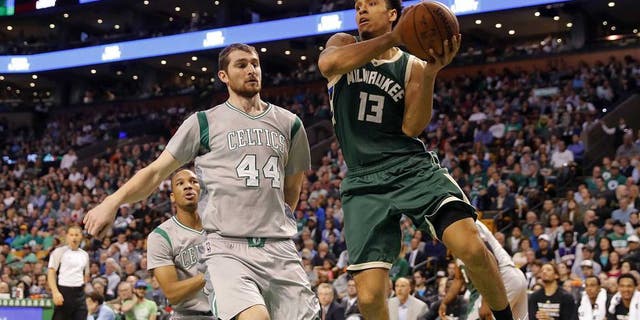 BOSTON -- Gerald Green scored 18 points, 10 of them in a 25-2 fourth-quarter run, and the Boston Celtics beat the resting Milwaukee Bucks 112-94 in the regular-season finale on Wednesday night to claim the No. 1 seed in the Eastern Conference playoffs.
The Celtics were assured of home-court advantage through the conference finals when Cleveland lost to Toronto minutes before the game ended. Chicago's victory over Brooklyn gave the Bulls the eighth seed and a first-round matchup with Boston.
Despite playing without star Giannis Antetokounmpo and two other starters, the Bucks led by as many as 13 points before Boston ran off 14 of the last 16 points in the first half. Isaiah Thomas, who was scoreless until then, had 10 of them, including eight straight.
Thomas finished with 13 points and eight assists, but he went to the bench with late in the third quarter and sat out the fourth as the Celtics backups pulled away.
The Bucks were already locked into the sixth seed and a first-round matchup with Toronto, allowing them to rest Antetokounmpo, Tony Snell and Matthew Dellavedova. Spencer Hawes had 15 points in 17 minutes, and Michael Beasley also scored for Milwaukee.
The Bucks led 88-87 with eight minutes left before Green and Avery Bradley had back-to-back dunks, then Kelly Olynyk made a 3-pointer. After a basket by Gary Payton II, the Celtics ran off the next 18 points.
The Celtics, who haven't won a playoff series since 2012, finished the season with a three-game winning streak while Cleveland lost its last four. The defending NBA champions opted not to push for the top seed, resting LeBron James for the last two games.
TIP-INS
Bucks: Antetokounmpo is the first player in NBA history to finish in the top 20 in total points, rebounds, assists, steals and blocks in a single season, according to STATS.
Celtics: Thomas finished third in the league in total points this season and with the highest per game scoring average in franchise history behind Larry Bird' 29.9 in 1987-88.