Why the Hornets can't win, even if they win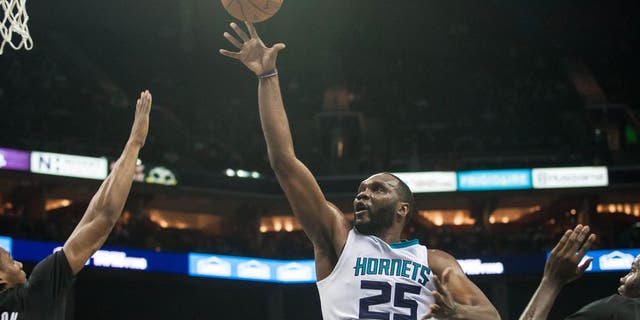 NEWYou can now listen to Fox News articles!
The Charlotte Hornets are in a tricky situation heading into the 2015-16 season. This team was built to win now. They dealt Noah Vonleh and Gerald Henderson to the Portland Trail Blazers for Nicolas Batum, and, after several transactions throughout free agency, essentially replaced Bismack Biyombo with Spencer Hawes and Frank Kaminsky.
But the team's contracts are set up so that even if Charlotte makes the postseason, they'll be locked into a roster that isn't quite good enough to compete for a championship. Here's Hoops Habit with more:
"The problem here is that their current core of Kemba Walker, Kidd-Gilchrist, Batum, and Jefferson isn't good enough to be a contender in the Eastern Conference. Jefferson and Batum are already in their prime, which further limits the Hornets' potential to grow. Unless new draftee Frank Kaminsky ends up showing superstar talent, the Hornets seem to be near their ceiling as a team. And unfortunately, that ceiling isn't high enough to be a top dog in the East, let alone make it to the Finals."
So, if they win, they'll probably have to re-sign Batum and Jefferson to long-term deals. If they lose, they let those guys walk (or inexplicably re-sign them) and realize they surrendered valuable long-term assets for nothing.
No team envies the position Charlotte finds itself in right now, but they did this to themselves.
(h/t: Hoops Habit)